Braves unable to put away Mets, fall in 10 innings
Dependable bullpen allows New York to score four late runs in defeat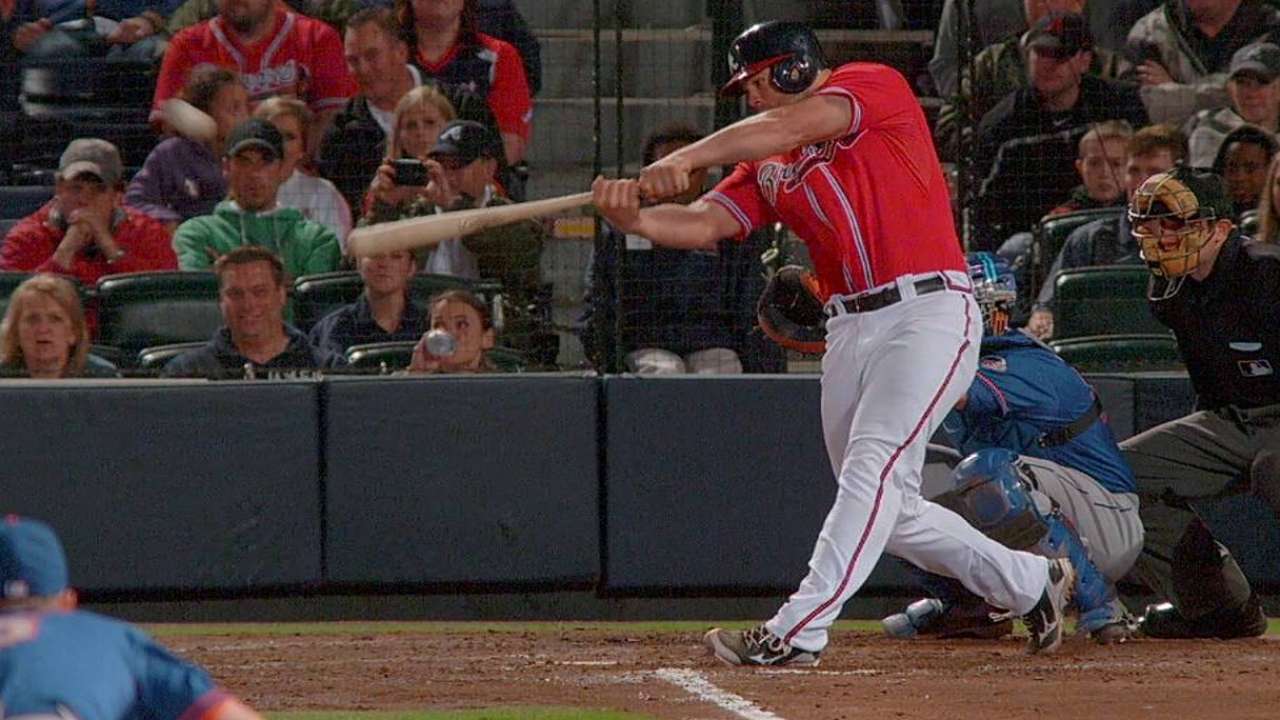 ATLANTA -- What had the makings of being a jubilant comeback victory for the Braves instead turned into a demoralizing loss, marred by home runs hit off their top two relievers and Jordan Walden's inability to put the Mets away in the 10th inning.
Ruben Tejada's two-out single off Walden proved to be the crushing blow for the Braves as they wasted Mike Minor's strong start and Evan Gattis' go-ahead eighth-inning home run in Friday night's 7-5 10-inning loss to the Mets at Turner Field.
"We've been good so far this year until tonight," said Braves closer Craig Kimbrel after taking his second blown save in a span of three appearances. "Our offense went out there and they did what they had to do. They scored when we needed to score. We just weren't able to hold it down. We kind of let this one slip away. It's a tough one."
This certainly ranks as one of the most frustrating losses of the year for the Braves, who have lost 10 of 14 since beginning the season with a 13-2 record. They squandered two leads after the start of the eighth inning and then saw the Mets produce their decisive rally after Walden retired the first two batters in the 10th inning.
"Usually when you give our guys a lead, they're going to shut it down," Braves manager Fredi Gonzalez said. "But they ended up getting four runs against our bullpen from the eighth inning on. That doesn't usually happen against our guys."
Mike Minor spotted the Mets a three-run lead courtesy of John Buck's two-run homer in the first and Lucas Duda's leadoff homer in the second inning. But Minor retired the final 18 batters he faced and the Braves claimed their first lead of the night when Andrelton Simmons beat out a potential inning-ending double play in the seventh.
Carrying a one-run lead into the eighth is usually enough for the Braves, whose bullpen entered the game leading the Majors with a 1.94 ERA. Minor had thrown just 90 pitches when Gonzalez opted to pinch-hit for him in the seventh with the hope his team would produce a lead Eric O'Flaherty and Kimbrel would preserve.
This plan was squandered when Marlon Byrd opened the eighth inning with an opposite-field home run off O'Flaherty, who had not allowed a homer in 52 appearances dating back to June 7. The resulting damage was erased when Evan Gattis hit Brandon Lyon's first pitch of the night over the center-field wall with one out in the eighth.
But instead of serving as a game-winner, Gattis' solo home run simply set the stage for David Wright to deliver his own heroics by belting Kimbrel's 97-mph fastball deep into the center-field seats. Wright's game-tying solo shot in the ninth was the first homer the Braves' closer had surrendered in 25 appearances dating back to Aug. 31.
"He's definitely a guy you can't make a mistake to, especially up in the zone with a fastball," Kimbrel said. "He hit that good. You can't make mistakes to him and I did. That was the difference in the ballgame."
Actually, the difference came in the 10th inning, when Walden issued Jordany Valdespin a two-out walk after getting ahead with a 1-2 count. Mets closer Bobby Parnell came to the plate simply to show bunt while Valdespin successfully stole second base. Had Valdespin's attempt been unsuccessful, Parnell would have been available to pitch the bottom half of the inning.
With Valdespin on second base, Walden got ahead of pinch-hitter Mike Baxter with an 0-2 count and then hit him with a 2-2 slider. This set the stage for Tejada, whose go-ahead single to center came on an 0-2 slider. Daniel Murphy added an insurance run with an RBI single on an 0-2 pitch from Luis Avilan.
"I just couldn't put them away," Walden said.
Walden's thoughts actually served as the theme of the night for the Braves, who were unable to take advantage of Jordan Schafer's career-high four walks and B.J. Upton's first multihit performance since April 18.
When Mets starter Shaun Marcum exited with one out in the game-tying, three-run fifth, it appeared the Braves would be able to at least outlast the Mets, whose bullpen entered the game ranked 28th in the Majors with a 4.68 ERA.
But after taking a lead in the seventh and another in the eighth courtesy of Gattis' seventh homer, the Braves simply extended the struggles they have endured since going through the season's first 15 games as baseball's hottest team.
"It was a roller coaster really," Gonzalez said. "You forget about how well Mike Minor pitched because of what happened in the last [three] innings."
Mark Bowman is a reporter for MLB.com. This story was not subject to the approval of Major League Baseball or its clubs.