Romero exits early in return; bats stay quiet
Left-hander allows three runs, strikes out four in four-inning debut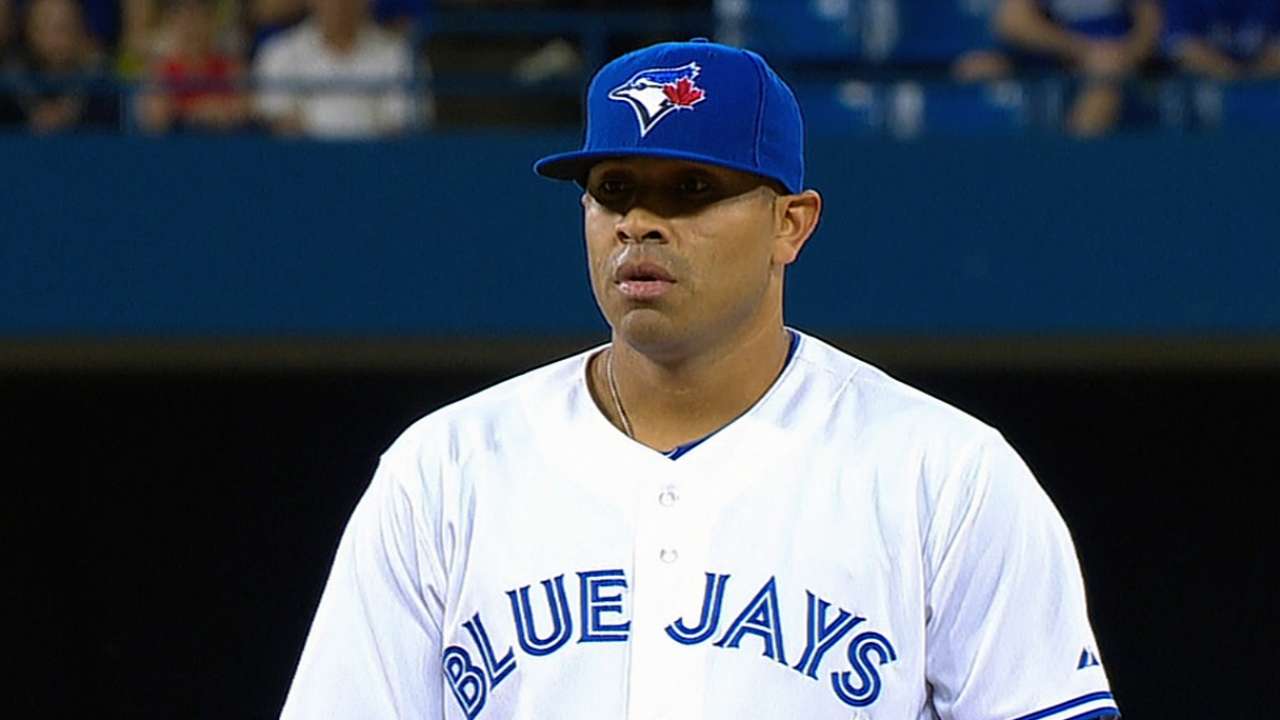 TORONTO -- It was a whirlwind 24 hours for Ricky Romero, as he returned to a big league mound for the first time in more than a month after being demoted to Class A Dunedin.
The Blue Jays left-hander was sent down to work with his pitching mechanics, just a year after being the team's undisputed ace.
On Friday, his new form was on full display, and the results were mixed. A nearly flawless first three innings fell apart in the fourth, as the Blue Jays fell to the Mariners, 4-0, at Rogers Centre.
"I felt like the guy I've been working on this past month in Florida. I felt good, had some good stuff. Had a lot of live movement on the fastball," Romero said. "That fourth inning just got away from me a little bit."
In that inning, the 28-year-old lost the strike zone. He walked Michael Saunders to begin the inning, and then promptly served up a first-pitch fastball that Mariners third baseman Kyle Seager sent over the wall in right field to take a 2-0 lead.
Before the inning was over, Romero would hit a batter, walk two more, throw a wild pitch, and allow one more run on a single. He did not return for the next inning.
"I just lost control of where the fastball was going," Romero said. "I just felt like I was spiking it. One of the things we've been working on is pitching down in the zone. I think at times I was a little too down. I was trying to get it up and I couldn't."
That fourth inning marred what was otherwise a terrific outing.
Romero faced the minimum number of batters through the first three innings. The left-hander retired the side in order in the second and third, with the only blemish up to that point being a single in the first.
"I thought he was great. I really did," manager John Gibbons said. "He ran into some trouble there in the last inning, with some walks and he hit the guy, but overall I think he should feel good about that [outing]. It's something to build off of, because the beginning of the game I thought he was dynamite."
However, a night that was supposed to be about Romero's triumphant return became more about the club's inability to string together hits.
The Blue Jays managed only five base knocks, and they have only 16 over their three-game losing streak -- scoring only twice in those three games. Toronto managed to get its lead runner on three times in the game, and hit into a double play every time to spoil a rally.
On Friday, part of the Blue Jays' failures lay at the feet of Felix Hernandez, who was dominant from start to finish.
"We ran into Felix there," Gibbons said. "He's not going to give you anything. When he's on you just hope you shut them out."
Hernandez pitched eight shutout innings, allowing only five hits, walking none, and striking out seven. Only once did the 2010 American League Cy Young Award winner allow consecutive batters to reach base.
"His stuff is amazing," said Mariners catcher Jesus Montero. "I don't want to face Felix. I don't want to face him because he's nasty. Sometimes it's hard to catch him, like tonight, I dropped a couple balls. It's crazy, his talent is so great."
Hernandez's night lowered his ERA to 1.60 on the year, and the 27-year-old righty has a sparkling 0.60 ERA in his last four starts, allowing only two earned runs in 30 innings.
"There is really nothing he can't do out there on the mound," said Seager, who went 3-for-4 on the night.
While the Mariners strolled to victory after that big inning, there was some concern for the Blue Jays.
During the fourth, Romero was struck by a comebacker that hit his left forearm. When the trainer came out to attend to him, it marked the second time in that frame they visited the lefty on the mound.
Romero left the following inning, but X-rays were negative. He does have a callus on his throwing hand, which resulted in the medical staff's first visit, although Romero said it doesn't affect his throwing.
Despite the see-saw night, Romero was just happy to be back on the mound in Toronto.
"It feels good to be home," Romero said after the game. "I don't think I belong anywhere else other than here."
Evan Peaslee is an associate reporter for MLB.com. This story was not subject to the approval of Major League Baseball or its clubs.