Felix dominates in Toronto with help from two blasts
Hernandez throws eight scoreless frames; Seager, Bay both go deep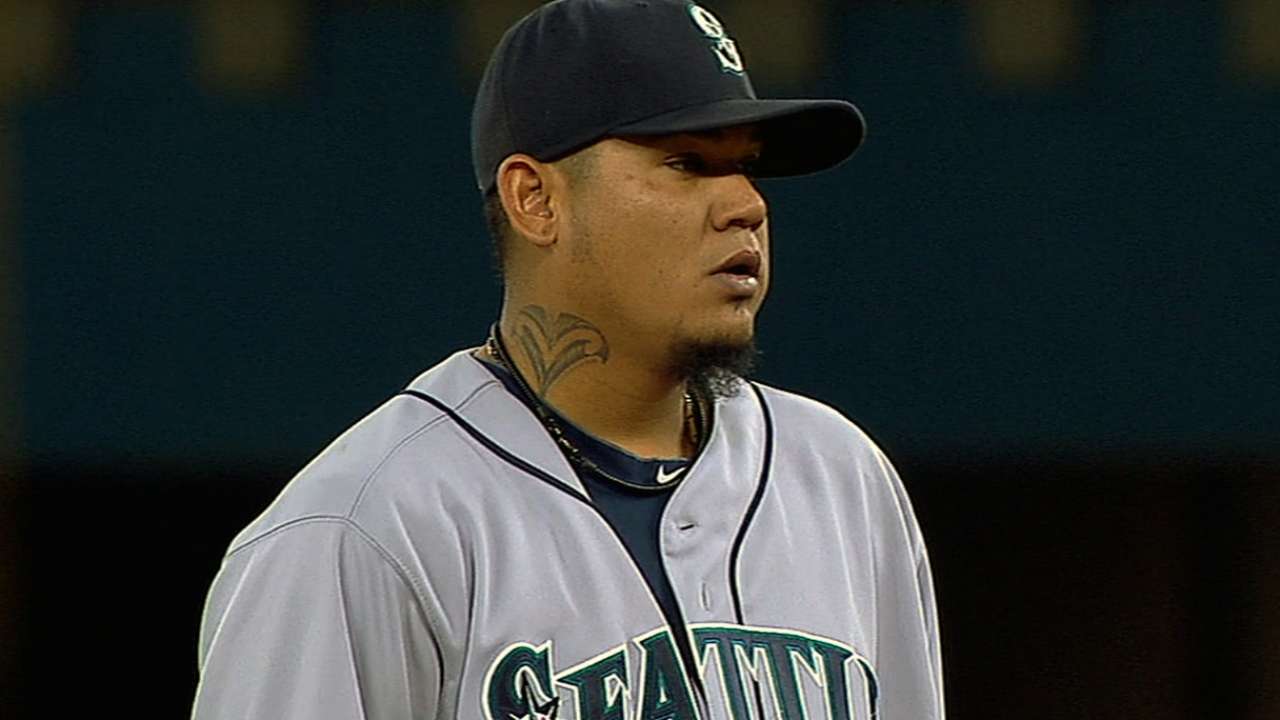 TORONTO -- When Felix Hernandez gets the ball every fifth day, it's almost becoming a formality that he's going to dominate the opposition.
While his teammates know how talented he is, Hernandez never ceases to amaze them. They're just happy to be on his side and avoid stepping in the box against him.
Hernandez twirled another gem on Friday, tossing eight scoreless innings of five-hit ball to lead the Mariners to a 4-0 victory over the Blue Jays to kick off a three-game set in front of 23,779 at Rogers Centre.
"I don't want to face Felix. I don't want to face him because he's nasty," catcher Jesus Montero said. "Sometimes it's hard to catch him, like tonight; I dropped a couple balls.
"It's crazy, his talent is so great. ... His stuff is amazing. He's a winner."
The Blue Jays were simply Hernandez's latest victim in a young season in which he has been nearly flawless. Hernandez, who improved to 4-2 and hurled his sixth quality start in seven outings, struck out seven and walked none.
Over his last four outings, the right-hander has allowed two earned runs over 30 innings -- good for a 0.60 ERA -- and has struck out 35 while walking just two.
Hernandez sports a 1.60 ERA on the year and has thrown a Major League-leading 50 2/3 innings. Only Yu Darvish and A.J. Burnett have struck out more batters than the 51 Hernandez has.
Friday was Hernandez's 66th career start in which he has gone at least eight innings and allowed two runs or fewer, which is the most in the Majors since he made his debut in 2005.
"Being aggressive; [I've] been throwing a lot of strikes," Hernandez said about his start, in which he threw first-pitch strikes to 21 of the 27 batters he faced. "That's the key for me -- get ahead of the hitters.
"I had a good sinker. We played great defense."
Hernandez faced the minimum through three innings and allowed only one Blue Jays player, Munenori Kawasaki, to get into scoring position after seven frames. Kawasaki singled off Hernandez in the third inning and stole second base, but was left stranded after the right-hander punched out Brett Lawrie.
The 27-year-old Hernandez ran into his only jam in the eighth after allowing back-to-back hits to start the frame, but he got Maicer Izturis to hit into a double play before Kawasaki grounded out to end the inning. Adam Lind was the only Blue Jays played to reach as far as third base against Hernandez after advancing there on a Colby Rasmus double, which kick-started the Blue Jays' rally.
Hernandez got Toronto to hit into three double plays and recorded 14 ground-ball outs, a season high.
"He's special. He goes about his business," Kyle Seager said about Hernandez. "Tonight, you give him a couple runs, and you know he's going to take care of the rest.
"There is really nothing he can't do out there on the mound."
Montero had trouble catching a few of Hernandez's balls, and he said it's because Hernandez generates so much late movement on his pitches that it's tough to pick up.
"It was invisible, I dropped like four," Montero said. "I think the special one is the changeup. It goes down like a splitter; it's crazy. That's why he strikes out so many guys."
The backstop said the changeup mimics a splitter by its velocity and how much it bottoms out. Hernandez's changeup averages 88 mph, according to Fangraphs.com, which is tied with the Nationals' Stephen Strasburg for the second fastest among Major League starters.
Manager Eric Wedge was most impressed with the way Hernandez spotted his fastball down in the zone, and how consistent he was with his delivery and release point.
Hernandez didn't need much help, but Seager and Jason Bay provided him with everything he needed.
Seager broke open a scoreless affair in the fourth inning by taking Blue Jays starter Ricky Romero -- who was making his season debut -- deep to right field for a two-run homer, his fourth of the year, to put Seattle in front, 2-0. The third baseman, who recorded three hits and took over the team lead in RBIs with 15, has reached base safely in 20 of his last 21 games.
"He has been very consistent. He really knows himself well," Wedge said about Seager. "Everybody needs to be their own best coach and be able to feel things in-game and be able to make adjustments in-game and, quite frankly, even within an at-bat. He does a lot of things right."
Romero faced the minimum amount of batters through three innings, as well, before unraveling in the fourth. The lefty, who failed to crack Toronto's rotation out of spring despite being the 2012 Opening Day starter, walked three in the inning, hit a batter and allowed three runs.
Romero appeared to irritate his pitching hand in the frame, which he said postgame was just a callus, and also got hit by a comebacker, prompting two mound visits by Toronto's trainer, Mike Frostad.
"I think I just lost control of where the fastball was going. I just felt like I was spiking it," Romero said. "It could've been much worse."
The 28-year-old Romero didn't come back out for the fifth. He allowed three runs on three hits, walked three and threw 38 of his 70 pitches for strikes.
Bay put Seattle up, 4-0, with a solo shot in the sixth inning off reliever Aaron Loup. It was Bay's third homer of the year and extended his hitting streak to a season-high seven games.
Tom Wilhelmsen worked the ninth in a non-save situation and punched out one, while lowering his ERA to a stingy 0.64.
The Mariners have won two games in a row and five of their last six contests.
Chris Toman is a contributor to MLB.com. This story was not subject to the approval of Major League Baseball or its clubs.