Indians walk off on Stubbs' third double
Reynolds blasts ninth homer as Tribe rallies for fifth straight victory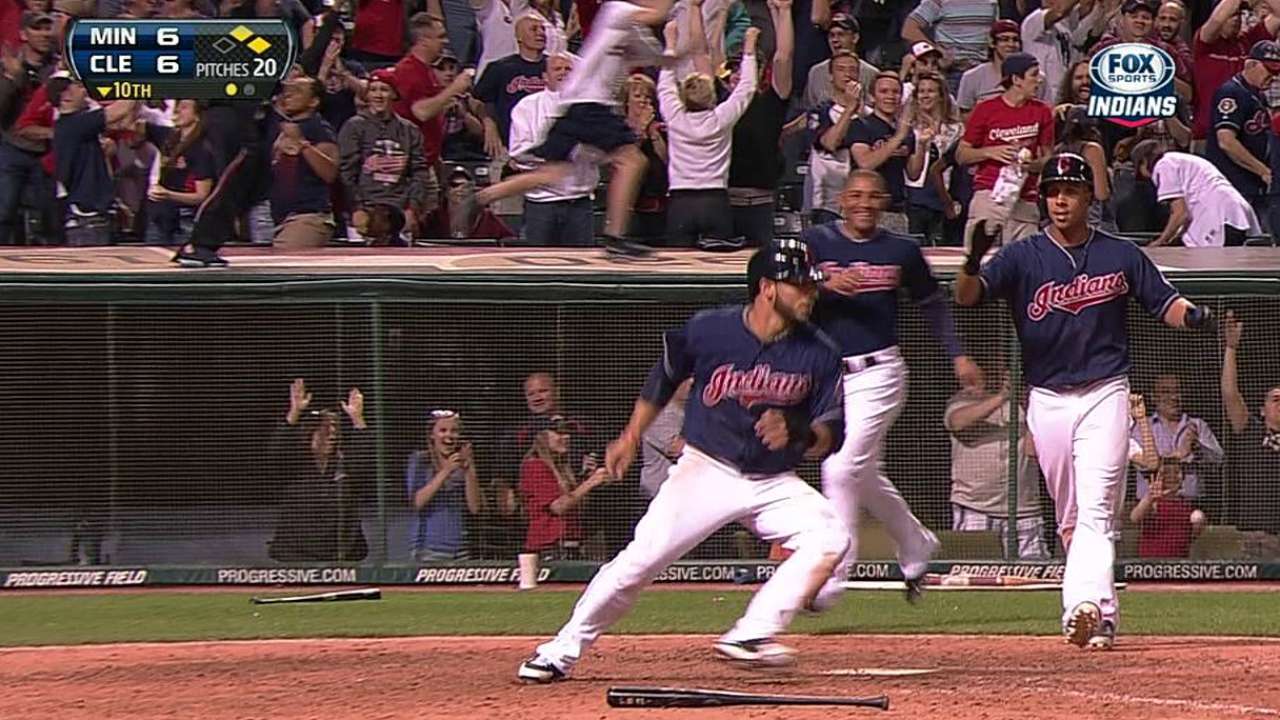 CLEVELAND -- The Indians didn't acquire Drew Stubbs for his bat. They don't mind if he puts it to use, though.
Upon the arrival of spring, Stubbs set out to prove his 2012 campaign -- in which he batted .213 with a .610 OPS -- was an aberration. He has placed his swinging mechanics under the microscope, implementing modifications to his patented leg kick.
The adjustments paid dividends on Friday, when the fleet-footed outfielder collected four hits, including a walk-off double in the 10th inning that propelled Cleveland to a 7-6 win over the Twins at Progressive Field.
Stubbs' final knock marked his third consecutive at-bat with a two-bagger and his third career walk-off hit.
"It was very exciting," said Indians skipper Terry Francona. "This is a guy that we got because we loved his athleticism, his ability to play the outfield and run the bases. … And then to see him swing the bat like he did tonight, he's worked so hard at it that it makes you feel really good."
Cleveland obtained Stubbs in a three-team, nine-player trade in December. He sporadically flashed glimpses of offensive ability in his four years with the Reds. He slugged 22 home runs and tallied 77 RBIs in 2010 and swiped 100 bases between 2010-12, but led the National League in strikeouts in 2011 and saw his average dip each of the past three seasons.
This season, Stubbs replaced his leg kick with a toe tap in an effort to keep his feet pinned to the ground and his head still. His four hits on Friday, which matched a career high, gives him nine hits over his last three contests. The outburst has elevated his batting average from .213 to .284.
"It's been a work in progress for a while," Stubbs said. "I wouldn't say I have it completely figured out now. Everybody in this game is struggling to continue to make adjustments and so forth, but I feel great right now."
Stubbs approached the plate in the 10th inning with Mike Aviles on second following a leadoff single and an ensuing sacrifice bunt by Ezequiel Carrera, who returned to the team a day earlier, when the Indians claimed him off waivers from the Phillies. Stubbs launched a pitch by Casey Fien off the wall in left-center field and sent the 20,200 in attendance into a frenzy.
The Indians were fortunate the game reached that climax.
The Tribe knotted the score in the eighth on an RBI groundout by Jason Kipnis, who sharply poked a pitch to second base. Brian Dozier bobbled the ball and prevented the Twins from attempting to turn a rally-killing double play.
"If we would've made the double play or not, you never know," said Twins manager Ron Gardenhire. "It's a tough play."
The Twins grabbed the lead in the seventh when Chris Parmelee greeted Cody Allen with a two-run homer into the right-field seats. The wind-aided blast, which came on Allen's sixth pitch of the night, an 85-mph breaking ball, capped a three-run frame for the Twins, who erased a two-run deficit and kept Justin Masterson from earning his fifth win of the season.
Masterson (4-2, 3.64 ERA) lasted 6 2/3 innings for Cleveland, yielding five runs on eight hits. The Twins scratched across a run in each of the first two innings. Trevor Plouffe continued to make himself at home beside Lake Erie, with his fifth homer in 12 career games at Progressive Field. The Indians tied the game on a two-run triple by Kipnis in the third.
Mark Reynolds joined the American League leaders with his ninth home run of the season, a two-run shot halfway up the left-field bleachers that provided Cleveland a 4-2 edge in the fifth.
"He just got a fastball up and over the plate and he just killed it," Gardenhire said.
The Indians' bullpen couldn't hold the lead, but the group staved off what would have been its first loss of the season. Chris Perez earned the victory on Friday, pushing Tribe relievers to 3-0 on the season.
They have Stubbs to thank for that.
Stubbs' three doubles gives him six on the season, nearly half of his total from last season, when he logged 13 two-baggers. He became the second Indians player since at least 1916 to notch four hits and three doubles out of the No. 9 spot in the order.
None of that is surprising to Stubbs.
"I believe in myself as a player," Stubbs said. "I think for anybody that steps out there, that's a must. That's a necessity. You go through tough times, sometimes, and you learn a lot of things about yourself. The season is still very young. We have a long way to go. Just being able to come out and contribute to wins, that's very rewarding."
On Friday night, Stubbs rewarded the entire Indians team. His walk-off hit extended Cleveland's winning streak to five games, its longest since 2011.
"It was fun," Reynolds said. "A tight game, get all the adrenaline pumping, have guys in big spots coming up huge, to get to go out there and run around and act like kids, even though most of us are grown men -- these kind of nights are fun."
Zack Meisel is a reporter for MLB.com. Follow him on Twitter @zackmeisel. This story was not subject to the approval of Major League Baseball or its clubs.