Parmelee's clutch homer wiped out in loss to Tribe
Twins rally to take lead in seventh before falling in 10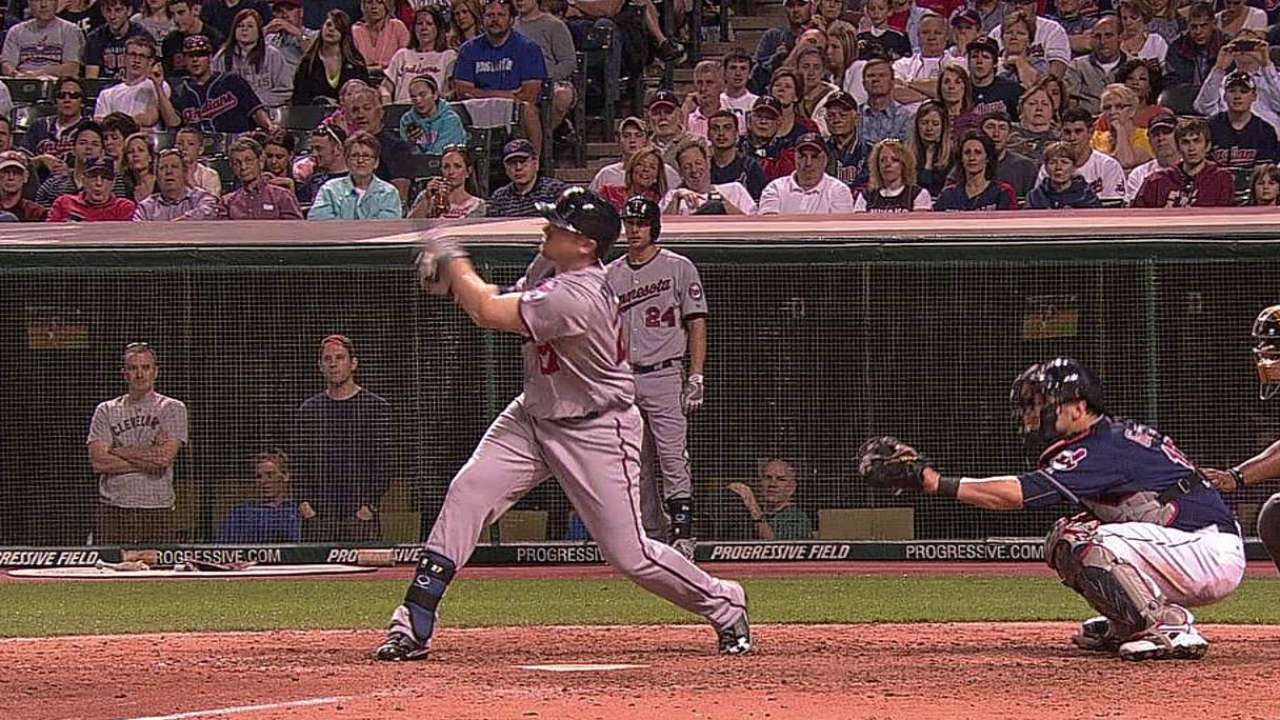 CLEVELAND -- The bullpen has undoubtedly been the Twins' strongest asset so far this season.
Twins relievers entered Friday's game against the Indians with the best ERA in the American League and were riding a 10-inning scoreless streak dating back to Saturday.
But all streaks come to an end and it happened again on Friday, as Jared Burton surrendered the tying run in the eighth and Casey Fien gave up a walk-off RBI double to Drew Stubbs with one out in the 10th inning to hand the Twins a 7-6 loss to the Indians at Progressive Field.
"Our bullpen pitched well and gave us a great opportunity, and we had some opportunities late in the game to get one more big hit and we couldn't come up with it -- and they did," Twins manager Ron Gardenhire said. "So, it was a good ballgame with both teams going back and forth and doing some damage. We just came up on the short end."
Fien, who worked a scoreless ninth, gave up a leadoff single to Mike Aviles, who reached second on a sacrifice bunt by Ezequiel Carrera. Aviles then scored the game-winning run on a long double by Stubbs off the left-center field wall.
"He was throwing a lot of cut fastballs and he threw a first-pitch two-seamer in for a ball to me," said Stubbs, who went 4-for-5 with three doubles. "I was just looking out over the plate for something moving away from me."
Stubbs' heroics came after Burton couldn't hold a one-run lead in the eighth. Burton promptly gave up a leadoff single to Aviles before Stubbs hit a bloop double to right field with one out. The Twins opted to walk Michael Brantley to load the bases for Jason Kipnis, who hit a potential double-play ball to Brian Dozier at second base. But Dozier mishandled it and was only able to get Kipnis at first to tie the game at 6.
"Burton did a good job getting the ground ball," Dozier said. "If we would've made the double play or not, you never know. It's a tough play."
The loss spoiled a late rally from the Twins, who scored three times in the seventh to take the lead, including a go-ahead two-run homer from Chris Parmelee.
The Twins headed into the seventh trailing by two, but Ryan Doumit cut the lead to one with a two-out single off right-hander Justin Masterson to score Justin Morneau, who singled and reached second on a passed ball.
Doumit's single set the stage for Parmelee's go-ahead blast off right-handed reliever Cody Allen to right field. It was Parmelee's third homer of the year and his second in as many games.
"It was a big home run at the time for us, but unfortunately we couldn't finish it off," Gardenhire said. "But he's been swinging good."
Parmelee's blast also handed Pedro Hernandez a no-decision after a so-so outing from the rookie left-hander. Hernandez, making his fourth career start and third this season, had a tough time keeping the Indians off the basepaths, as he gave up eight hits and four walks en route to surrendering five runs over 5 1/3 innings.
"I made some mistakes with my pitches," Hernandez said. "I was a little high with my offspeed stuff, so they were able to get to it."
Hernandez couldn't hold an early lead, as the Twins scored in a hurry against Masterson. Morneau gave Minnesota a 1-0 lead on a sacrifice fly in the first -- his 800th career RBI -- before Trevor Plouffe hit a solo shot in the second for his third homer of the year.
The Indians tied it in the third with a two-run triple from Kipnis before taking the lead in the fifth on a two-run blast from Mark Reynolds. The homer moved Reynolds into a tie for first place in the American League with nine long balls.
The Twins made it a one-run game with an RBI single from rookie Oswaldo Arcia in the sixth, but the Indians tacked on another run in the bottom of the inning. Hernandez gave up a one-out double to Stubbs after Yan Gomes walked and was pulled in favor of fellow left-hander Brian Duensing. Duensing was able to strike out Brantley, but Kipnis came through with an RBI bunt single with two outs.
It proved to be an important insurance run for the Indians, who have won five straight to pass the Twins in the standings by half a game in the American League Central.
"We let this one get away, but credit our pitching for keeping us in the ballgame," Dozier said. "We can't ask for more out of them. We battled and that's the way it goes sometimes."
Rhett Bollinger is a reporter for MLB.com. Read his blog, Bollinger Beat, and follow him on Twitter @RhettBollinger. This story was not subject to the approval of Major League Baseball or its clubs.