Cubs' late rally falls short in loss to Reds
Chicago bangs out 15 hits, can't plate tying run in ninth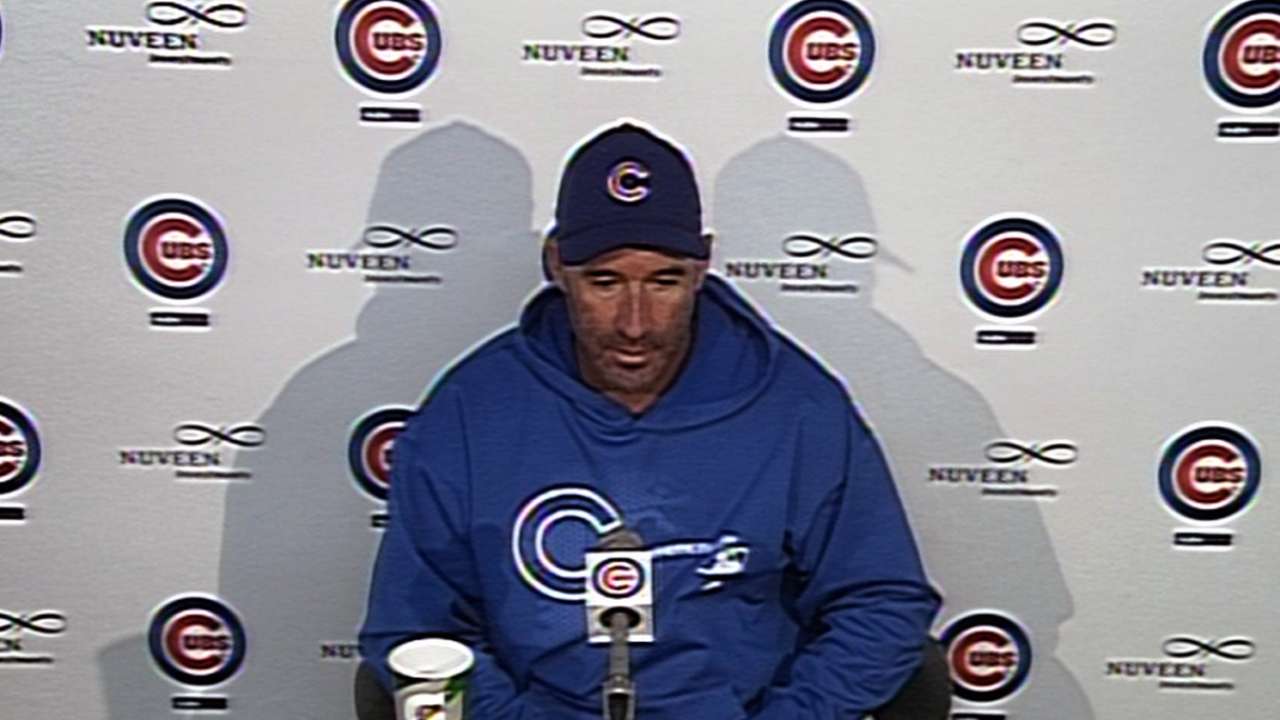 CHICAGO -- The Cubs rebounded from Thursday's tough loss on Friday, but it took until the ninth inning for them to do so.
The Cubs rallied for three runs in the ninth against Aroldis Chapman, but came up short, 6-5, against the Reds. Todd Frazier, Jay Bruce and Devin Mesoraco each hit RBI doubles for the Reds.
Manager Dale Sveum wasn't sure what to expect after a heartbreaking 4-2 loss to the Padres on Thursday when Travis Wood threw seven shutout innings, but was hurt by two defensive lapses in the eighth.
"Losing tough games like [Thursday], you see what you're made out of," Sveum said. "That was one of the tougher ones, if not the toughest loss we've had this year, because it was kind of in our control."
The Cubs have had their fair share of close games. Friday was their 24th game (out of 29) to be decided by three runs or fewer, and Chicago now is 9-15 in those games. Eleven of those losses have been by two runs or fewer.
Chapman entered the game 6-for-6 in save opportunities, but when he took over in the ninth with a 6-2 lead, it wasn't a save situation. The Cubs loaded the bases on pinch-hit singles by Dioner Navarro and Dave Sappelt, and another base hit by Starlin Castro. Chapman struck out Anthony Rizzo and got Alfonso Soriano to fly out.
Pinch-hitter Scott Hairston then drew a walk to force in a run, and Welington Castillo flared a two-run single to center to make it a one-run game.
Pinch-hitter Cody Ransom walked to reload the bases and chase Chapman, and J.J. Hoover struck out Darwin Barney to end it.
"Those were some great at-bats today off the best closer in the game," Sveum said of the ninth. "Hopefully we can learn from that, too. Instead of waiting until a guy throws 98 [mph], we need to make those adjustments when a guy is throwing 94."
What were the Cubs doing against Chapman?
"Being more patient," Castro said. "The guy can throw strikes. If you take some pitches, he has to throw every pitch for a strike."
"Sometimes you get hit," Reds manager Dusty Baker said. "It's not a control thing. Sometimes you have to give hitters credit. They did some good hitting against Chapman."
It was just too late. Carlos Villanueva was facing the Reds 10 days after an outing in Cincinnati in which he struck out six and gave up three hits over 8 1/3 innings. On Friday, the right-hander struck out the first two batters he faced, but then Joey Votto lined a single to right and Frazier followed with a RBI double.
Shin-Soo Choo hit a RBI single in the second, but the big at-bat, Villanueva said, was by Bruce in the sixth when he drove in Votto with a double. One out later, Mesoraco doubled to score Bruce. Villanueva then walked Cesar Izturis and was lifted.
"They say it's a game of inches, it's one pitch away," Villanueva said. "My last two starts, I'm one pitch away from having two quality outings. The good part is I'm close to where I want to be. I'm just not putting that guy away when I need to. It was a big moment in the game [in the sixth].
"Earlier in the game, you can get away with it a little bit because you still have some outs to work with," he said. "At that point, I had two strikes on Bruce, and I have to make a better pitch. I get an out there, and we score a couple runs and keep the momentum in our favor."
It was Villanueva's shortest outing in his six starts. He's now given up four runs in each of his last two games after opening the season with four quality starts.
"The thing that got him in the last inning and in Miami [in his last start] was elevation," Sveum said. "Today, he couldn't get the ball down. Everything was up, every breaking ball, fastball. When he tried to make a good pitch, it was up in the zone and he was missing location."
Conditions were better suited for fall football than day baseball with a game-time temperature of 41 degrees and a wind chill of 37, thanks to the northerly wind. Reds starter Mike Leake was as tough as the weather for the first five innings. With one out in the Chicago sixth, Rizzo and Soriano hit back-to-back doubles, and Nate Schierholtz followed with a RBI single. One out later, Luis Valbuena singled to chase Leake.
"We didn't do much in the first eight innings, again," Sveum said. "We left some guys out there, again, and they added on a couple. One, they added on without a hit. Those are things that come back and haunt you at the end of the game. The tying run will get to the plate -- it doesn't matter who's closing."
The Cubs did collect a season-high 15 hits but also stranded 12.
"Everybody tried to do something because it was a tough game to lose yesterday," Castro said. "Everybody was ready in the ninth inning."
It was just too late.
"We've lost so many games by one run," Villanueva said. "Really good teams, teams that are in the playoffs every year, the record is the other way and in one-run games, you come out on top. For us, we have to get it done when it counts. If it's making a better pitch, having a better approach at the dish, we have to do whatever it takes to improve on that."
Carrie Muskat is a reporter for MLB.com. She writes a blog, Muskat Ramblings, and you can follow her on Twitter @CarrieMuskat. This story was not subject to the approval of Major League Baseball or its clubs.