Behind 18-hit attack, Rangers rout Red Sox
Holland fans nine batters over eight shutout frames in series opener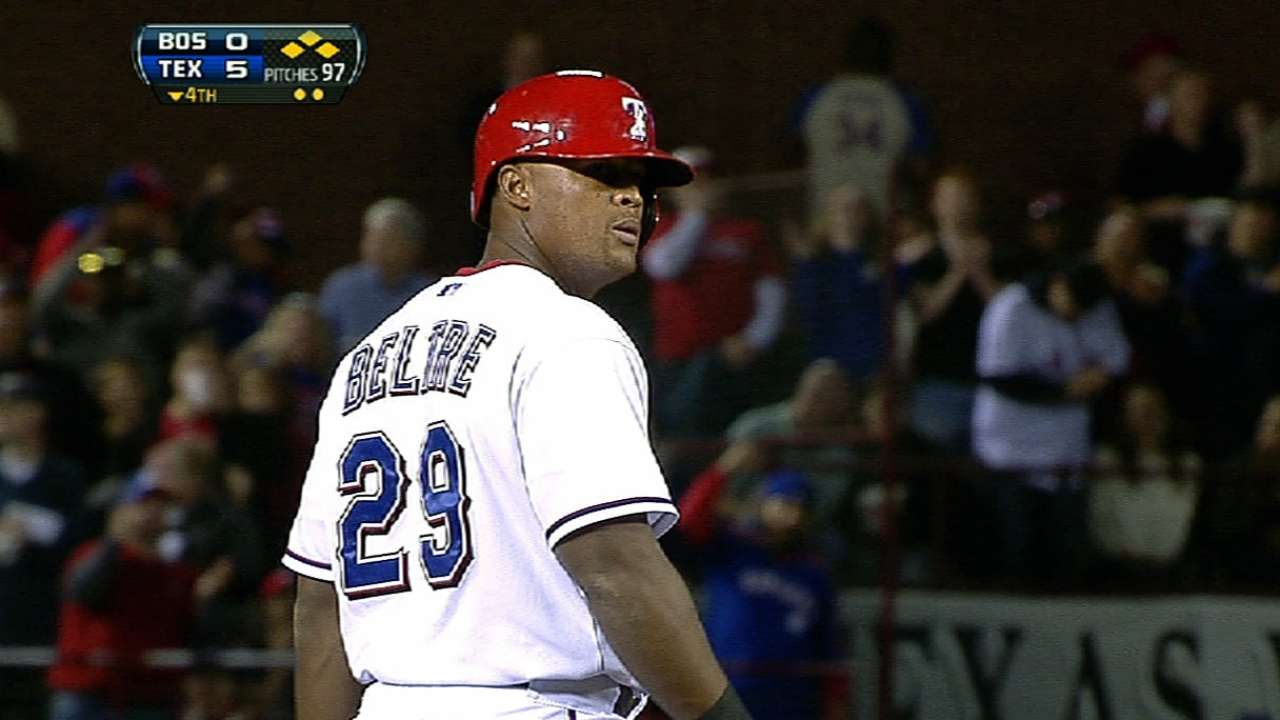 ARLINGTON -- Rangers hitters had eight hits in 15 at-bats through three innings on Friday night. That's a .533 batting average, but the offense had also produced just one run against Red Sox starter Felix Doubront.
Those are the kind of frustrating results the Rangers have been getting at the plate lately, but manager Ron Washington and hitting coach Dave Magadan both said before the game the tough times weren't going to last. They proved prescient at least for one night.
The Rangers finally broke through with five runs in the fourth inning to support the pitching of Derek Holland and they rolled to a 7-0 victory over the Red Sox at Rangers Ballpark in Arlington. The Rangers are now 26-12 against the Red Sox since 2009.
"They have a great team," shortstop Elvis Andrus said of Boston, which leads the Majors with 20 wins. "They are playing really well. It's a great challenge and you have to elevate your level and be ready to go."
The Rangers have been trying to elevate their offensive game, and they finally did so on Friday night. They had 18 hits, including four by Adrian Beltre. He is the first Rangers player to have four hits in a game this season, and one of them was a three-run double in the fourth inning.
"I haven't seen four hits in a long time," Beltre said, "so it's nice to get into the groove a little bit and hopefully that'll be the start of another streak."
The club was also 6-for-11 with runners in scoring position, and six of seven runs scored with two outs. The six hits with runners in scoring position were a season high.
"Beltre has a track record," Washington said. "The guys in there all have track records. When you know what you have, you stay positive. Beltre is a proven run-producer."
Holland earned his second victory in six starts by holding the Red Sox scoreless through eight innings. He allowed six singles, walked just one and struck out nine in raising his record to 2-2 with a 2.74 ERA.
"Tonight, Derek was at his best," Washington said. "He had a good fastball, changeup, slider, he moved the ball around in the zone and kept them off-balance. He has been pitching well; he just hasn't been getting the results. I thought he had already won three or four ballgames. Since Spring Training, he has been throwing the ball well, and tonight was another example of what he can do."
Holland was quick to point out the defense behind him and the work of catcher A.J. Pierzynski in helping the Rangers record their fifth shutout of the season. That's tied with the Mariners and the Rays for the most in the American League.
"I'd say it was probably one of my best ones for sure, but I've got to give credit to my defense," Holland said. "They made the plays and A.J. has been great back there for me, pushing me and also, I feel like we've really been on the same page. It's been real good throwing to him as well."
Holland was so dominating that the Red Sox had two men reach base in just one inning. Boston was also hitless in its only two at-bats with runners in scoring position.
"He threw a lot of strikes," Red Sox manager John Farrell said. "He threw his fastball to both sides of the plate. Tonight, I thought he had a better changeup than we've seen in the past to keep some guys off-balance. We didn't really make too many opportunities for ourselves tonight."
The Rangers had plenty of opportunities once again. It was a matter of taking advantage of them or letting it all go to waste.
The Rangers took a 1-0 lead in the second inning after Jeff Baker lined a two-out double and went to third on a single by Mitch Moreland. Craig Gentry followed with a slow grounder to shortstop Pedro Ciriaco. Because of Gentry's speed, Ciriaco had to rush his throw and bounced it in the dirt. First baseman Mike Napoli couldn't dig it out on a close play and Baker scored.
Moreland started the fourth-inning rally with a one-out single. After Gentry struck out, Ian Kinsler and Andrus delivered back-to-back singles to drive home Moreland. Lance Berkman then walked to load the bases.
That brought up Beltre, who was 4-for-34 with runners in scoring position coming into the game. Beltre worked the count full and drilled a line drive into the left-center field gap. Three runs scored to give the Rangers a 5-0 lead.
"That was a big hit, and we needed it," Washington said. "We felt we blew the game open right there."
After reliever Alex Wilson replaced Doubront, Nelson Cruz brought home Beltre with a single to center. The Rangers added another run in the fifth on one-out singles by Moreland and Leonys Martin, and a double by Kinsler. Moreland and Kinsler both finished with three-hit nights.
T.R. Sullivan is a reporter for MLB.com. Read his blog, Postcards from Elysian Fields, and follow him on Twitter @Sullivan_Ranger. This story was not subject to the approval of Major League Baseball or its clubs.