Doubront roughed up as Sox fall to Rangers
Lefty says he's fine physically, but club concerned about dip in velocity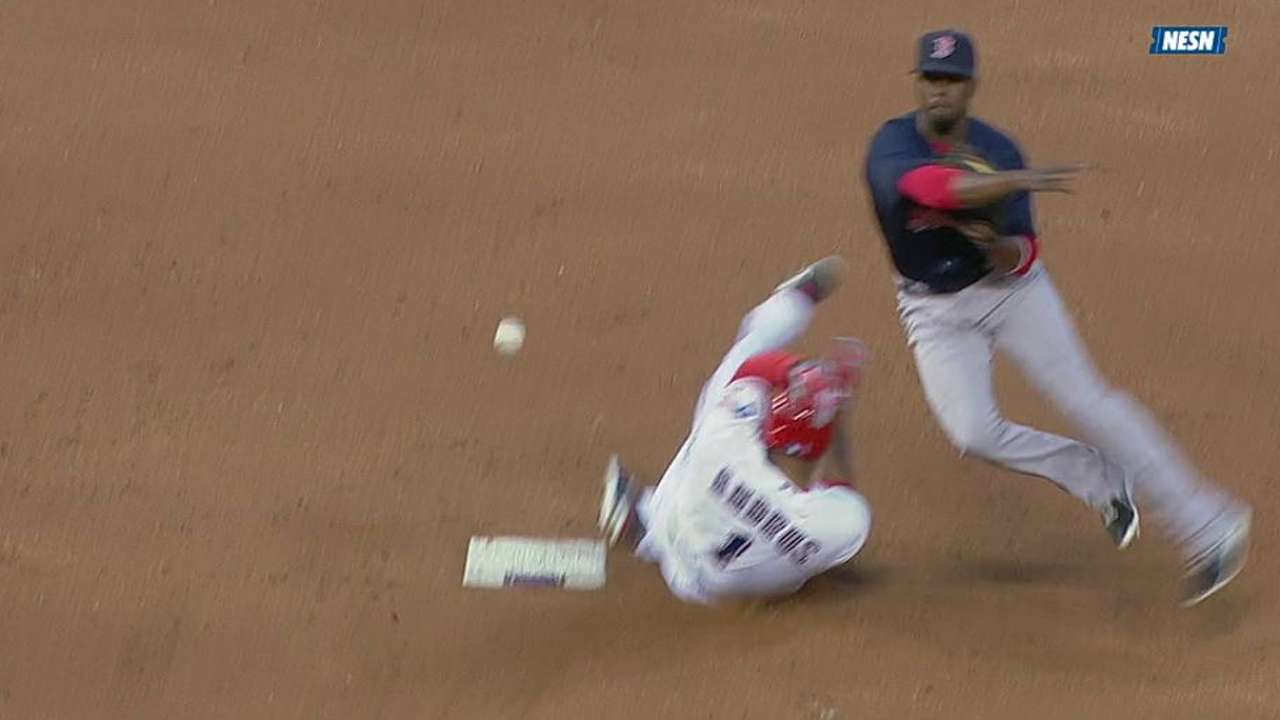 ARLINGTON -- There were no escape hatches for Felix Doubront on Friday night against the Rangers.
After deftly navigating his way out of jams in his first four starts, Doubront was leveled in this one, as the Red Sox suffered a 7-0 loss at Rangers Ballpark in Arlington.
Despite less than spectacular results, Doubront came into this game with a 3-0 record.
Eventually, a pitcher is going to pay for his mistakes, and Doubront (3-1, 5.67 ERA) did just that in the fourth inning as the Rangers erupted for five runs to take a 6-0 lead. All of the runs came with two outs.
"It was one of those games where I tried my best but nothing happened," Doubront said. "You just put this game behind and move forward."
More troubling than the sheer results were the radar readings.
Doubront's fastest pitch was 92 mph. His fastball -- which frequently got into the mid-90s last year -- averaged 90 in this one.
"Little bit of a concern," said manager John Farrell. "Physically though, he doesn't express any restrictions or any tightness, any soreness. When he tries to get his better velocity, that's when he starts to really lose command. I know he'll acknowledge where the ball's not coming out of his hand as it's been in the past. We have to go by [the fact] that there's no aches or no stiffness or soreness."
Is Doubront concerned by his lack of heat?
"Not really," Doubront said. "I have to keep working and know it's pretty much down. I have to do something about that. I'm going to start working, playing catch, long toss and do something about it. It's not a concern now. Like I said, just move forward."
For the Red Sox, this was a rare ugly performance amid a 20-9 start. Perhaps it shouldn't be surprising that it came against the talented Rangers, a team that is 26-12 against Boston since 2009.
"They have a great team," said Rangers shortstop Elvis Andrus. "They are playing really well. It's a great challenge and you have to elevate your level and be ready to go."
The only bright spot on the night for Boston was David Ortiz hitting safely yet again -- extending his streak for the season to 11 games and 23 overall dating back to July 2, 2012.
The start was one of the worst of Doubront's career, as he gave up 12 hits and six runs over 3 2/3 innings, walking one and striking out two.
"Overall, he was just lacking a finishing pitch," Farrell said. "I think he had nine guys with two strikes, and eight of those guys got on base. A number of their hits came with two outs in an inning, so it wasn't just a matter of finishing off an individual guy. It was as much finishing off an inning."
The story of the night for the Rangers was Adrian Beltre, who broke out of his early-season slump with four hits.
The Boston bats had no answers as Rangers lefty Derek Holland put on a clinic. The Red Sox didn't have more than one baserunner in any of the first five innings.
"He did a great job pounding the zone," said catcher Jarrod Saltalamacchia. "He was throwing his offspeed pitches for strikes and his fastball in. A guy that throws that hard and commands the zone, you just have to battle."
However, the Rangers had far more successful battles against Doubront.
Andrus started the scoring in the fourth with an RBI single. Lance Berkman drew a walk to load the bases. Then came the biggest hit of the game, a bases-clearing double to left-center by Beltre.
"Like I said, it wasn't my day, man," Doubront said. "I was trying my best to put them away in those situations. It was hard for me to put them away, to throw strikes."
For a while, it seemed like Doubront's high-wire act would be successful again. He weaved in and out of trouble through the first three innings, somehow trailing just 1-0 despite giving up eight hits over that span.
Meanwhile, Texas padded the lead to 7-0 in the fifth when Ian Kinsler belted an RBI double against Alex Wilson.
The Red Sox never even offered a hint of a comeback in this one.
Ian Browne is a reporter for MLB.com. Read his blog, Brownie Points, and follow him on Twitter @IanMBrowne. This story was not subject to the approval of Major League Baseball or its clubs.