Griffin handles Yanks in outdueling CC in NY
Righty takes shutout into eighth; Rosales homers on game's first pitch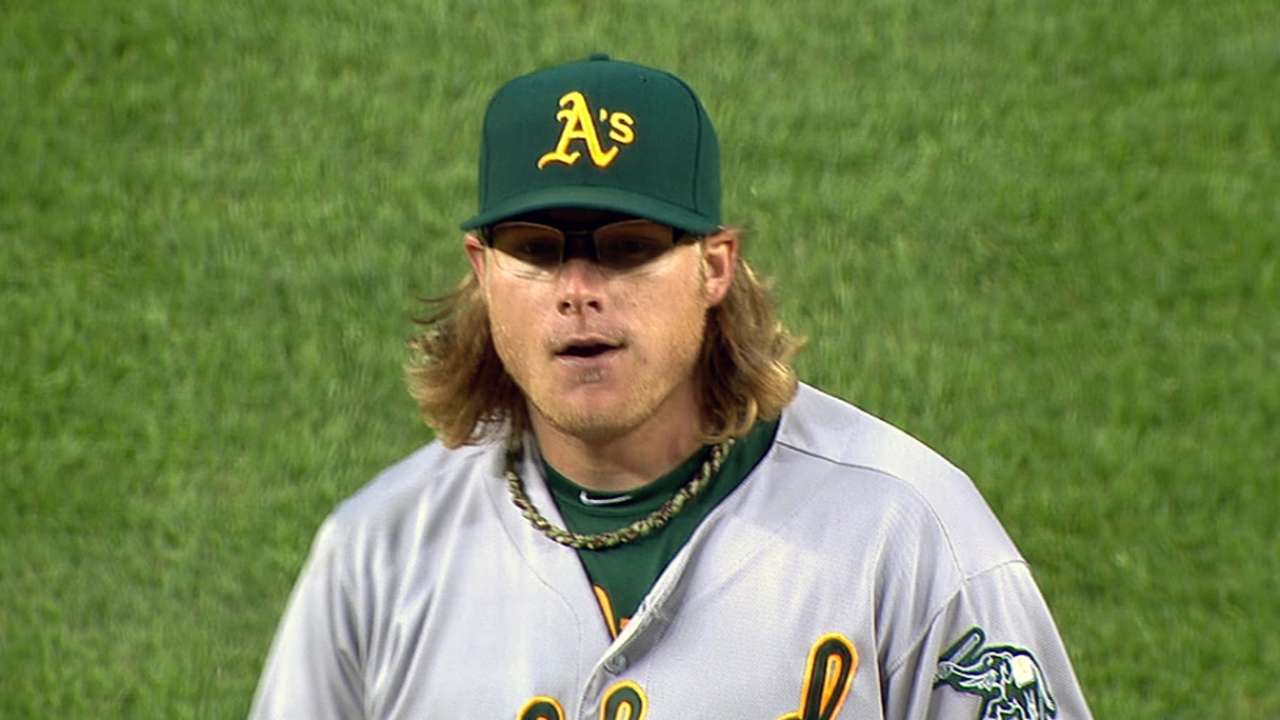 NEW YORK -- -- This was nothing out of the norm, at least not for A.J. Griffin.
But it was an entertaining sight, nonetheless -- a bulky 6-foot-5 pitcher, his cap controlling his long blonde hair, serenading teammate Yoenis Cespedes in three different languages while playing his guitar just three hours before he would take the mound at Yankee Stadium.
"I'm pretty sure that wouldn't fly anywhere else," said teammate Sean Doolittle, smiling.
Unlike most pitchers, this Southern California native has never been known to seclude himself from the outside world on days he starts, instead actively chatting up -- in this case, singing to -- anyone within earshot. Friday was no different, and Griffin was seemingly better for it.
The A's right-hander proceeded to twirl seven-plus shutout innings against the Yankees, allowing six hits with one walk and four strikeouts to outpitch CC Sabathia and guide his club to a 2-0 series-opening victory in New York, marking Oakland's fourth win in its last five tries.
"Maybe I should start playing before every game," Griffin joked.
"It's just a good way to clear your mind before you play," he continued. "The thing that I don't want to happen is for people to think that I don't care. I obviously care. That's just kind of how I do it. I like to not be too serious before I go out there, because I have to be serious for hopefully seven or eight innings when I do go out there. It's just a good way to enjoy my time at the ballpark before I have to go out there and do my work."
Griffin's pregame antics are very much supported in what's perhaps baseball's most loose clubhouse, where anything goes amongst a cast of unique characters.
"I'm in the right organization," Griffin said to much laughter.
"It absolutely works for him," Doolittle said. "He stays true to himself … no matter how much grief we give him. We respect that, as long as he keeps doing what he's doing."
Doolittle, who lived with Griffin in Sacramento for some time last year, insists the quirky right-hander has actually "tightened it considerably since his days in [Double-A] Midland and Sacramento."
"You guys are kind of seeing the toned down, G-rated version, if you will," Doolittle said.
Oh, really?
"There was a lot of dancing involved before," he responded.
"Oh, much more dancing," Griffin concurred.
Perhaps he now saves it for postgame celebrations, like the one he enjoyed Friday. Having allowed a combined 11 runs over his previous two starts, Griffin threw a total of 98 pitches in his seven shutout frames, lowering his ERA from 4.65 to 3.79.
His teammates managed just two runs against Sabathia over his six innings of work, but it proved more than enough.
Adam Rosales made good on his first career start in the leadoff spot by launching the first pitch he saw from Sabathia over the left-field wall, his first home run of the season giving his team a quick lead.
"My goal was to get on base," Rosales said. "Just saw that first pitch, jumped on it and it jumped off my bat and went out of the park.
"I got to lead off in Double-A, and throughout the whole season, that was my approach. The first or second pitch was going to be the best pitch I might see the whole game. … I didn't see too many fastballs after that. He started throwing me more changeups."
Catcher Derek Norris was responsible for extending Oakland's advantage to two runs, driving in Cespedes with an RBI single in the sixth, and after Griffin allowed a leadoff bunt single to Brett Gardner in the eighth, he was pulled in favor of Doolittle.
The lefty compiled five outs before yielding to closer Grant Balfour, who nailed down the final out for his fourth save of the season and his 22nd consecutive save dating back to last May.
But it was Griffin, rightfully, who received most of the credit for Oakland's second shutout of the season.
"A.J. pitched great," manager Bob Melvin said. "It doesn't really matter what else goes on when you get seven shutout innings from your starter in this ballpark, and you've got a fresh bullpen behind you. He was terrific."
Jane Lee is a reporter for MLB.com. Read her blog, Major Lee-ague, and follow her on Twitter @JaneMLB. This story was not subject to the approval of Major League Baseball or its clubs.