CC hangs tough, but outdueled by A's Griffin
Lefty throws 118 pitches over six innings as Yankees shut out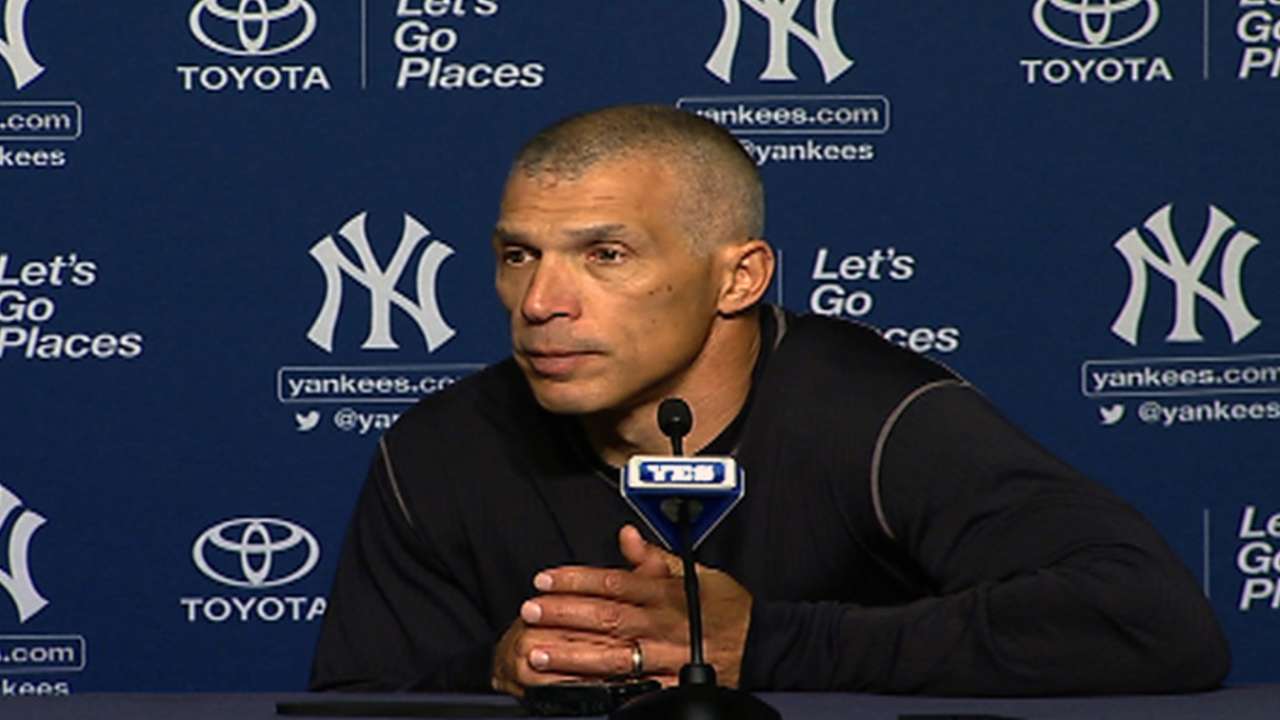 NEW YORK -- The Yankees trailed immediately on Friday when CC Sabathia's left hand fired its first fastball, yet the night's biggest pyrotechnics might have been the verbal sparks between the ace and the home-plate umpire.
Athletics right-hander A.J. Griffin took his early lead and held it deep into the night against a baffled Bombers lineup, hurling shutout ball into the eighth inning as Oakland defeated the Yankees, 2-0, at Yankee Stadium.
Sabathia held Oakland to two runs in six innings, and he couldn't be too upset about that -- even after Adam Rosales' leadoff home run. But Sabathia was irked about a third-inning exchange with plate umpire Jordan Baker, whom Sabathia said had barked toward the mound.
"I can't be yelled at," Sabathia said. "I'm a grown man, and I didn't say nothing to him and he came from behind the plate, so, of course, I was animated."
The exchange came after Sabathia permitted a single to second baseman Jed Lowrie. Sabathia thought he had struck out Lowrie on a 2-2 pitch and shouted after the hit, and Baker apparently believed that Sabathia was complaining in the umpire's direction.
"It was just kind of a miscommunication," Yankees catcher Chris Stewart said. "CC was mad at himself. The umpire thought he was talking to him. It was overblown. It wasn't a situation, it just kind of looked like it."
Yankees manager Joe Girardi went to the mound to calm down his ace, Stewart tried to smooth things over with Baker, and a fuming Sabathia chomped on his glove before regrouping to escape the inning, recording one of his six strikeouts.
"When I was younger, I dealt with a lot, worrying about umpire's calls and things like that," Sabathia said. "As I've gotten older, I make it a point not to even look down on a check swing or anything like that. Just take that element out of the game."
Sabathia only permitted one run the rest of the way, when Derek Norris drove home Yoenis Cespedes with a sixth-inning single on a 3-0 pitch, but his night was done after that frame because the patient Athletics had battled to kick Sabathia's pitch count up to 118.
"He only gave up two runs, and he gave up one before he got an out, so after the first hitter he gave up one," Girardi said. "They fouled some pitches off. They got in some long counts, which made him throw a lot of pitches in the sixth inning, but I thought he threw OK."
Sabathia was helped in the sixth twice by the arm of Ichiro Suzuki, who picked up an outfield assist on a Josh Donaldson single off the top of the right-field wall and also made a strong throw home that pinned Norris at third on a Nate Freiman single.
But it wasn't enough to save the Yanks from their second loss in the last eight games, spoiling Girardi's 1,000th game as a big league manager as he watched Griffin scatter six hits over seven-plus scoreless frames.
"A.J. pitched great," Athletics manager Bob Melvin said. "It doesn't really matter what else goes on when you get seven shutout innings from your starter in this ballpark and you've got a fresh bullpen behind you. He was terrific."
The Yankees' chances against Griffin were scarce in the efficient effort, as they had two runners on base just once -- in the third inning -- and Griffin needed just nine pitches to navigate the fourth, fifth and sixth innings.
"He's got that real slow curveball, and that fastball has decent velocity on it, but it looks harder than it is because he's throwing that slow curveball at us," Stewart said of Griffin.
Adam Warren kept the game close after Sabathia's exit with three innings of scoreless relief, but a big hit proved elusive for the Yankees, who have enjoyed their share of thunder lately but finished 0-for-6 with runners in scoring position.
Brett Gardner chased Griffin with a daring bunt single on a 3-2 pitch to open the eighth, but Sean Doolittle recorded five outs in relief, including a double play on Vernon Wells to end the eighth. Grant Balfour struck out Eduardo Nunez in the ninth to pick up a one-out save.
"I think that's baseball. You're not going to be able to get them every night," Wells said. "I think you just want guys to try to have good at-bats. Sometimes the outcome is out of your hands, but [it's] just guys continuing to keep the same approach. We'll continue doing that day in and day out."
Bryan Hoch is a reporter for MLB.com. This story was not subject to the approval of Major League Baseball or its clubs.