Cards hold on to get Westbrook's 100th win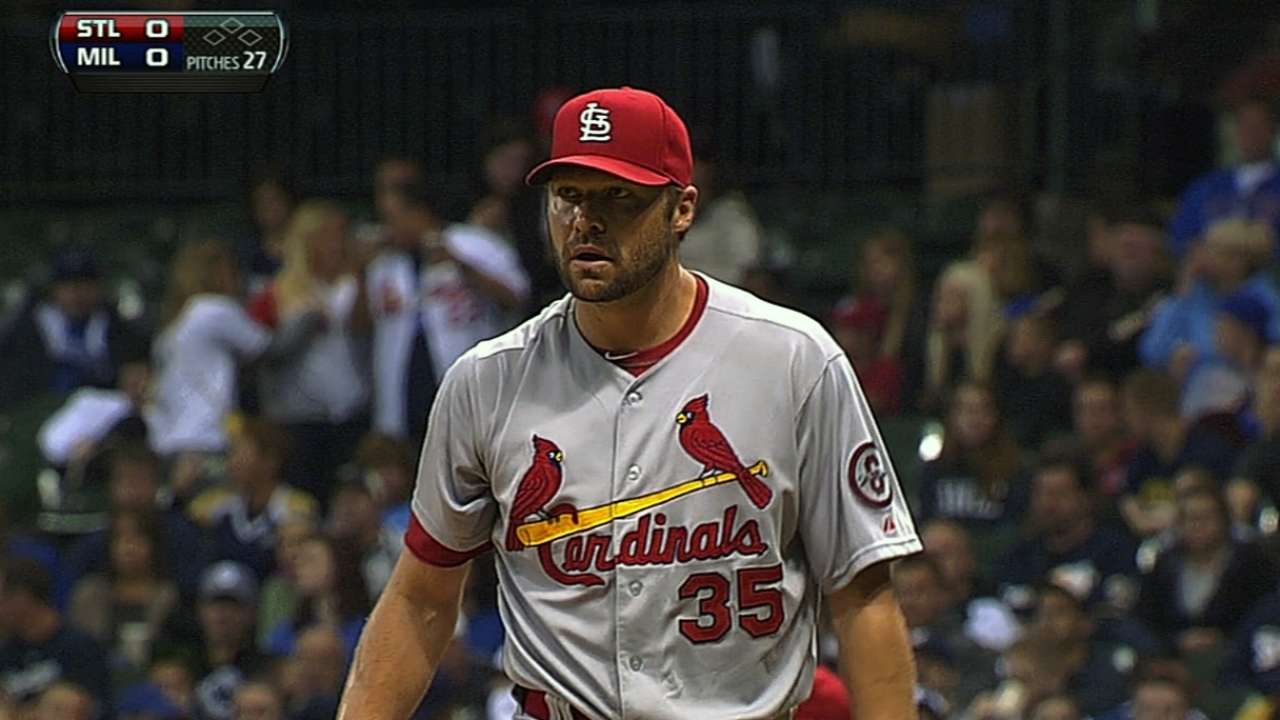 MILWAUKEE -- In his last two starts, Jake Westbrook exited with the lead while seeking his 100th career victory only to watch the Cardinals' bullpen lose the game.
Against the Brewers on Thursday night, the bullpen struggled again in relief of Westbrook, but this time the Cardinals held on, and the right-hander earned his milestone victory -- and a celebratory beer shower.
Westbrook pitched six solid innings, and the Cardinals scored all their runs in the third inning for a 6-5 win over the Milwaukee Brewers at Miller Park.
"It's always been a goal of mine to get to 100, and it's good to get it done," Westbrook said.
The right-hander has a 1.07 ERA after five starts, but he said he was erratic Thursday and not as sharp as his previous outings. Nevertheless, he held the Brewers to 1-for-8 batting with runners in scoring position.
"Made some mistakes and got away with some things, to be honest with you," he said. "A lot of hard-hit balls that were hit right at guys that could have made it a different ballgame. Like I said, I got away with some stuff, but that's baseball sometimes."
In contrast, all the Cardinals' runs came with two outs off Brewers right-hander Wily Peralta (2-2). Three of the runs scored when Cardinals runners beat close plays at the plate to score, and two of the RBI singles were on broken bats.
"We had bats blowing up," Cardinals manager Mike Matheny said. "At one point it looked like we were trying to have a bonfire. But we got enough going and put them in the right places. We've had plenty of hard outs, so we're due some of those."
All 12 of the Cardinals' hits were singles, and St. Louis continued to hit well in the clutch, going 5-for-8 with runners in scoring position.
"Crazy inning," Peralta said of the decisive third. "Frustrating."
The Cardinals are batting .341 with runners in scoring position this year, but they came into the game batting .247 overall.
"A whole bunch of singles," Matheny said. "There's a lot to be said about it now. I don't think that's the team we're going to have to be all season, where it's just the timely hits. There's still more there. Everybody knows that.
"But right now, absolutely, I commend them for being able to put some runs across the board when they don't feel their best."
Westbrook (2-1) allowed one run on six hits and three walks while striking out four in six innings to improve to 100-96 in his career.
Drafted with the 21st pick in the first round of the 1996 amateur Draft, Westbrook made his Major League debut with a short stint for the Yankees in 2000. He made only five starts in 2008 and 2009 following Tommy John surgery on his right elbow but survived to begin his 12th Major League season this year.
"A hundred wins for me is a sign of longevity and kind of grinding it out year after year," Westbrook said. "It's definitely not 300, but for me it was a goal of mine. It's something I'll always have with me."
Exiting after six innings with a 6-1 lead, Westbrook had to watch the bullpen allow four runs in the final three innings.
Joe Kelly and Mitchell Boggs struggled in the seventh, but Trevor Rosenthal struck out Martin Maldonado on a 98-mph fastball with the bases loaded to end the inning and preserve a 6-3 lead.
The Brewers scored an unearned run in the eighth, but Rosenthal came to the rescue again, striking out Yuniesky Betancourt with runners on the corners to end another Milwaukee threat.
Edward Mujica allowed a run in the ninth but struck out pinch-hitter Jonathan Lucroy with the tying run on first for his seventh save.
That prompted the beer shower for Westbrook in the Cardinals' locker room, and Rosenthal said the entire bullpen was aware it was a special night for the veteran pitcher.
"That's what we were all aiming for," Rosenthal said. "Every time he's been out there to pitch I definitely had that in the back of my mind. It was special, I think, for all of us to be a part of that. He's such a good guy and has been performing forever to get that. I know he was happy."
Joe DiGiovanni is a contributor to MLB.com. This story was not subject to the approval of Major League Baseball or its clubs.