Brewers claw back but fall short against Cards
Peralta's six runs allowed in third prove too costly for Milwaukee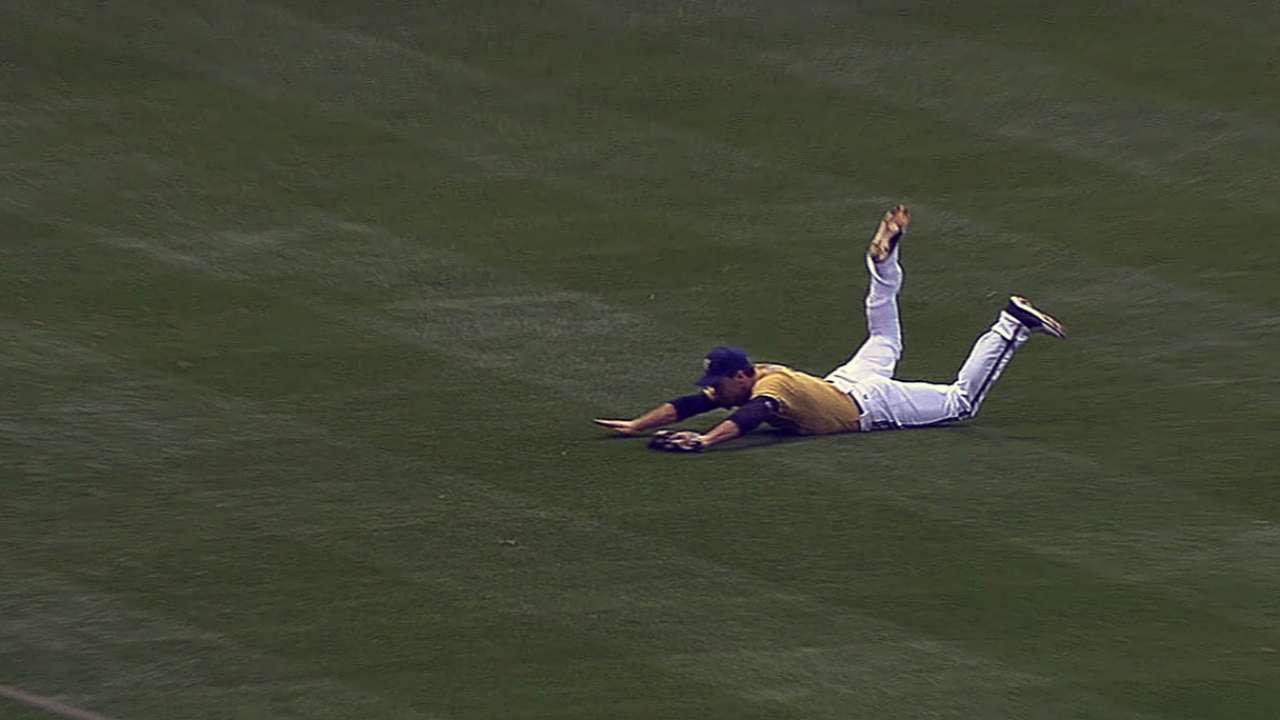 MILWAUKEE -- Big Brewers right-hander Wily Peralta said he would go gold until his luck ran out, which happened sometime in the top of the third inning Thursday.
Wearing the Brewers' new gold alternate jerseys for the third straight start, Peralta was blooped, bled and broken-batted around in that dismal inning, when the Cardinals scored six times on seven singles. It was just enough to beat Milwaukee, 6-5, in the opener of a four-game series at Miller Park.
"At some point, I'll wear it again," Peralta said. "Probably not next time."
A deficit of a half-dozen runs spelled trouble against Cardinals starter Jake Westbrook, who entered the day as Major League Baseball's ERA leader after allowing three earned runs -- total -- in his first four starts.
Westbrook limited the damage Thursday to one run in six innings and saw his ERA inflate to 1.07, but he was rewarded with the 100th victory of his Major League career when four Cardinals relievers barely held the Brewers at bay. Edward Mujica saw the Brewers bring the winning run to the plate in the bottom of the ninth inning but ultimately earned his seventh save in as many chances.
All of the Cardinals' runs scored with two outs after Peralta plunked Matt Holliday with a pitch to load the bases. Peralta was out after 4 1/3 innings, charged with six earned runs on 11 singles, matching and setting career-highs in those categories.
"Crazy inning," Peralta said of the decisive third. "Frustrating."
Only two of the Cardinals' singles in their big inning were well-struck -- Yadier Molina's RBI hit that made it 3-0 and Pete Kozma's that capped the scoring. Jon Jay's hit to shallow left field was somewhere in-between. The rest were either on broken bats (Matt Carpenter and Allen Craig), bloops (Westbrook) or bleeders (David Freese's grounder up the middle). Craig's hit accounted for the Cardinals' first two runs and Kozma's the last two, while Molina and Freese drove in a run apiece in the inning.
When the shards of broken bat had been cleared away, Peralta found himself in a 6-0 hole. But Cardinals manager Mike Matheny was impressed.
"We had bats blowing up; at one point it looked like we were trying to have a bonfire," Matheny said. "But we got enough going and put them in the right places. We've had plenty of hard outs, so we're due some of those."
The only Brewer more frustrated than Peralta was catcher Martin Maldonado. Three times in the inning, Cardinals runners beat a strong throw home from the outfield; Carpenter ahead of left fielder Ryan Braun's throw for run No. 2, Holliday ahead of right fielder Norichika Aoki's throw for run No. 3, and Freese ahead of another Braun throw for run No. 6.
All three times, Maldonado looked to plate umpire Todd Tichenor, who signaled safe. In each instance, slow-motion replays confirmed the call.
"They were safe," Maldonado said.
When Carlos Beltran singled for the Cardinals in the fourth inning, all nine St. Louis starters had reached base safely, and eight of them had hits. Third baseman Freese had two hits after as many at-bats, after coming into the game in an 0-for-16 slump.
Peralta was removed from the game after a one-out single followed by a walk in the fifth.
"That's just part of the experience," Peralta said. "Those days, you have to calm down yourself, try to make one pitch at a time. Don't try to go too crazy out there."
"When you have an inning like that, you get frustrated, but I cannot show it off too much because I was trying to be there for him," Maldonado said. "I think after [the Molina single] he was trying to do too much. That's why I went out there and told him, 'Calm down. You can't do nothing about that stuff.'"
The Brewers did nothing against Westbrook until the fourth inning, when they strung together three singles of their own. Maldonado's cut the deficit to 6-1 with one out, but Westbrook stranded the remaining two runners.
After Peralta's exit, the Brewers got 4 2/3 innings of scoreless relief and made things very interesting against the Cardinals' vulnerable bullpen.
Milwaukee scored twice in a seventh inning that began with a fly ball that eluded Holliday in left field and included a hit batsman and two walks. Milwaukee's Jean Segura cut the deficit to 6-2 with a sacrifice fly against Joe Kelly, and Carlos Gomez worked a seven-pitch walk with the bases loaded against Mitchell Boggs before Maldonado struck out on a 98-mph fastball from Trevor Rosenthal, stranding three runners on base.
The Cardinals gave the Brewers another run in the eighth, when Rosenthal and catcher Molina crossed signals on what was ruled an infield hit between the mound and the plate, and second baseman Daniel Descalso literally kicked a potential inning-ending double play ball. Those miscues extended the inning for Braun's two-out RBI single, but Rosenthal recovered to strike out Yuniesky Betancourt to strand two more.
In the ninth, the Brewers got another run on Alex Gonzalez's two-out single against Mujica, but pinch-hitter Jonathan Lucroy, representing the winning run, struck out to end the game.
"I thought we swung the bats really well after Westbrook got out of there," Brewers manager Ron Roenicke said. "I like the way we battled back."
Adam McCalvy is a reporter for MLB.com. Read his blog, Brew Beat, and follow him on Twitter at @AdamMcCalvy. This story was not subject to the approval of Major League Baseball or its clubs.