Wild eighth ends Wood's strong day, Cubs chances
Lefty retires first 14 batters before defensive miscues cost Chicago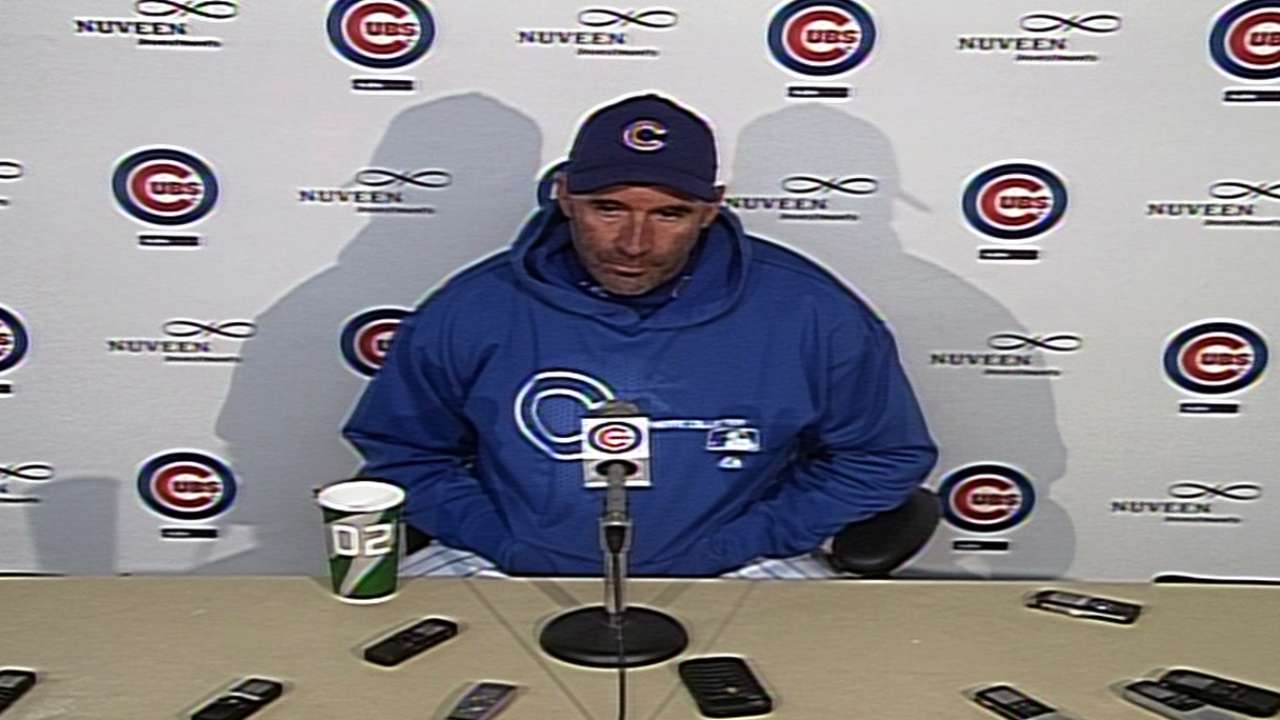 CHICAGO -- The Cubs' defense was stellar Thursday through seven innings, but a brain cramp by catcher Welington Castillo and a misplayed fly ball hurt Travis Wood.
The Padres scored four runs in the eighth, including the tying run on a passed ball by Castillo, to rally for a 4-2 victory against the Cubs and Wood, who deserved better.
Wood retired the first 14 batters he faced before Kyle Blanks smacked a clean single to center in the fifth. The lefty did not allow another single until one out in the sixth, when opposing starter Eric Stults got a base hit. Wood also singled and picked up his first career stolen base.
"[Wood] was a missed popup away from pitching eight shutout innings," Cubs manager Dale Sveum said. "Getting the loss was a shame."
It unraveled in the eighth.
Jesus Guzman singled to lead off, Blanks walked, and two outs later, pinch-hitter Yonder Alonso delivered a bloop RBI single that fell between Julio Borbon and Darwin Barney in shallow right field. The wind made it a tough play for Borbon, relatively new to Wrigley Field's quirks.
"When I realized I could've caught it, I started calling [Barney] off and I don't think he -- I talked to him about it and he said he didn't see it until the last minute, and that's why he didn't get out of the way," Borbon said. "I was running in hard, saw him out of the corner of my eye."
Borbon said it was a ball he should've caught.
"That extra second of maybe Barney recognizing it and calling me off, or me getting out of the way -- I felt the speed I was going in at, I would've been able to catch it if I hadn't seen him at the last second," Borbon said. "He said if he had picked up the ball a tenth of a second earlier, he would've been able to call me off, and I'm veering off to the side. I looked at the replay, and as I'm approaching him, he had to literally dive away to get out of the way."
The two avoided a collision, but they also failed to catch the ball.
"It looked like Barney had the easier play," Sveum said, "but obviously outfielders are taught to call infielders off, and when you have the wind blowing like that, you just run out a ball because the ball is going back toward the infield. In a normal situation, it's going to be the right play, but it's hard to take into consideration a 30-mph wind blowing the ball back into the infield."
San Diego manager Bud Black knew his team caught a break.
"When the wind is either blowing out significantly or blowing in, funny things have happened in a ballgame," Black said. "I think you saw that there with the popup."
Wood then exited, and Shawn Camp's offering got away from Castillo during Chris Denorfia's at-bat. The catcher didn't seem aware Blanks was headed home from third as he collected the ball behind home plate. Blanks scored the tying run.
"I think [Castillo] thought [Blanks] was running and was just going to walk home, and he took it for granted," Sveum said. "[Blanks] didn't take off, and Welly took it for granted he was going to walk home and was going automatically, and obviously didn't go after the ball."
Blanks hesitated because he thought the ball had kicked back to Castillo off the brick wall.
"As soon as he kind of tailed after it, I just took off," Blanks said. "I figured he's taking his time, it's as good a time as any to at least make an attempt. But the kick, I thought it was coming back to him, then as soon as it got away, I just took off."
Camp walked Denorfia, and James Russell entered. Everth Cabrera greeted him with a go-ahead RBI single to take a 3-2 lead. Chase Headley followed with another RBI single that rolled just past Barney at second base.
Castillo shouldered the blame for the mental mistake.
"I want to apologize to my teammates," Castillo said. "I feel like I lost the game. I'm the one who has to keep everybody on the game, and I just got out of the game."
Sveum did talk to his young catcher, a regular for the first time in his career.
"He's been playing really well and throwing people out and a big part of why these starting pitchers are pitching well," Sveum said. "He obviously had a mental lapse tonight. He's caught well for a young kid who has a half a year in the big leagues."
Wood did get defensive help in the seventh from first baseman Anthony Rizzo, who snared Headley's popup in foul territory as he dove over the rolled-up tarp and somehow hung on, despite falling between the tarp and the brick wall. Borbon also tumbled over the bullpen mound after catching Nick Hundley's fly ball against the wall in the eighth. Shortstop Starlin Castro added to his highlight reel of great plays.
Castillo did single to lead off the seventh, and Scott Hairston connected for his third home run. Hairston is now 3-for-28 against left-handed pitchers, and all three hits have been home runs.
The way Wood was pitching, a 2-0 lead seemed enough.
"It was a shame -- we had two defensive plays that were the difference in the ballgame," Sveum said. "It's unfortunate. It was a really well-played game other than a popup that caused it. We had a chance to make a pitch and get out of all that, and couldn't do it again. When we make a mistake, we don't seem to be able to make a pitch to get the next guy out."
Carrie Muskat is a reporter for MLB.com. She writes a blog, Muskat Ramblings, and you can follow her on Twitter @CarrieMuskat. This story was not subject to the approval of Major League Baseball or its clubs.