Padres come to life late, bat around to rally in eighth
San Diego takes Stults off hook after pitchers' duel in early innings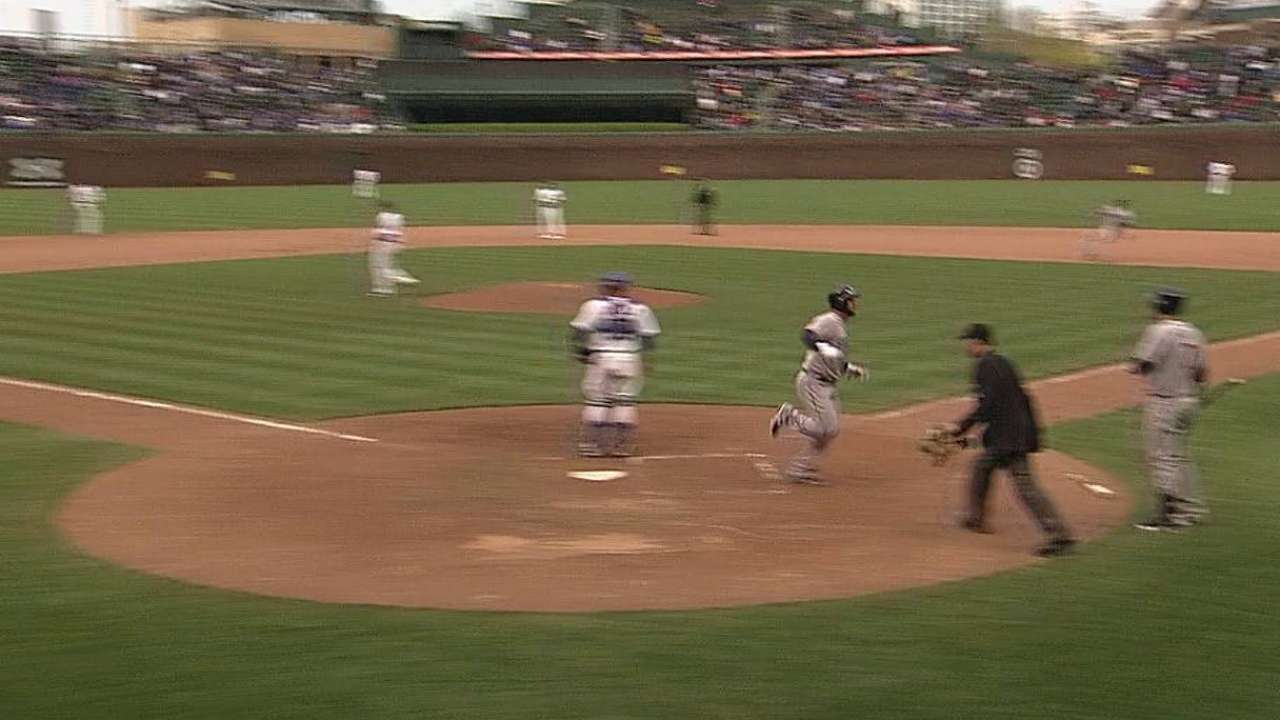 CHICAGO -- In a matter of half an inning Thursday, the Padres' offense went from silent to fortunate, and finally, triumphant. And starting pitcher Eric Stults went from the recipient of a hard-luck loss to the beneficiary of some timely scoring.
Most importantly, the Padres were 4-2 winners after a four-run gift of an eighth inning was helped along by some cumbersome Cubs play and timely at-bats from a San Diego lineup that was unproductive for most of the afternoon.
Through seven innings, the Padres mustered just two baserunners on a pair of singles against Cubs starter Travis Wood, who took a perfect game into the fifth. But 10 San Diego hitters came to bat in the eighth, and a hopeful Wrigley Field crowd saw a late 2-0 lead turn into a 4-2 deficit.
"Just the way the game was going, really at no point, regardless of the score, did it feel out of reach," outfielder Kyle Blanks said. "It's just a matter of getting those hits and stringing something together."
Jesus Guzman singled to lead off the pivotal eighth, and Wood issued his first walk of the day to Blanks, the following batter. With two men on and one out, Nick Hundley flew out into foul territory down the right-field line, where Julio Borbon's sprawling catch against the wall allowed Guzman to advance.
It proved costly in the next at-bat, when Yonder Alonso popped up to shallow right, and Borbon and second baseman Darwin Barney miscommunicated on the call. The ball dropped between the two, allowing Guzman to score from third.
"[Wood] was a missed popup away from pitching eight shutout innings," Cubs manager Dale Sveum said. "Getting the loss was a shame."
Shawn Camp then relieved Wood, and a passed ball with Chris Denorfia at the plate in the following at-bat tied the game at 2. Everth Cabrera and Chase Headley both tacked on RBI singles off lefty James Russell to suddenly make it a 4-2 game.
"No doubt, that was a funky inning," manager Bud Black said. "With that [passed ball], the popup, with Chase's hit, it was a little funky. Good funky."
It was a wasted effort for Wood, who was practically unhittable for seven innings, and a gift for Stults, whose only significant blemish on a strong afternoon came on a two-run Scott Hairston homer in the seventh.
Stults scattered seven hits over 6 2/3 innings, walking two and striking out four. Neither team advanced a runner to third base until Hairston's blast. Welington Castillo singled in the previous at-bat and scored on the drive.
"It was a ball up and he drove it," Stults said. "It's probably one of those where if he hits it high up in the air, the wind may knock it down. But the fact that he hit a line drive and put a good swing on it, it could be blowing 100 mph and it's probably not gonna knock that ball down."
The Padres' first hit didn't come until a Blanks single up the middle broke up Wood's perfect game in the fifth. Stults had the only other hit off Wood before the eighth.
Luke Gregerson pitched a scoreless eighth and Huston Street recorded his sixth save of the year. With the comeback win, the Padres managed to split the mid-week series at Wrigley Field.
"Regardless of what the situation is, what the outs are, what the score is, you can always take advantage of the mental lapses that go on on the field," Blanks said. "It's just a testament to nobody here giving up. It's cold outside, they're ahead, it's getting late -- that's an easy time to kind of shut it down, but nobody on this team thinks like that."
Joey Nowak is a reporter for MLB.com. Follow him on Twitter at @joeynowak.‬ This story was not subject to the approval of Major League Baseball or its clubs.