Braves' offensive woes continue in finale with Nats
Quiet bats, Johnson's error negate positive performance by Medlen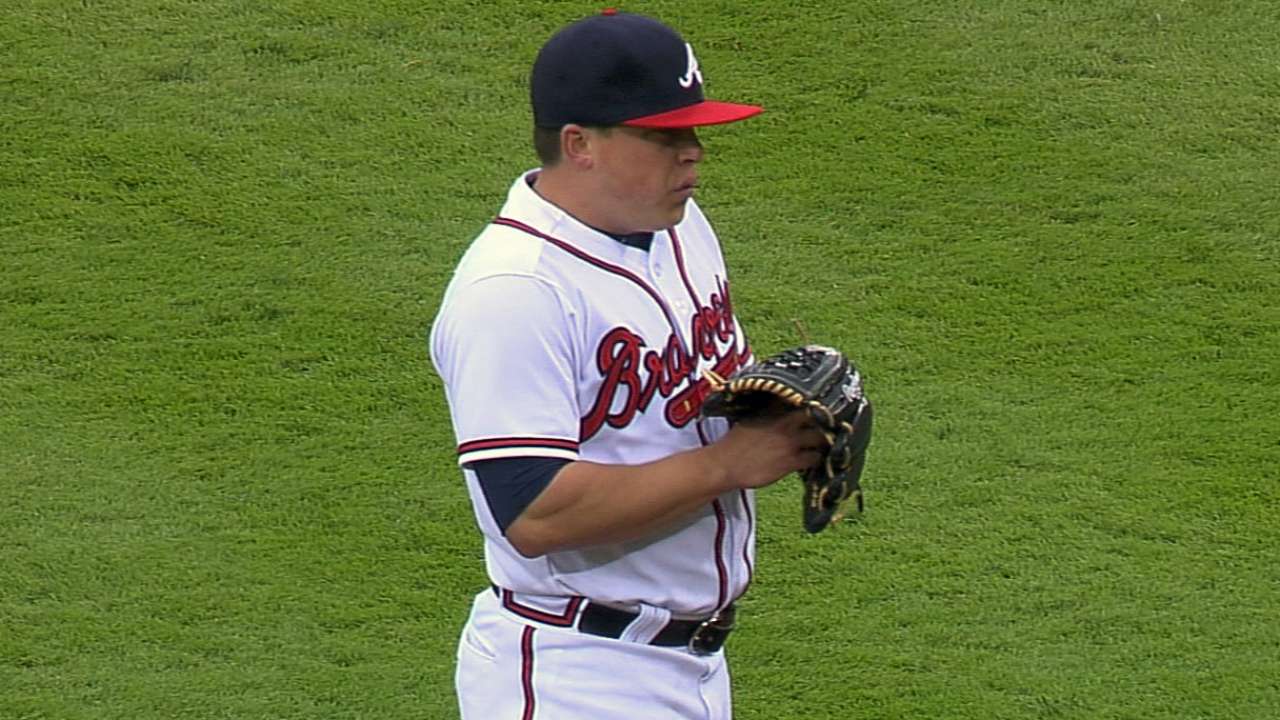 ATLANTA -- The Braves had no reason to be ashamed when they were shut down by Jordan Zimmermann on Wednesday night, but after beginning this four-game series with so much promise, they ended it with the disappointing reality that their offensive woes had been extended by Dan Haren.
Instead of bouncing back from Zimmermann's dominant effort, the Braves seemed to experience a hangover effect, as Haren produced eight strong innings and helped the Nationals split the set with Thursday night's 3-1 win at Turner Field.
"We won the first two and had a chance to win the series," manager Fredi Gonzalez said. "We pitched good enough to win the [final] two games. They pitched a little better."
After Zimmermann allowed two hits over eight scoreless innings on Wednesday, Paul Maholm took a tough-luck loss despite allowing just hit -- a two-run homer -- to leave the infield. Kris Medlen's misfortunes in the series finale centered on limited offensive support and third baseman Chris Johnson's inability to field Denard Span's soft grounder with two outs in the decisive second inning.

"I should have just backhanded the ball," Johnson said. "I tried to get in front of it, and I didn't have time, because I was playing in. It was just a bad error at a really bad time."

Battling some of the mechanical issues that have haunted him this season, Medlen had only himself to blame when he allowed a Span double and Steve Lombardozzi's RBI single before recording his first out. His troubles extended into the second inning, when Adam LaRoche's double and Anthony Rendon's single put runners at the corners with none out.

But Medlen would have likely escaped unscathed had a drawn-in Johnson gloved Span's grounder, which spun out of the grass and then eluded Johnson's glove before traveling to shallow left field. LaRoche and Lombardozzi scored easily, providing the difference for the Nationals, who have won two straight since losing their first five matchups against the Braves this season.

"He came in and said, 'I straight booted that ball,'" Gonzalez said. "It was off the end of the bat. It spun and got away from him. I'm sure in his mind he could make that play 99 out of 100 times."

The official scorer originally ruled the play an error but later credited Span with a two-run double. Although Medlen did not seem fazed by the fact that this unjustly added two earned runs to his line, an accountable Johnson lobbied for the call to be reversed again during and after the game.
Regardless of the ruling, the fact is that the game's turning point came on a play Johnson knew he botched.
"I was furious as soon as [they changed it]," Johnson said. "I didn't see it until, like, the fifth inning. I looked up, and we didn't have any errors. I was mad. That's an error. The guy hit it off the end of the bat. He didn't hit it hard at all. I'm working on getting that switched, because in my eyes that's a routine play."

Johnson's inability to at least keep Span's grounder in front of him proved even more significant when Dan Uggla drilled a two-out homer over the wall in left-center in the seventh. Instead of potentially serving as a game-tying shot, Uggla's fifth home run of the season simply accounted for the only run Haren surrendered while limiting the Braves to four hits in eight innings.

Uggla's home run ended a streak of 18 consecutive scoreless innings for the Braves dating back to the fifth inning of Tuesday night's victory. They totaled seven hits while losing the final two games of this series, which started with wins against Stephen Strasburg and Gio Gonzalez.
"[Haren] was mixing in and out and throwing strikes," Uggla said. "That's all he needed to do. He didn't put anybody on base. He didn't make many mistakes. Ordinarily, when you do that, you're going to give yourself a good chance to win."

Being baffled by Zimmermann, who has a 1.64 ERA through six starts, was easier to accept than losing to Haren, who had compiled a 6.29 ERA in his previous five starts.

Before Uggla's home run, the only hits Haren surrendered were the consecutive two-out singles Freddie Freeman and Evan Gattis produced in the fourth inning. Freeman's single ended an 0-for-35 stretch for Atlanta's position players dating back to Wednesday's first inning.
Nationals pitchers had retired 28 consecutive batters before Haren issued a five-pitch walk to Medlen with two outs in the third inning.
Medlen allowed just the three runs during his seven-inning effort, but as he sat at his locker after losing a third consecutive start for the first time in his career, he was frustrated by the belief that he has allowed his mechanical issues to affect his psyche and minimize some of his aggression.
"I'm tired of doing interviews postgame saying I just kept us in the game," he said. "If I clean it up from the get-go, I don't give up any runs. I took what I was working with in between starts into the start, and I was sitting there trying to work on stuff in the middle of the game."
Mark Bowman is a reporter for MLB.com. This story was not subject to the approval of Major League Baseball or its clubs.