Haren extends string of Nats' pitching dominance
Righty throws season-high eight innings, allowing only Uggla's homer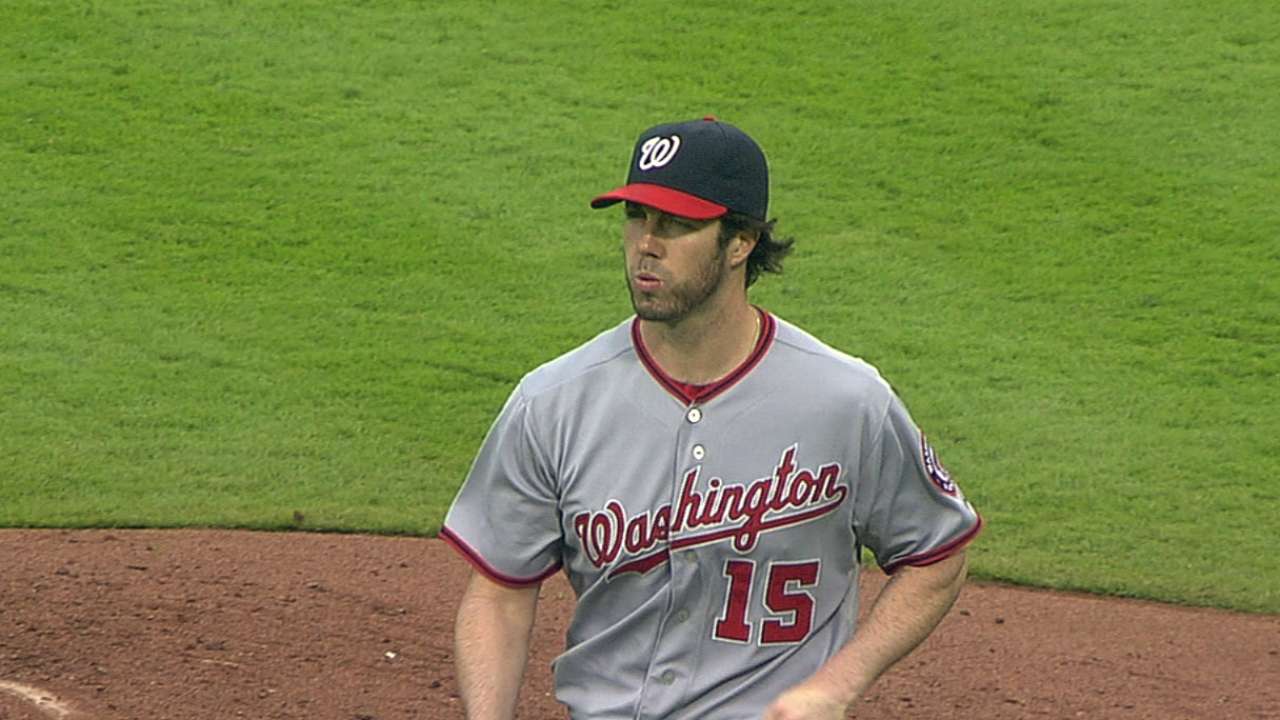 ATLANTA -- Dan Haren doesn't need a radar gun.
Nor does he need anyone doing statistical comparisons with him and the other members of the Nationals' rotation.
All he needs is the ball every fifth day and to be left alone.
"That was the problem. I was trying to be too much like them. I was overthrowing a little bit," said Haren (3-3), who threw a season-high eight innings in leading the Nationals to a 3-1 win over the Braves on Thursday night at Turner Field. "I had a little bit of velocity back with my fastball, but I'm not going to care about velocity any more. I'm sick of that. It just gives me problems. I'm just going to be myself out there. Whether it's 88 or 85 [mph], I know I can get people out."
On Thursday, Haren displayed the form the Nationals expected when they signed him as a free agent during the offseason while helping the club showed how deep its rotation is.
For the second consecutive night, the Nationals got eight strong innings out of their starter, earning a split of the four-game series with the Braves and putting to rest their nine straight losses to Atlanta and sub-.500 record. The Nats leave for Pittsburgh at 15-14, 2 1/2 games behind the Braves in the National League East and with some much-needed momentum.
After Jordan Zimmermann gave the Nationals what manager Davey Johnson called a blueprint on Wednesday, Haren issued a patent for his own formula for success.
"What a heck of a ballgame Haren pitched," said Johnson. "The last two nights, with Zim and Haren, low pitch counts, going late in the ballgame, very few balls hit really hard ... [Haren] was making his pitches all night."
Haren evened his record by allowing only four hits -- one of them Dan Uggla's homer in the seventh inning -- striking out four and walking only one. The veteran right-hander registered his first winning streak with the Nationals and has allowed three earned runs and 10 hits over 14 innings in his last two starts, striking out nine while walking only two. He's allowed three earned runs or fewer in each of his last five starts.
Kris Medlen (1-4), who allowed three runs on seven hits over seven innings, took the loss for Atlanta.
Haren, who went into the game with a career 7.31 ERA at Turner Field -- yet a 2-1 record -- didn't give up a hit and allowed only one baserunner over the first three innings. Then, after giving up back-to-back singles in the fourth, he retired nine straight Braves before allowing the solo homer to Uggla. The run was the first allowed by Nationals pitchers in 18 innings, going back to the fifth inning on Tuesday night.
A key for Haren was trusting his catcher, Wilson Ramos, with whom he was in sync all night.
"I went with Wilson a lot. I like to throw first-pitch fastballs just to show them and throw it for a strike," Haren said. "He called a lot of first-pitch cutters. I think he was sensing that they were going to swing, so he was setting up out there. They're such an aggressive team, I was making 0-2 pitches earlier in the count."
From there Haren needed to simply trust his stuff.
"It's what I didn't do earlier in the year. I was trying to do too much," he said. "I just backed off and pitched like myself. I didn't pile up too many strikeouts, but I didn't have many two-strike counts. They were hacking."
That hacking played into Haren's hands, keeping his pitch count down -- he threw 90 pitches, 62 for strikes, while allowing two baserunners in the same inning once (in the fourth), and didn't allow anyone other than Uggla to reach third. He even convinced Johnson to let him pitch to third baseman Chris Johnson with two out and the potential tying run on base in the eighth.
Though Drew Storen was ready, Johnson was convinced Haren could do the job and stuck with him. He was rewarded with a strikeout.
Denard Span supplied the offense, reaching base four times, going 3-for-4 with a walk. He scored the game's first run, in the first inning, then drove in the other two, slapping a two-run double the opposite way past Johnson in the second. The first-inning run ended a personal drought of 13 games in which the speedy center fielder had not scored a run.
"We scored early, and that was enough to get us a win," said Span. "Nine games in a row Atlanta had beaten us. Any time you lose to a team that many times, you might get a little frustrated. But we knew we had to come out and play our best ball and play mistake-free baseball. We knew if we did that, we could beat this team."
Third baseman Anthony Rendon had two hits for Washington, which had seven on the night.
Closer Rafael Soriano, throwing back-to-back games for the first time since April 9-11, all converted saves, recorded his ninth save throwing a scoreless ninth.
The win gave Washington a 2-0 record in May and came on a night when the Nationals may have lost right fielder Jayson Werth for a few days, as he re-aggravated his right hamstring.
Fortunately, they rediscovered another ace, in Haren.
"That's probably his best outing this year," said Span. "His last two starts have been good; that's what he's capable of doing. That's the three-time all-star Dan Haren right there."
Jon Cooper is a contributor to MLB.com. This story was not subject to the approval of Major League Baseball or its clubs.