Hot hitting backs wobbly pitching vs. Dodgers
Tulowitzki solid in return, joining CarGo, Cuddyer with two RBIs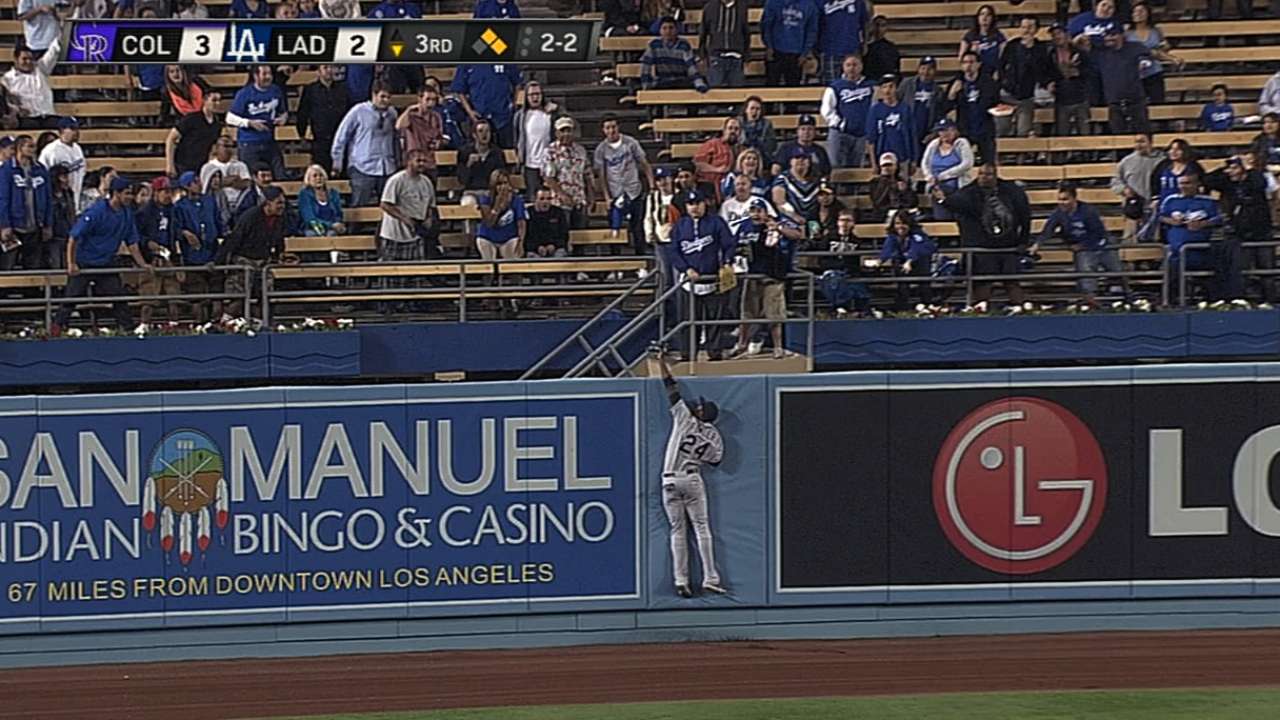 LOS ANGELES -- As long as hitters like Carlos Gonzalez, Troy Tulowitzki and Michael Cuddyer populate the Rockies' lineup, the team has a batting order strong enough to win when the pitching is iffy.
Two-run doubles from Tulowitzki and Gonzalez allowed the National League West-leading Rockies to overcome a short, shaky start from Juan Nicasio and win, 7-3, in the deciding game of three at Dodger Stadium on Wednesday night in front of 32,848.
"That's the beauty of having an offense like we have," Rockies manager Walt Weiss said. "We can outslug some things. You can't do that all the time, but we have the capability."
The victory brought the Rockies to 8-8 on the road and a respectable 3-4 on a National League West road stretch during which all of the games were winnable. Even with the lack of clutch hits that marred the 1-3 series at Arizona and the starting pitching warts that surfaced at times in Los Angeles, the Rockies are playing with confidence.
It's a pattern this year. After being swept in San Francisco, the Rockies swept the Padres. During the Rockies' last homestand, the Braves swept a doubleheader on a cold, miserable day, but the Rockies won the next day in 12 innings to complete a 6-3 homestand.
"We can turn the page," said Cuddyer, who joined Tulowitzki and Gonzalez with a two-RBI night. "You have to be able to turn the page, because you're going to have bad games. You can't let bad games linger. You understand that. You respect that loss, then you move on."
Ahead is a six-game Interleague homestand -- three against the Rays starting Friday night, and three against the Yankees beginning Tuesday.
Tulowitzki, in his return Wednesday from missing two games with a slight left rotator cuff strain, doubled for two runs in the three-run first inning and finished 2-for-4 with a walk.
Gonzalez, who arrived in Los Angeles in a 4-for-35 slump but broke out of it by going 6-for-11 with a home run, three doubles (two Wednesday) and five walks (two Wednesday), doubled in two runs to break a fourth-inning tie and put the Rockies up to stay.
"The past couple of series I had so many chances to change the game, and it didn't happen, but I always try to keep myself positive," Gonzalez said. "All I've got to do is control my emotions and believe in myself."
The key doubles were off Dodgers starter Josh Beckett (0-4), who yielded five runs (four earned) on five hits with six strikeouts and three walks in four innings -- at a plodding pace.
"When you leave your guys standing around for 30 or 40 minutes in the first inning, I've just got to make better pitches," Beckett said.
Cuddyer drove in a run with a sacrifice fly in the first inning and delivered an RBI double at the end of a 10-pitch at-bat against Kenley Jansen in the seventh. Also, Josh Rutledge went 3-for-4 with a double and an RBI, and Eric Young Jr. reached on three of his six plate appearances, on an error, a walk and a double.
Nicasio entered 3-0 but had not exceeded five innings in any of his previous four starts and was benefiting from 8.53 runs of support. Tuesday, it took him 92 pitches to complete four innings and give up three runs on five hits, including Adrian Gonzalez's two-run homer in the first.
Nicasio let the Dodgers tie the game at 3 in the third with a wild pitch that went between the legs of catcher Wilin Rosario with the bases loaded.
The third would have been more damaging had center fielder Dexter Fowler not leaped to reach above the wall and steal what would have been Gonzalez's second homer, this with two on base.
"Anything that comes off his bat has a chance to go out," Fowler said. "The best thing to do is run back and try to get under it, and I had enough room to jump and catch it."
With No. 1 pitcher Jhoulys Chacin coming off the disabled list Sunday and Tyler Chatwood having pitched well in two starts since being called up from Triple-A Colorado Springs, the Rockies are faced with a question. Should they return Chatwood to Triple-A or give Nicasio, a hard thrower whose secondary pitches have not developed, a Colorado Springs tuneup?
Weiss did not sound convinced a demotion was the answer.
"I'm not sure about that," Weiss said. "It's not that he's throwing the ball poorly. His stuff is still very good. It's just a matter of being more efficient and not extending at-bats."
Lefty reliever Josh Outman (1-0) replaced Nicasio, struck out one and gave up one hit in two quiet relief innings. Matt Belisle, Rex Brothers and Rafael Betancourt finished five scoreless bullpen innings. Relievers gave up just three unearned runs in 24 2/3 during the road stretch. Brothers has 10 straight scoreless outings.
"In that situation the priority is to get it to the back end of the bullpen -- Belisle, Betancourt and Brothers," Outman said. "Four runs is still a close ballgame, especially with the offense that L.A. has."
Thomas Harding is a reporter for MLB.com. Read his blog, Hardball in the Rockies, and follow him on Twitter @harding_at_mlb. This story was not subject to the approval of Major League Baseball or its clubs.