Belt's eighth-inning blast fuels rally for sweep
First baseman continues to hound D-backs as Giants' bats bust out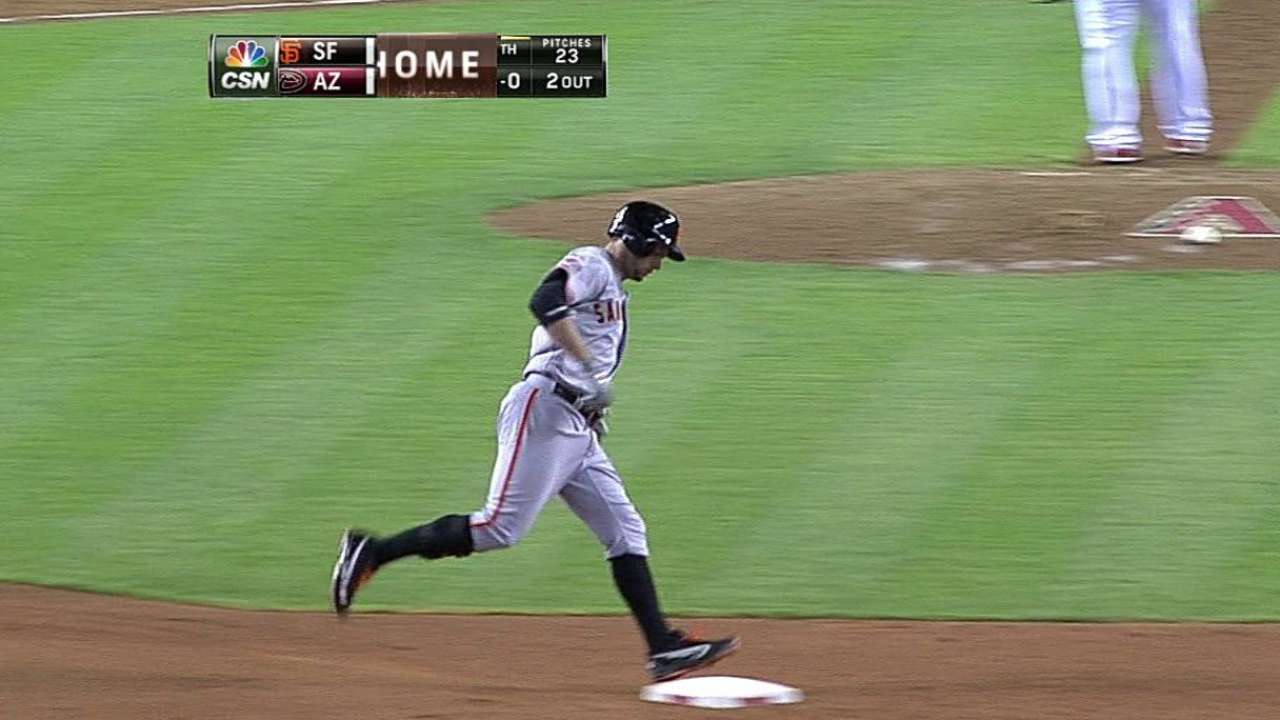 PHOENIX -- By his own admission, Brandon Belt's hitting has remained uneven. Imagine what might happen when he steadies himself.
Continuing his proficiency against the Arizona Diamondbacks, Belt lined a three-run homer in Wednesday night's eighth inning to erase a two-run deficit and lift the Giants to a 9-6 victory.
The decision gave the reigning World Series champions a three-game series sweep over the D-backs at Chase Field. The Giants improved to 4-2 against the D-backs, whom Belt has victimized three times with game-winning hits.
The Giants recorded their third consecutive come-from-behind victory and ninth of the season, tying them with Pittsburgh for the most in the National League.
"It's a mindset of this team. We have a strong group of guys that's going to play until the last out," right fielder Hunter Pence said. "It'd be nice to get a lead early and run away with one, but that hasn't been the case so far."
The Giants stroked eight extra-base hits, their most since they amassed nine at Colorado on Sept. 18, 2011. Wednesday's total helped them keep pace with and eventually surpass the D-backs, who led 3-1 after two innings and 6-4 through seven.
Then Pence and Gregor Blanco coaxed eighth-inning walks from Arizona reliever David Hernandez. With two outs, up came Belt, who lined an 0-2 fastball into the right-field stands for his third homer of the season.
"See something over the plate and put the bat on the ball," Belt said, describing his approach against Hernandez. "Basically keep it as simple as possible."
Hernandez helped Belt by throwing a pitch down the middle, missing catcher Miguel Montero's high target.
"I threw the first two exactly where I wanted to and threw the third one exactly where he wanted me to," Hernandez said.
The Giants' next series against Arizona is June 7-9. Belt already may have circled those dates on his calendar. He's batting .412 (7-for-17) with three homers and nine RBIs in six games against the D-backs this year. Belt has accumulated most of those numbers in critical situations. He delivered tiebreaking singles in the ninth inning on April 22 and in the eighth inning of Monday's series opener. He also drilled a two-run, pinch-hit homer to force extra innings on April 23.
"He's proving that he's going to be a good hitter, and a big-moment hitter," said Pence, who provided another Giants highlight with the longest homer of his career -- a sixth-inning drive to center field that traveled a calculated 460 feet.
Belt's hitting only .239 overall, which prompted Giants manager Bruce Bochy to observe that the first baseman hasn't achieved consistency. Informed of Bochy's remark, Belt took no offense.
"I totally agree with that," Belt said. "I'm not sure what the reason is, but I still haven't found that consistent groove yet. I'm trying to find it day-in, day-out."
The same could be said of Giants starter Tim Lincecum, who recorded a 1.32 ERA in his previous two starts but couldn't sustain that effectiveness. Lincecum lasted five innings and allowed five runs on a season-high 10 hits, the biggest one being Cliff Pennington's three-run homer in the second inning.
San Francisco's offense not only saved Lincecum but also sustained its momentum after Belt's big homer. The Giants added a pair of ninth-inning runs on Pablo Sandoval's RBI double and Buster Posey's sacrifice fly. Thanks to four walks, the Giants scored five runs in the final two innings on just two hits.
Sergio Romo gave the Giants a scare in the bottom of the ninth, though not with his pitching. Covering first base on the back end of an attempted double play, Romo was handcuffed by shortstop Brandon Crawford's return throw and was struck by the ball on his left wrist. But Romo emphatically waved off athletic trainer Dave Groeschner and struck out A.J. Pollock to record his 11th save in 12 opportunities.
Chris Haft is a reporter for MLB.com. This story was not subject to the approval of Major League Baseball or its clubs.