Bullpen surrenders another lead late against Giants
Pennington breaks out on offense; McCarthy effective through six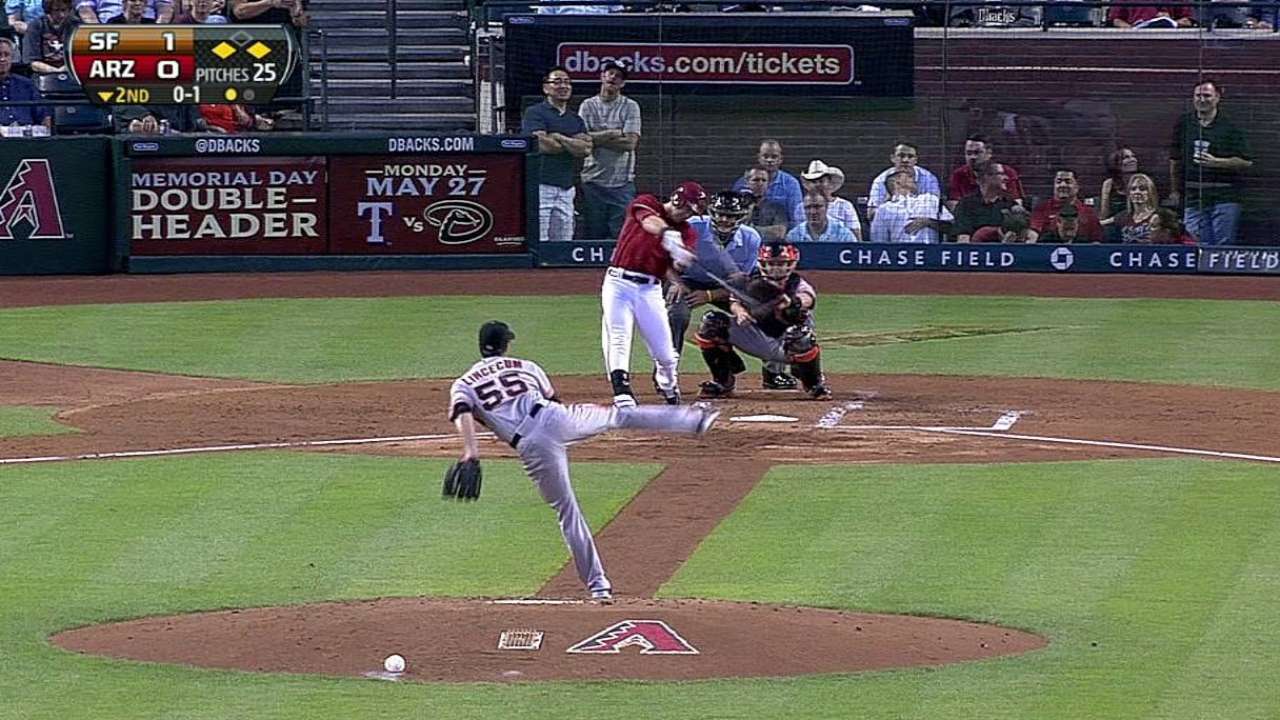 PHOENIX -- Coming off consecutive late-game meltdowns, the D-backs bullpen was again handed a cushion to protect Wednesday night, this time a two-run lead with three innings to complete.
The first five outs for the D-backs came relatively easy. Then Brandon Belt stepped into the box with two outs in the eighth.
David Hernandez threw two perfectly located fastballs on the outer third of the plate to jump ahead in the count, but the third fastball missed its mark and Belt hit it on the nose.
Needing one more strike to escape the inning after walking two batters, Hernandez sent a heater over the middle of the plate and Belt crushed it for a three-run homer, leaving the D-backs searching for answers as the Giants completed the three-game sweep, 9-6, at Chase Field.
"I threw the first two exactly where I wanted to and threw the third one exactly where he wanted me to," Hernandez said. "Seems like everything is going bad, but that's the way a season goes sometimes."
The Arizona bullpen has now blown 10 saves in 28 games this season and in the Giants series alone, D-backs relievers allowed a combined nine runs in the seventh inning or later.
"It's all frustrating, it's a tough time right now," D-backs manager Kirk Gibson said. "We have to pick ourselves up and move on. You're going to be tested."
Wednesday wasn't the first time Belt has stung the D-backs this season. The Giants first baseman hit a walk-off single against Arizona on April 22, smacked a game-tying two-run homer in the ninth on April 23 and drove home the game-winning runs with a single on Monday.
"He's been really clutch for us," Giants outfielder Hunter Pence said. "He's proving that he's going to be a good hitter -- and a big-moment hitter."
Down by one, the D-backs had the tying run on third base in the bottom of the eighth, but Gerardo Parra struck out swinging to end the threat.
"They had really good at-bats late in the game," Gibson said. "We were unable to match it."
In the ninth inning, the Giants tacked on a pair of insurance runs off Heath Bell, who also walked two batters. Combined with Hernandez's walks, all four Giants batters that were issued a free base in the final two innings came around to score.
"That was the worst part about it all," Gibson said. "You aren't helping yourself."
Hernandez echoed his manager's dismay at the lack of command.
"Couldn't locate anything, probably wish I would've pitched them a little differently and challenged them more," he said. "Walks are always going to kill you."
Before the bullpen's late collapse, D-backs starter Brandon McCarthy was in line to win his first game in an Arizona uniform. Following five shaky outings to start the season, McCarthy still wasn't at his best Wednesday, but the 29-year-old worked six innings, allowing four runs on eight hits while striking out six.
"Overall it was encouraging but there are little things I can do to smooth out the rough edges," McCarthy said. "The stuff is there, it's just making sure you put together the whole game plan."
Leading the way offensively, Cliff Pennington tied a career-best with four RBIs, including launching his first home run since September of last season. Eric Chavez also pitched in with three hits and an RBI as the D-backs outhit the Giants, 15-10.
Wednesday was the first time the D-backs scored six runs or more without going to extra innings since April 10, a span of 19 games. Even though the support wasn't enough this time, the D-backs still preached confidence in their relievers to turn things around.
"Obviously you want to win ballgames but we have a lot of guys down there that have done it really well for a long time," Pennington said. "You win and lose as a team, right now we're not winning. Those guys will be just fine and we'll look back at this as a blip."
After falling behind 1-0 in the first, Pennington erased the deficit with one swing in the second inning, depositing a three-run blast into the pool pavilion in right-center field off Giants starter Tim Lincecum. Entering the at-bat, Pennington had been 1-for-13 in his career against the two-time Cy Young Award winner.
"I just tried to drive a run in, maybe get a base hit," Pennington said.
McCarthy allowed a pair of runs in the fifth and a single run on the sixth to keep the Giants in the game, but to his credit, the right-hander ended his night on a high note, striking out the final two batters he faced to strand a pair of runners and leave the rest up to his bullpen, which again could not close the door.
Before Hernandez gave up the lead, Matt Reynolds, the lone bright spot in the D-backs bullpen recently, turned in a perfect inning of work, striking out all three batters he faced on a combined 15 pitches and running his scoreless-innings streak to 15 1/3 innings dating back to last season.
Tyler Emerick is an associate reporter for MLB.com. This story was not subject to the approval of Major League Baseball or its clubs.