Facing former club, Cashner roughed up
Gyorko, Headley goes deep, but offense gets stymied by Feldman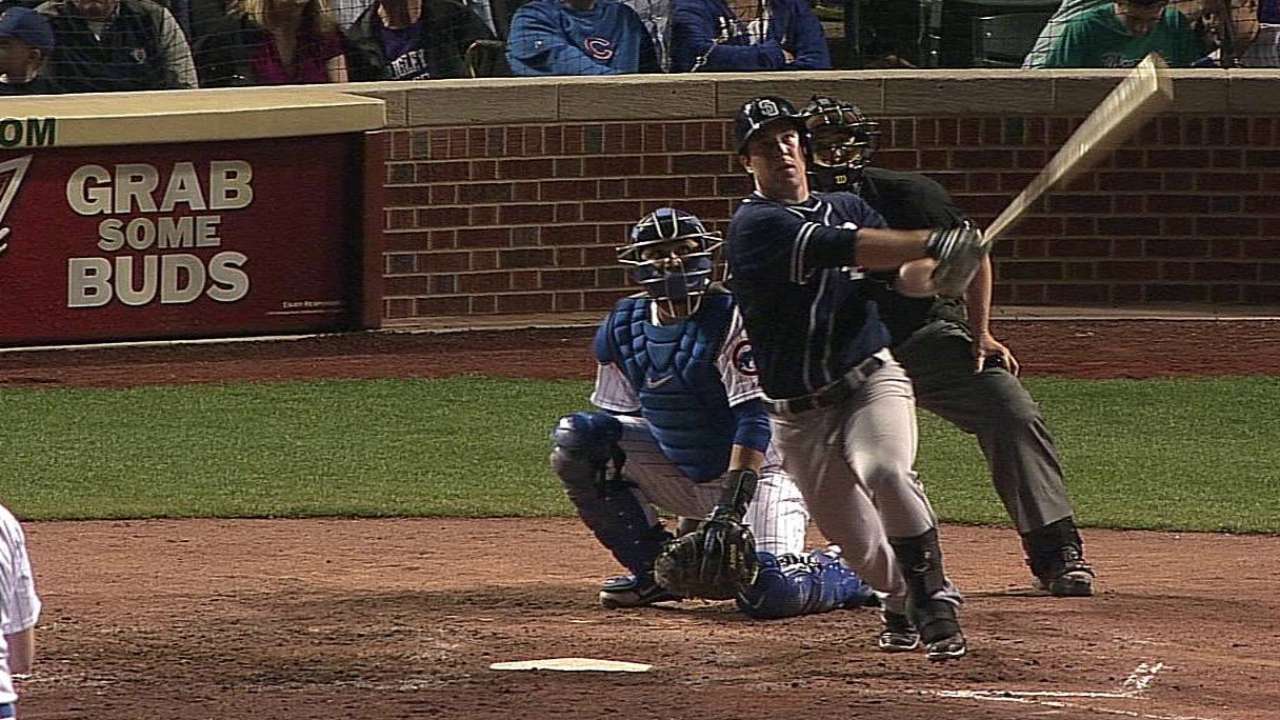 CHICAGO -- The Friendly Confines were not so for a former inhabitant Wednesday night.
Whether it was too much adrenaline against his former team, spotty command or bad pitches in bad situations, former Cubs first-round pick Andrew Cashner faltered during his first start against his former team in the Padres' 6-2 loss at Wrigley Field.
The Padres right-hander faced 23 hitters in four innings, walking four. He hit a batter, committed an error, threw one wild pitch and gave up an RBI double to the opposing starting pitcher, Scott Feldman.
"It was bad," Cashner said. "I felt like I was fighting the whole time tonight. I never really got into a groove out there and really didn't execute very well."
Cashner said his first start at Wrigley since he was sent to San Diego in a deal that brought first baseman Anthony Rizzo to Chicago didn't factor into what amounted to the most maddening start of his young season.
Just about everything that could go wrong did. Feldman had his day against Cashner, recording just his second career hit and first of the year. He also limited the Padres to three hits (including two solo homers), a night after San Diego rallied for a season-best 17. At one point, Feldman struck out six consecutive batters, and he finished with a career-best 12 while throwing his first complete game.
"It's something I've been wanting to do for a while," Feldman said about getting a complete game. "It always seemed like my pitch count got up or I got taken out before that could happen. I think originally the plan was for me to throw eight. I went back and asked skip if I could get a crack at a [complete game]. I'm thankful he let me go back out there to try to get it and didn't take me out after I gave up that home run to [Chase] Headley."
Headley's homer in the ninth cut the lead to 6-2, but the Padres long seemed out of it. The other bright spot was Jedd Gyorko's eighth-inning shot, the first of his career.
"I was glad to get it over with," Gyorko said. "Hopefully it doesn't take another 100 at-bats to get my next one."
However, as manager Bud Black said, the game got away from Cashner early and he never found a grasp.
The 26-year-old righty surrendered two walks and two singles in the first, including a two-out RBI hit to Starlin Castro after Rizzo beat out a double-play ball. Darwin Barney walked and scored on Feldman's double to make it 2-0 in the second.
Chicago tacked on two more against Cashner in the third with a single, a misplayed fielder's choice and a two-run Dioner Navarro double. Cashner also hit a batter and then made an errant pickoff attempt in the fifth that allowed Julio Borbon to move into scoring position. Borbon would score on a grounder to short, making it 5-0.
"Cash just wasn't on tonight," Black said. "You could tell right from the get-go that he couldn't get any momentum started. His pitches were in and out of the strike zone way too much. No consistency there. There were a couple at-bats where it looked as if he might find it, but he could never get in a groove from, really, I thought the first inning on."
It wasn't until the fifth, when Anthony Bass took over for Cashner, that the Cubs were retired in order. Bass gave up a single to Castro and an RBI double to Nate Schierholtz in the seventh to make it 6-0.
Although Feldman labored in the final two innings, he fanned Yonder Alonso to finish the game.
"He was as good as anybody I've seen all year," Headley said. "Both sides of the plate, cutting and sinking it, changing speeds, getting ahead in the strike zone. He was really good."
Joey Nowak is a reporter for MLB.com. Follow him on Twitter at @joeynowak.‬ This story was not subject to the approval of Major League Baseball or its clubs.