Cain, Butler supply offense in comeback win over Rays
Down by five early, Royals erupt with five-run sixth to secure win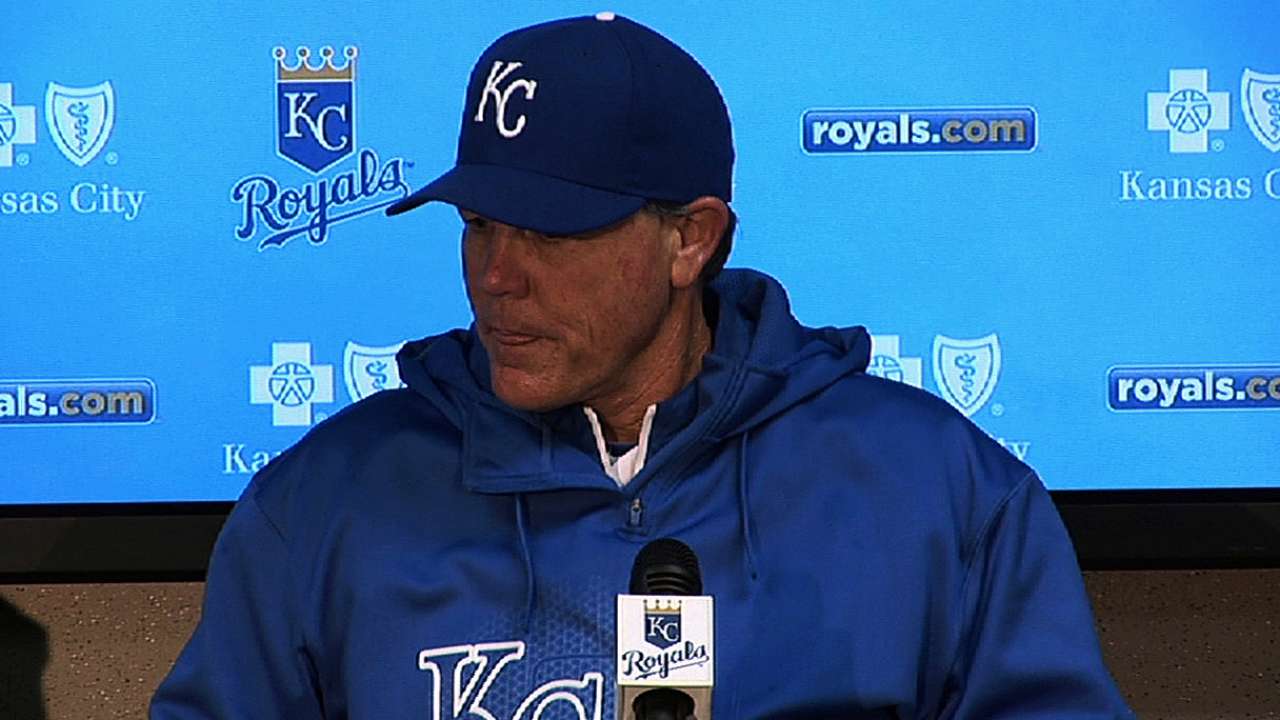 KANSAS CITY -- While cold weather moved in, the Royals got hot.
Down by five runs early, Kansas City rallied to a 9-8 victory over the Tampa Bay Rays on Wednesday night at wind-swept Kauffman Stadium. The win enabled the Royals to reclaim the American League Central lead over Detroit by a half-game.
The temperature fell rapidly during the game, prompting some of the 11,514 fans to exit early. The day's high was 81 degrees, it was 66 at game time and down to 51 by the seventh inning.
"It had to change -- what? -- 30 degrees?" Royals manager Ned Yost asked. "When we took batting practice, we were all in short sleeves and sunglasses. And once the game started, it just dropped from that point on and was really cold and windy the last five or six innings. The wind, I think, was really pushing out to right field. It killed a lot of balls that were hit to left-center, center field and left field, but it was really carrying to right field. But it definitely really cooled off."
Ah, but not his Royals. They were down 5-0 and then 6-1 by the fourth inning, as Matt Joyce, Ben Zobrist and Luke Scott all belted solo home runs (to right field, naturally) off Royals starter Luis Mendoza.
All the Royals could muster that early was a solo home run (to right field, naturally) by Elliot Johnson, the former Rays infielder. In that same third inning, the Royals loaded the bases but couldn't score.
"It was really tough, because it was 5-1 and we got the bases loaded, and we didn't get nothin'," Billy Butler said. "And then Luke Scott hit the solo home run, so it was basically like Elliot's home run didn't even count. It looked like we were behind the eight-ball right there."
But Johnson thought right-hander Jeremy Hellickson, his former teammate, looked vulnerable.
"We didn't feel like we were really out of it, because he wasn't really one-two-threeing us at all. We were putting together good at-bats and we were threatening," Johnson said. "After I hit the homer, that inning we threatened, and after that we started tacking 'em on."
Yes, a run in the fourth inning and two more in the fifth with Lorenzo Cain whacking a long triple. So it was 6-4 and Hellickson was lifted.
"We're finding ways to get runs in," Cain said.
Then came the sixth, the same inning in which the Royals dispatched Rays starter Alex Cobb in Tuesday night's 8-2 victory. The Royals loaded the bases with one out, and Butler hit a smash that glanced off the glove of left-handed reliever Jake McGee. Startled, he retrieved the ball and threw to first base for an out instead of going to the plate for a forceout. So a run scored.
"It was kind of like a natural reaction after the ball came back so quick," McGee said. "I just kind of grabbed the ball, and just wanted to make sure I got an out no matter what. If I rush too much going home, then two runs are scoring. At that point I got an out at first. There were two outs, and we were still up by one."
Not for long.
Shortstop Yunel Escobar couldn't handle Eric Hosmer's chopper, which plated Alex Gordon to make it 6-6. (Originally scored an error, Hosmer was awarded a single after the game.) The parade wasn't over, either.
Cain dumped a run-scoring single into center field. A walk to Mike Moustakas prompted a pitching change to right-hander Kyle Farnsworth, but Jeff Francoeur greeted him with a single up the middle for two more runs and a 9-6 lead.
The five-run outburst by his new teammates didn't surprise Johnson at all.
"These guys match up really well against almost anybody, because they don't swing at a whole lot of balls," he said. "You get guys that stay in the strike zone -- we're going to be wearing people down all year, really."
In the meantime, left-hander Bruce Chen had taken over the Royals' pitching chores from Mendoza and worked two scoreless innings. In the sixth, he escaped a one-out jam with runners at second and third with two strikeouts.
And, after the Rays scored twice against Tim Collins in the seventh, right-hander Aaron Crow came in to get the third out with two runners on to preserve the 9-8 lead.
"We had big fires burning, and both those guys came in and put 'em out," Yost said. "Bruce Chen did a great job of coming in and settling things down and letting the offense crawl back into it. ... Both Crow and Chen were pivotal for us tonight."
Chen was rewarded with the victory, and has a 2-0 record to show for five relief outings.
Closer Greg Holland pitched a perfect ninth for his seventh save. For his part, Holland wasn't surprised at all to see the Royals surge back into the lead.
"I think we're getting to the point where we're never pressing. There were times last year where we really pressed and went through long stretches of everyone pressing and trying to do so much," Holland said.
"If we give up a few early, we know that come the sixth or seventh inning, we're still going to be involved in ballgames."
After the Royals' offense operated in low gear for much of April, they've rung up 17 runs in two victories over Tampa Bay.
"The offense is definitely on the rise in my mind, against two very good pitchers in Hellickson and Cobb," Yost said. "Both of those guys are extremely tough."
The toughest opponent for Thursday afternoon's series finale might be the weather. It's supposed to be cold with rain or, brrrrr, snow. Shouldn't be any problem, though, for the red-hot Royals.
Dick Kaegel is a reporter for MLB.com. This story was not subject to the approval of Major League Baseball or its clubs.