Wise move on bases leads Yanks to victory
Overbay avoids DP long enough to allow go-ahead run to score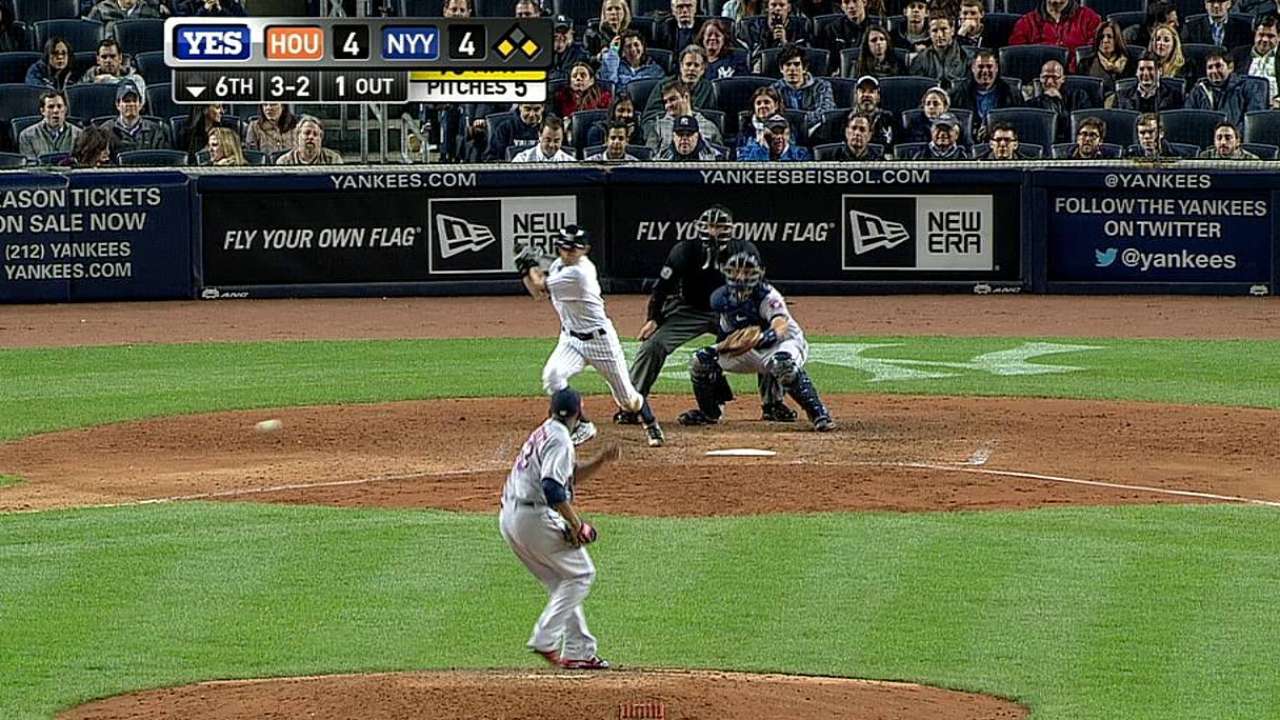 NEW YORK -- Lyle Overbay wisely stalled in the basepath long enough for the Yankees to grab the lead in the sixth inning and their bullpen pitched lights-out the rest of the way, holding on for a 5-4 win over the Astros on Wednesday night at Yankee Stadium.
Overbay knew he couldn't run into a double play with one out and runners at the corners, so when Ichiro Suzuki chopped an infield grounder, Overbay paused. The delay made second baseman Jose Altuve throw to first base, giving Eduardo Nunez time to scamper home with the go-ahead run.
"As soon as he hit it, I knew it was soft enough to where I wasn't going to be able to get by him, so I just stopped and waited," Overbay said. "It was kind of a no-brainer."
The unconventional twin-killing boosted the Yankees to their sixth win in seven games, as they squeezed 3 1/3 scoreless innings of relief from Boone Logan, David Robertson and closer Mariano Rivera.
"They did a great job," Yankees manager Joe Girardi said. "That's important. To compete in this division in the American League, your bullpen has to be a strong point for you. They've done a good job."
Ben Francisco hit his first home run in a Yankees uniform and Robinson Cano belted his team-leading eighth homer to power the attack against Astros starter Erik Bedard, who allowed four runs in four innings.
Cano's third-inning blast was also the 185th of his career, tying Paul O'Neill for 17th place on the Yankees' all-time list.
Jayson Nix knocked in Ichiro after a leadoff triple in the first, and Chris Stewart lifted a bases-loaded sacrifice fly in the second inning off Bedard, who scattered six hits while walking four and striking out two.
"That's a good ballclub over there," Astros manager Bo Porter said. "They won the game, but at the same time, we played the game the way it's supposed to be played and put ourselves in position to have the opportunity to win, as well."
That early cushion seemed in good hands through the first three innings, as David Phelps faced the minimum nine batters in his first start of the season, but Phelps unraveled his second time through Houston's order.
The Astros batted around for four runs in a 30-pitch fourth inning, as Phelps hit two batters. Carlos Pena, Fernando Martinez, Brandon Barnes and Matt Dominguez all picked up RBIs in the inning against Phelps.
"I threw all right. I'm really happy we won that game," Phelps said. "The fourth inning killed all the momentum we built up. I've got to do better than that."
Phelps recovered after the troublesome frame, allowing eight hits with a walk and five strikeouts in 5 2/3 innings. He was disappointed, acknowledging that he could have used the start as a platform to state his case for more assignments in the rotation.
"It's one of the reasons I'm really frustrated with today, because I felt like I could have just really grabbed the reins and taken care of things," Phelps said. "But it's baseball. Stuff happens, and you've just got to do better next time."
The Yankees had chances to pile on against Houston's bullpen in the eighth, as Brett Gardner singled and stole two bases -- doubling his steal total for the season in the process.
Overbay worked a one-out walk and Ichiro was put aboard intentionally with two outs to load the bases, but Nix struck out swinging to strand three.
"They had some pretty good pitching out there in the late innings, so it's not as easy as it looks," Overbay said.
No matter, as Rivera improved to a perfect 11-for-11 this season in save opportunities, helped by a deft unassisted Cano double play on a Dominguez liner during the 619th save of his career.
"I didn't barrel it, but I thought I hit it pretty good and could get it over his head," Dominguez said. "He made a good play, and things just aren't going our way right now."
They are for the Yanks; the victory ended a 16-game stretch for New York heading into Thursday's off-day, during which they went 11-5 against the D-backs, Blue Jays, Rays and Astros.
"I think we managed to win every series, which is important," Girardi said. "I'm very pleased."
Bryan Hoch is a reporter for MLB.com. Follow him on Twitter @bryanhoch and read his MLBlog, Bombers Beat. This story was not subject to the approval of Major League Baseball or its clubs.