Indians keep scoring to give Bauer first Tribe win
Raburn continues hot stretch, driving in two with another four-hit game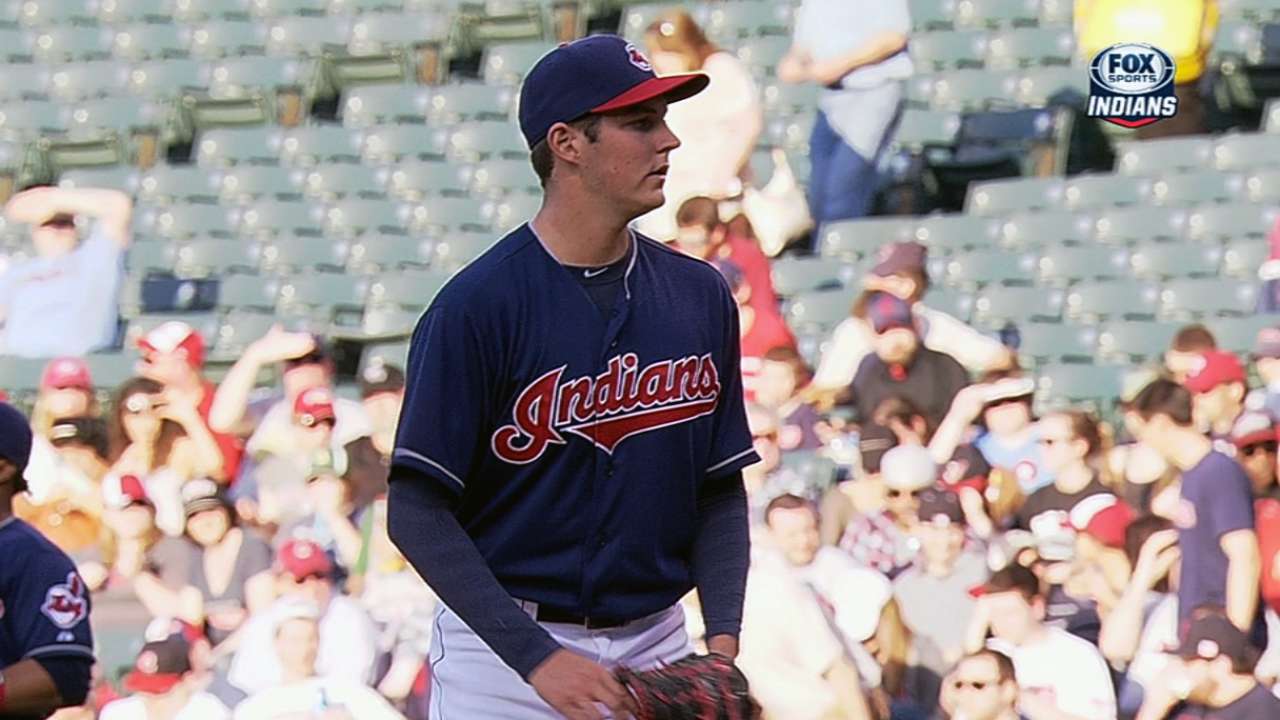 CLEVELAND -- If this was a meeting of the Indians' past and future, the future looks interesting.
On Wednesday night, Cleveland encountered Phillies left-hander Cliff Lee for the first time since he was traded by the Tribe four seasons ago. The Indians handed the ball to right-hander Trevor Bauer, the highly-touted pitching prospect acquired via an offseason trade.
Bauer was erratic, but effective, in helping guide the Indians to a 6-0 victory, sealing a sweep of this abbreviated two-game Interleague set with Philadelphia at Progressive Field. Led once again by the scorching-hot Ryan Raburn, Cleveland got to Lee early and cruised to a fourth consecutive win.
"They're playing good," Phillies manager Charlie Manuel conceded. "They have a lot of energy. Things are going good for them right now."
In need of a spot starter, the Indians summoned the 22-year-old Bauer from Triple-A Columbus prior to the game. The young right-hander pitched once previously this season for the Indians, who reeled him in from the D-backs as part of a nine-player, three-team deal that also included the Reds.
Bauer was plagued by the same command issues that came up in his April 6 outing against Tampa Bay. The right-hander labored to control his fastball, but used his wide array of offerings to change speeds and keep Phillies hitters guessing.
In spurts, especially with runners on base, Bauer flashed his potential.
"We're looking to get excited, but that's real stuff," Indians manager Terry Francona said. "And I think what maybe goes under the radar a little bit is how much he competes, because he's a quiet kid and doesn't say much. He really competes. I think that showed when there were runners on base."
Bauer kept the Phillies off the board over five innings of work, allowing only one hit and ending the evening with five strikeouts. He also issued six walks, including four to lead off innings, and saw his pitch count climb to 93 before exiting. On the radar gun, Bauer was anywhere from 77 mph to 95 mph, depending on the pitch.
It was a similar performance to Bauer's last start, in which he walked seven, but contained the damage to the tune of three runs over five innings on the road against the Rays.
"It was kind of interesting," Bauer said of Wednesday's effort. "Everything was working at points, but not everything all at the same time. For whatever reason, I lock in more when there's guys on base. I'm a really competitive guy. I don't like giving up runs. I need to do a better job of doing that when no one is on."
The Phillies, who went 0-for-10 with runners in scoring position, had at least two runners on base in four of Bauer's five innings, but could not break through. Bauer issued back-to-back walks to Laynce Nix and Ben Revere in the fifth, but settled in and finished his outing with three straight outs against Jimmy Rollins, Michael Young and Chase Utley.
Lee -- dealt away in a six-player deal with the Phillies on July 29, 2009, a season after capturing the American League Cy Young Award with the Tribe -- turned in six innings in his first career game against Cleveland. The lefty was charged with five runs (four earned) on nine hits, adding four strikeouts and two walks.
It marked the fourth win this season for the Indians against a former Cy Young Award winner, and the second this series. They beat Roy Halladay on Tuesday after topping R.A. Dickey and David Price earlier this season. The Tribe has also won 13 of its past 19 games with a former Cy Young Award winner on the mound.
"I don't think what hardware they have in the past really goes into our approach," Francona said.
It might, in a way, play into the Tribe's hand, though.
"For the most part," said Indians infielder Mark Reynolds, "if you're putting up the kind of numbers those guys put up, they're around the plate a lot. With the guys we've got on our team, our hitters, against guys that are around the dish, we've got a chance."
Raburn led the push with his second four-hit showing in the past three games. The utility man, who has been filling in as a right fielder lately, hit a run-scoring single in a three-run third inning and added an RBI double in the fifth. Dating back to his final at-bat on Sunday, Raburn has collected 12 hits, including four home runs, in a span of 14 at-bats.
"I'm just going to copy what he does every day," Reynolds joked. "Eat what he eats."
Raburn also pitched in on defense on Wednesday. With Utley on first base and no outs in the fourth, Ryan Howard drove Bauer's offering to the right-field wall. Raburn glided to the warning track and made a leaping grab to rob the Phillies slugger of an extra-base hit.
"That catch he made," Francona said, "we had a leadoff walk, it's the fourth inning, and the game's so close. That kind of changed things. He's been huge for us."
Asdrubal Cabrera helped propel the Indians to a 3-0 lead in the third inning, when he pulled a pitch from Lee down the left-field line for a two-run single. Mike Aviles chipped in a sacrifice fly, and Drew Stubbs added an RBI single in the victory.
For Bauer, it marked his first win in a Cleveland uniform.
"The potential is there," Reynolds said of the young pitcher. "But it's frustrating playing behind him. He's all over the place. It's hard to find a rhythm, but he gets the job done. He got it done tonight for us. Hopefully he can harness what he has and be a little more consistent throwing strikes.
"That will come with time. He's still young. Hopefully he gets a couple more chances up here to help us out."
Jordan Bastian is a reporter for MLB.com. Read his blog, Major League Bastian, and follow him on Twitter @MLBastian. This story was not subject to the approval of Major League Baseball or its clubs.