Phillies can't capitalize as Lee loses in former home
Lineup draws six walks against prospect Bauer, but doesn't score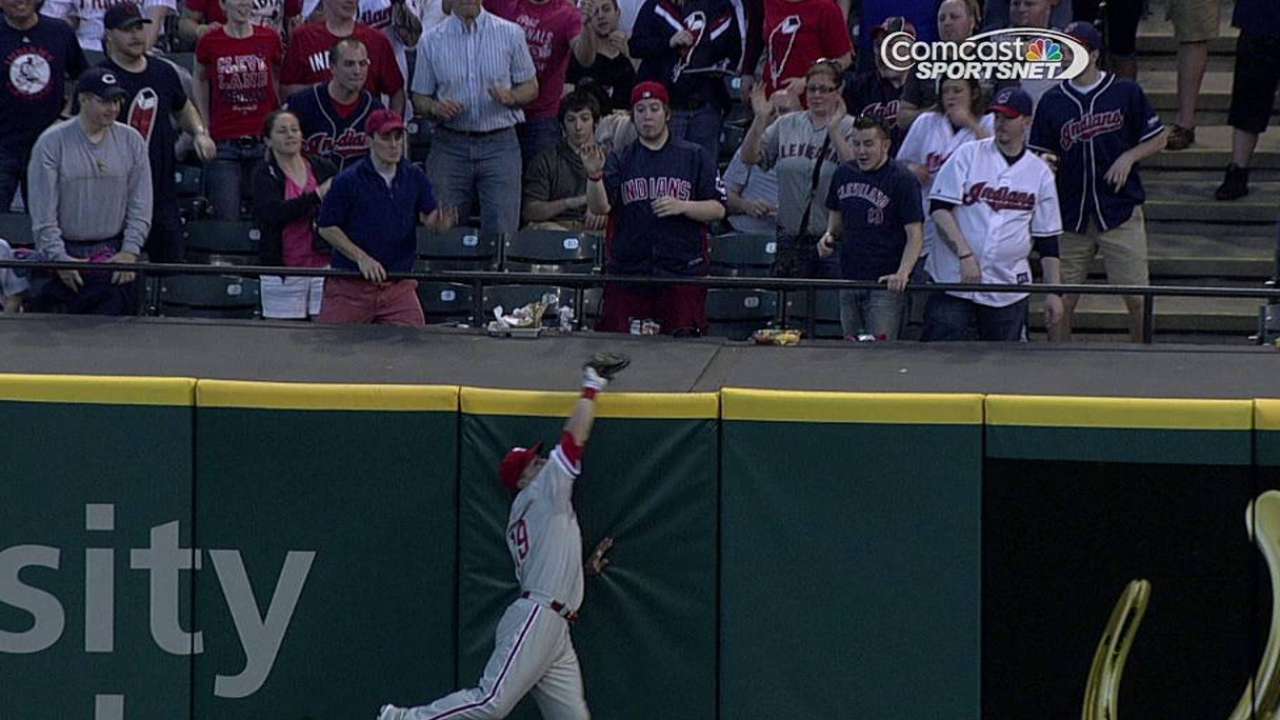 CLEVELAND -- The Phillies believed they finally had momentum on their side following an impressive weekend sweep in New York.
Then they showed up to play in Cleveland.
Well, they showed up anyway. The Indians throttled them effortlessly in a two-game series at Progressive Field, capping it with a 6-0 win Wednesday after Tuesday's 14-2 rout. The Indians had both games in hand by the fourth inning, leaving the Phillies to play mostly uninspired baseball the rest of the way.
"They pretty much pounded us both games, there's no way around it," said Wednesday starter Cliff Lee, a former Indian. "They crushed us both games. It was never really close, either one of them. We have to have a little more pride than that and figure out a way to at least get back into games and make it somewhat competitive. Both games, it was never close."
The Indians hit seven home runs Tuesday, but used seven infield hits to win Wednesday.
They took advantage of their chances. Meanwhile, the Phillies wasted opportunity after opportunity after opportunity. Indians right-hander Trevor Bauer walked six batters in five innings, but allowed only one hit and struck out five in five scoreless innings.
He walked the leadoff hitter in the first, third, fourth and fifth innings, but the Phillies went 0-for-10 with runners in scoring position.
"It would've been nice to cash a couple in for sure," Phillies third baseman Michael Young said. "We had some walks, but it was kind of tough to really get locked in on one certain pitch. He had good velocity, good breaking ball, threw his offspeed stuff over. Any count, really, there were no patterns. Like I said, we would've liked to cash in on a couple. If we could get some of those opportunities back, it'd be nice."
"He walked the leadoff hitter in four innings, and I believe all his walks were against left-handers," Indians manager Terry Francona said. "Saying that, when he got into some traffic out there, he made unbelievable pitches. He threw his fastball. He threw his offspeed. He attacked hitters when he had to with really good stuff."
The Indians scored a run on a sacrifice fly in the second inning to take a 1-0 lead. They used three infield hits in the third inning to help them score three more runs and take a 4-0 lead.
The Indians scored 12 earned runs in 9 2/3 innings against Phillies starters Roy Halladay and Lee. Halladay allowed eight earned runs in 3 2/3 innings Tuesday. Lee allowed four earned runs in six innings Wednesday.
But even if they had been sharper (Halladay), or had better luck (Lee), it wouldn't have mattered, because the offense came up small. The Phillies have suffered four shutout losses this season, all of them coming in their past 15 games.
Fans are becoming accustomed to this. The Phillies entered the night 11th in the National League in scoring, averaging 3.7 runs per game. They had a .302 on-base percentage, which ranked 12th. Even when they find ways to get on base -- they walked seven times Wednesday -- they cannot find ways to get the runners home.
"That's what we talk about: consistency," manager Charlie Manuel said. "The consistency part of our play. We had chances. We had men in scoring position. We just couldn't knock them in."
The latest loss dropped the Phillies to 12-16. They have an excellent opportunity to make up ground this weekend in a four-game series against the feeble Marlins, who are 8-20 and without their best player, slugger Giancarlo Stanton. While the Marlins will be wearing big league uniforms, anything less than three wins should be considered a disappointment, even if there are five months remaining in the season.
"I don't even like to use the word early," Manuel said. "The season is long and everything like that. I tell our guys, every day you play, you get closer to the finish line. That's how much it counts."
Todd Zolecki is a reporter for MLB.com. This story was not subject to the approval of Major League Baseball or its clubs.