Harang spins quality start to earn first victory
Morse continues power-packed start with ninth homer of year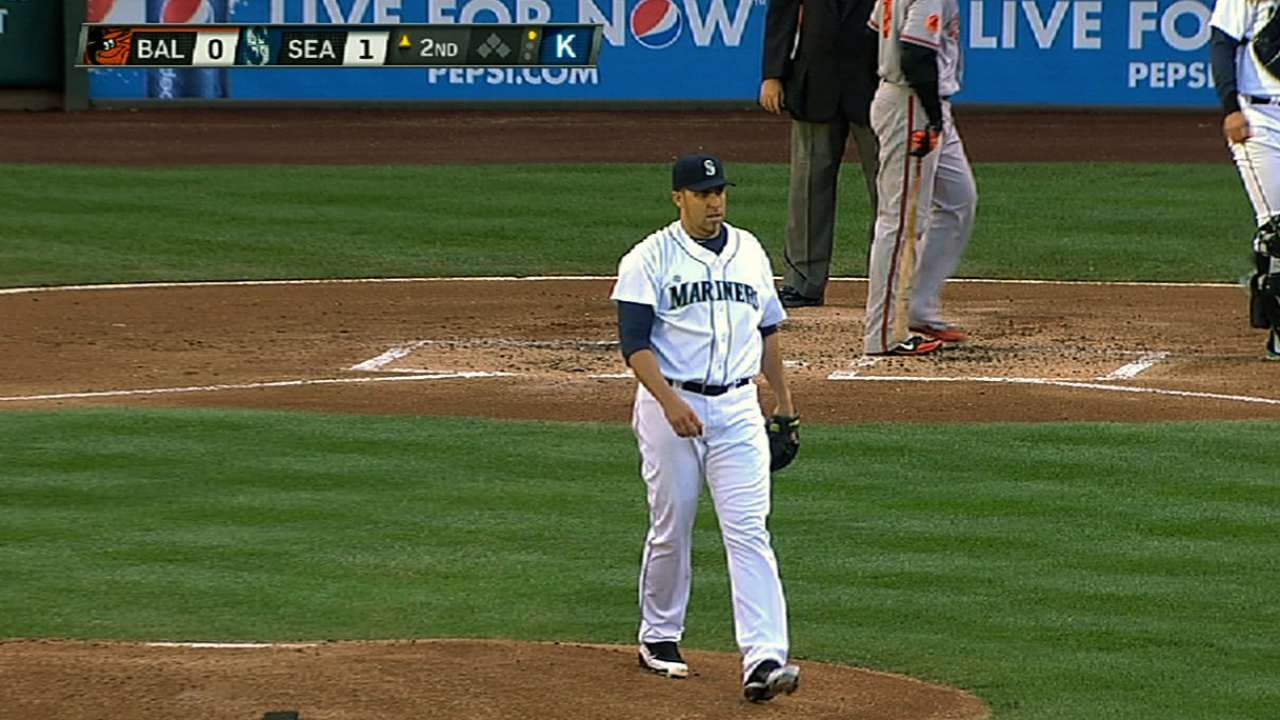 SEATTLE -- So this is why they traded for Aaron Harang.
The 34-year-old right-hander put to rest some of the doubts he had created over his first weeks as a Mariner by holding the Baltimore Orioles to four hits and two runs in six innings in Seattle's 8-3 victory Wednesday night, delighting 12,936 at Safeco Field.
The difference from 0-3 with an 11.37 ERA to his reassuring, first Mariners win?
Towels.
Harang and pitching coach Carl Willis spent extensive hours studying film of his first three starts since an April 11 trade from Colorado. They found his front side was "flying open" too soon before he released the ball, changing the trajectory of his pitches onto a straighter, higher, far-too-dangerous plane.
"We did some towel drill work," the 34-year-old right-hander said.
It was the Little League drill of accentuating a tucked lead shoulder and a downward, flicking motion with the throwing arm by snapping towels instead of baseballs.
"Sometimes, it all goes back to stuff we were taught when we were 7-, 8-years-old. People think [mechanical changes] are something huge, a big deal. It's something usually so minor and basic that no one looks at it.
"Sometimes you go right back to the basics of throwing, period."
Harang's snappy rebound -- plus a three-hit, three-RBI night from Kendrys Morales, the first three-hit night of the season for Michael Saunders and the second-highest offensive output of the season -- gave Seattle its fifth win in seven games.
The Mariners also won their second consecutive series, following a dreadful, 1-5 trip to Texas and Houston. They had not won any of their first seven sets this season before the Angels arrived last weekend to start this buoying homestand.
"We started to head in a different direction in Houston but we weren't getting [immediate] results," Mariners manager Eric Wedge said. "Our guys have taken significant steps.
"What you are seeing is more of the norm of what our guys are capable of."
Michael Morse hit his ninth home run to tie for the American League lead, his third in four nights. That further backed his assertion that his broken pinkie finger on his right hand only bothers him while throwing, not hitting. Morales' two-run double in the sixth scored the seventh and eighth runs, one fewer than the nine the Mariners had scored -- while giving up 16 -- April 9 at Houston.
But the story of this night was Harang putting off concerns he could be the next castaway of Seattle's shuffling rotation.
As Wedge concluded: "He controlled the game."
On a day Blake Beavan was sent to Triple-A Tacoma after beginning the season as the No. 5 starter, Harang showed why the Mariners traded with the Rockies to have him replace Beavan.
Harang had allowed at least one run in nine of his 13 innings with Seattle. But on Wednesday he went 13 batters without allowing a hit, from a harmless, two-out double by Matt Wieters in the second inning until Manny Machado doubled off the center-field wall. Nick Markakis drove him in with a single on Harang's 84th pitch in the sixth.
Adam Jones followed Markakis with an RBI double, after the former Mariner fouled off a full-count pitch with two outs.
That was a marked contrast to Jones' previous at-bat, when Harang was cruising. In the top of the fourth, Harang had Jones pounding his bat into the dirt with a two-hand, overhead chop as he flew out to end another one-two-three inning.
Harang threw 29 of his 96 pitches in his sixth and final inning. His last pitch enticed Chris Davis, a candidate for American League player of the month with nine home runs in April, to swing over an 82-mph curveball. That stranded Jones at second and kept the Mariners ahead 5-2. It was the third strikeout for Harang on that looping breaking pitch.
"I was hoping we would do a little better job off of him," Orioles manager Buck Showalter said. "He was due with his track record, pitching better than he has here, so you hate that it kind of falls on you. But he had both sides of the plate. We didn't mount a whole lot."
Carter Capps pitched a scoreless seventh before allowing a home run by the impressive 20-year-old Machado in the eighth. Charlie Furbush got the final out of the eighth, closer Tom Wilhelmsen got the final outs in a non-save ninth, and the Mariners got an upbeat sendoff to just their second off-day this season, Thursday's travel day for a weekend series in Toronto.
Asked about the Mariners' vibe heading out on this trip compared to returning from the last one, Morales said "bueno" about a half dozen times.
"I feel the offense is starting to get better, the way it was in Spring Training," the No. 3 hitter said through bullpen coach and interpreter Jaime Navarro. "It's gaining more every day."
Gregg Bell is a contributor to MLB.com. This story was not subject to the approval of Major League Baseball or its clubs.