Shaky defense, Chen's rocky start trip up Orioles
Left-hander allows five runs in just four innings against Mariners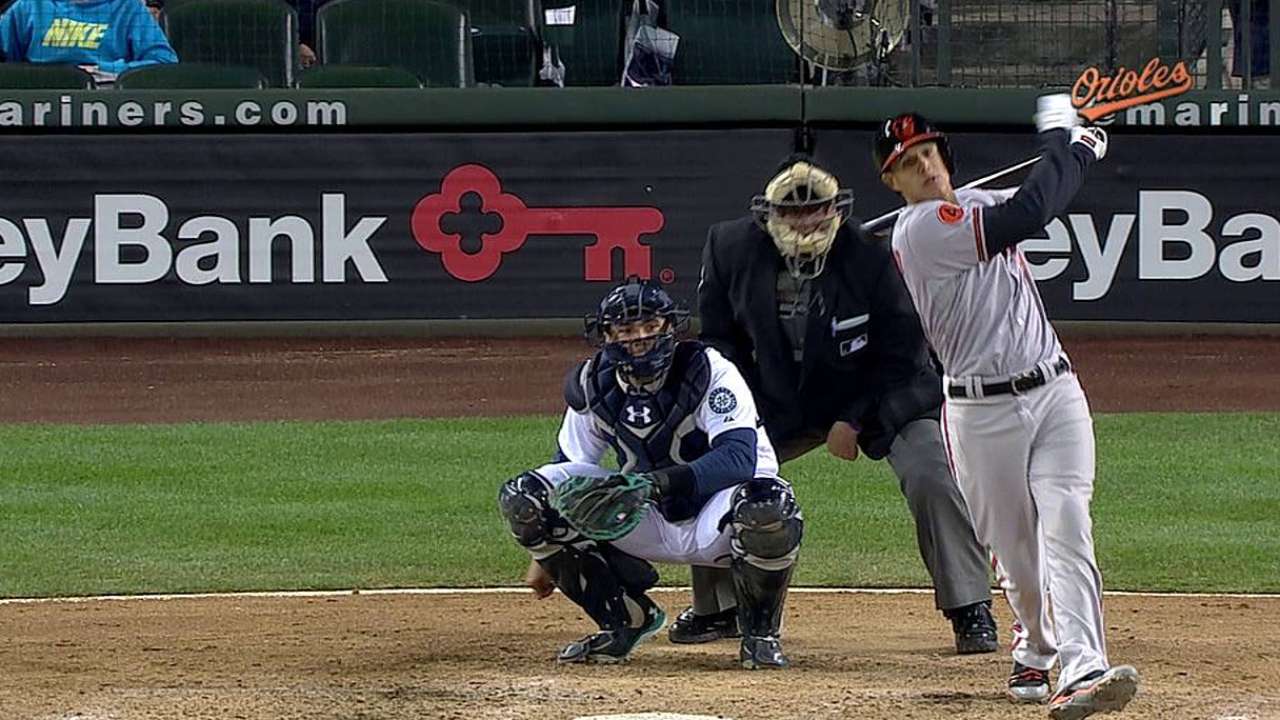 SEATTLE -- Yes, Baltimore's starting pitching continued to fall short Wednesday night. But in watching lefty Wei-Yin Chen -- the only Oriole responsible for a start seven innings or longer this season -- the abbreviated outing wasn't as alarming as Adam Jones' shaky defense and a lineup that went surprisingly cold off struggling Mariners starter Aaron Harang.
"I could have helped limit his pitches," Jones, who took full responsibility for not catching a pair of balls in the outfield, said of Chen's early high pitch count. "Tonight I failed him and I failed the team."
Chen exited after four innings while Harang went six strong frames and stated his case to stay in Seattle's rotation after starting the season 0-3 with an 11.37 ERA. The end result grounded the high-flying Orioles, who entered the series fresh off taking three of four in Oakland, with a disappointing 8-3 series loss in front of 12,936 at Safeco Field.
"From outstanding to the worst tonight," Chen, who was unable to help rest a bullpen that has thrown 42 1/3 innings over the last 12 days (13 games), said through his interpreter. "I tried to attack the zone today. I tried to throw first-pitch strikes. But I tried to think too much, I tried to attack both sides of the plate and it didn't work at all."
The 27-year-old Chen -- coming off a career-high eight scoreless innings -- wasn't helped much in the field. The Orioles weren't charged with any official errors, but failed to make a pair of plays in the second inning that helped Seattle score a pair of runs and elongate Chen's workload.
The frame started with Jesus Montero's deep ball to center field, in which Jones chased it down and let the ball drop off of his glove. Jones, who came up just short on Kendrys Morales' two-out, first-inning single that later scored, hit the wall after the attempt and Montero reached third.
"I missed the ball," Jones said when asked to explain what happened. "Doesn't really matter if you misjudge it, you missed it. So, you make an excuse no one wants to listen to it. I missed it and cost my team. That inning turned out to be a pretty big inning. I need to clean my [stuff] up defensively. It's frustrating."
It was one of a handful of misplays already this season for Jones, a Gold Glove outfielder whose defense has recently come under fire. And the 27-year-old Jones has no qualms admitting it needs to get better.
"There's some things that I'm not doing well in the field and it's frustrating," he said. "But you think it's going to stop me from playing hard and stop the way I'm playing, it's not. Just got to pretty much clean it up. You can formulate it all you want to do. You can say this, you can say that. Just got to get back on the field and get some reps and make the plays. Because those pitchers on the mound are fighting their tails off each and every day for us. And we're a good defense. Being the center fielder, I need to play to a center fielder standard."
Chen surrendered a one-out RBI single to Michael Saunders after that and Morales struck again, smoking a ball to right field that sneaked under the glove of second baseman Ryan Flaherty to push the Mariners lead to three.
"He got a lot of work in because of the way [Chen] pitched," Showalter said of Jones' fielding Wednesday night. "We are so used to everything that goes up in the air, he's there. He's solid in center field. We'll keep him."
Chen, who needed more than 50 pitches to get through the first two innings, allowed a two-run homer to a red-hot Michael Morse in the fourth and exited after throwing 93 pitches. It marked the shortest start of the season for Chen, who allowed five earned runs after entering the game with four runs allowed over the previous 20 innings.
"I couldn't establish the first-pitch strike," said Chen, who struggled with his off-speed stuff in particular. "And I didn't give our guys any opportunity to win the ballgame."
Conversely, Harang went a season-high six innings and held the Orioles to just one hit through the first five frames.
"I was hoping we would do a little better job off of him," Showalter said. "He was due with his track record, pitching better than he has here so you hate that it kind of falls on you. But he had both sides of the plate [he was working]. We didn't mount a whole lot there."
The O's rallied for a pair of two-out runs in the sixth with Manny Machado extending his hitting streak to 10 games -- the club's longest this season -- with a double to center field. Machado, who also homered in the eighth off reliever Carter Capps, scored on Nick Markakis' RBI single and Jones doubled Markakis in for a second run. The Mariners got bullpen action going, but Harang held firm and struck out Chris Davis to end the inning.
"He's a big hitter," Harang said of Davis. "He sees a runner on second and he sees RBI. I used that to my advantage, knowing he'd be swinging big."
Orioles reliever Zach Clark, making his Major League debut, allowed three runs over 1 2/3 innings following Chen. The 29-year-old Clark, who was recalled from Triple-A on Tuesday, pitched a scoreless fifth before three hits and a walk prompted Showalter to insert lefty T.J. McFarland.
Brittany Ghiroli is a reporter for MLB.com. Read her blog, Britt's Bird Watch, and follow her on Twitter @britt_ghiroli. This story was not subject to the approval of Major League Baseball or its clubs.