Washington's decision to stay with Tepesch backfires
Right-hander matches Sale for six innings before decisive blasts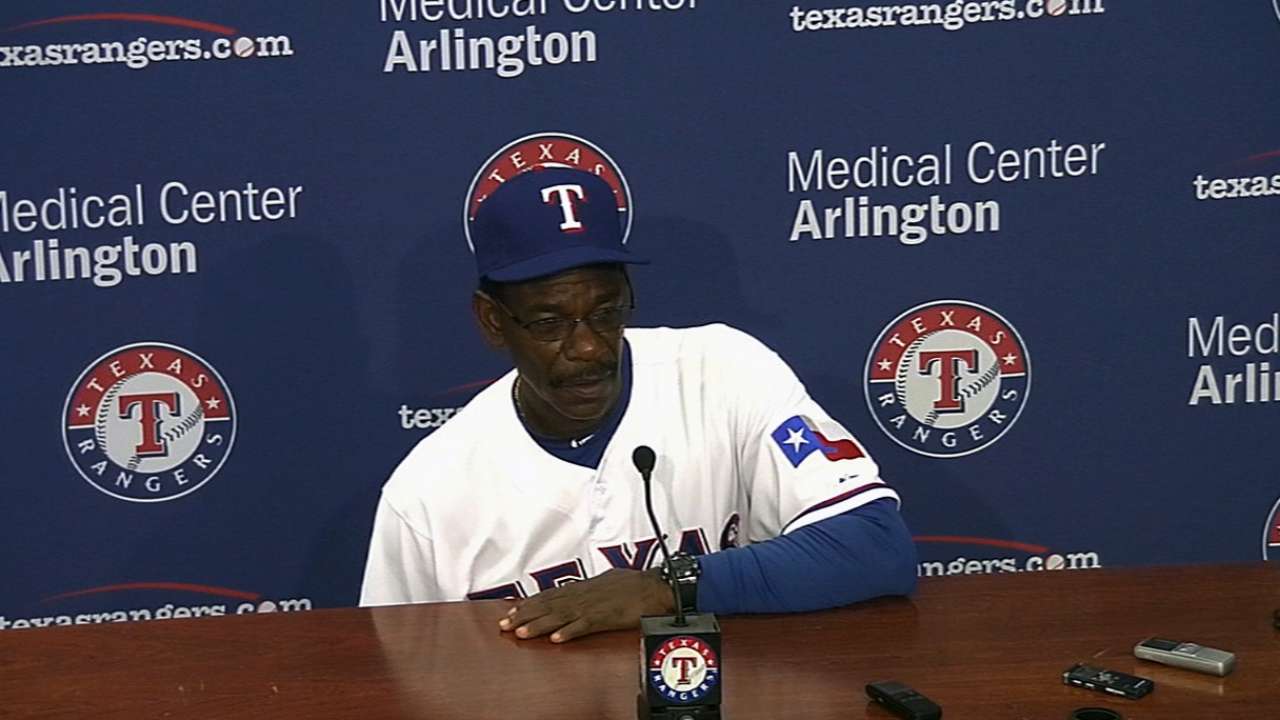 ARLINGTON -- Rangers manager Ron Washington was honest and blunt after a 5-2 loss to the White Sox on Wednesday night. He pointed the finger at himself for leaving rookie pitcher Nick Tepesch in the game for one batter too long instead of bringing in left-handed reliever Joseph Ortiz.
"A bad decision by me," Washington said. "I stayed with Tepesch one batter too long. I stayed with Tepesch instead of bringing in Ortiz. I'll take the blame for that."
The one batter was left fielder Alejandro DeAza, a left-handed hitter at the top of the White Sox lineup. He hit a two-run home run off Tepesch with two outs in the top of the seventh inning that proved to be the finishing blow in the Rangers' loss at the Ballpark in Arlington.
It was not the game-winning hit. That was delivered by Conor Gillaspie, who led off the seventh with a home run off of Tepesch. Up to that point, Tepesch was was holding his own against White Sox All-Star left-hander Chris Sale in a pitching duel that started slowly but was picking up steam.
"I felt strong," Tepesch said. "I felt strong going into the last inning. I felt good overall."
The game was 2-2 going into the seventh before Gillaspie put the White Sox ahead. Tepesch retired Alexei Ramirez on a grounder, gave up a single to Tyler Flowers and then struck out Dewayne Wise. That brought up DeAza with Ortiz ready to go in the Rangers bullpen.
"I just second-guessed myself," Washington said. "My intention was to go get [Tepesch]. I decided to see if he could get out of the inning. It was a bad decision on my part."
That turned out to be the case because DeAza hit a 3-2 slider into the right-field seats. DeAza actually came into the game hitting .348 against left-handers and .192 against right-handers. But his four home runs were all against right-handers.
"One pitch .... he left it up a little bit," catcher Geovany Soto said about Tepesch. "Otherwise he did a great job and used all his pitches."
Soto also willingly took full blame for a baserunning mistake in the second inning that may have cost the Rangers a chance to take an early lead against Sale. Tepesch had struggled through his first two innings but was able to minimize the damage so that the Rangers only trailed 2-0 going into the bottom of the second. That's when they had their best shot against Sale.
Sale, who has now won three straight starts against the Rangers with his funky left-handed delivery, gave up a one-out home run to Jeff Baker. The Rangers then loaded the bases on a walk to Mitch Moreland and singles by Soto and Craig Gentry. That set up the key play of the inning.
Ian Kinsler smashed a line drive over DeAza and off the left-field wall. Moreland scored easily, but Soto hesitated between second and third. By the time he realized DeAza wasn't going to catch the ball, it was too late for him to score on what should have been a two-run double and he stopped at third.
"I read the ball wrong," Soto said. "I thought it would top-spin. I misjudged it bad. I should have scored. I should have done a better job."
Sale was more worried about giving up a grand slam.
"I thought it was going out," Sale said. "It looked like a good swing. Just, 'Stay in, stay in, stay in, stay in, stay in.' I talked it into staying in the park."
Sale, with the score 2-2, then fell behind 3-0 to Elvis Andrus but came back with six straight strikes. Andrus took one, fouled off four and then missed the last one for a big strikeout.
"He's killing me," Andrus said. "Deception ... it feels like the first baseman is pitching instead of him. He throws hard and has control of his breaking ball. He has always been tough. He's not a comfortable pitcher to face."
Sale retired Lance Berkman on a grounder to end the inning and allowed just two runners over the next five innings. That put him in position to get the victory when the White Sox broke through against Tepesch in the sixth.
"I just had to keep pushing and keep fighting and it worked out from there," Sale said.
Sale left after seven innings. Jesse Crain took over in the eighth, giving up leadoff singles to Andrus and Berkman. But Crain got Adrian Beltre on a fly to center -- moving Andrus to third -- and struck out Nelson Cruz. Left-hander Matt Thornton then came in to face David Murphy, who had replaced Baker on defense in the top of the seventh. Thornton got Murphy to ground out back to the mound to end the inning.
In the ninth, White Sox closer Addison Reed retired the first two hitters, then hit pinch-hitter A.J. Pierzynski with a pitch and gave up a single to Kinsler. But Andrus struck out for the third time to end the game.
"We had some opportunities and we didn't cash it in," Washington said. "I thought Tepesch threw the ball well and kept us in the ballgame. One mistake he made … the one where I left him in the ballgame too long."
T.R. Sullivan is a reporter for MLB.com. Read his blog, Postcards from Elysian Fields, and follow him on Twitter @Sullivan_Ranger. This story was not subject to the approval of Major League Baseball or its clubs.