Late homers boost Sale against Rangers
Gillaspie, De Aza go deep in seventh; lefty fans seven over seven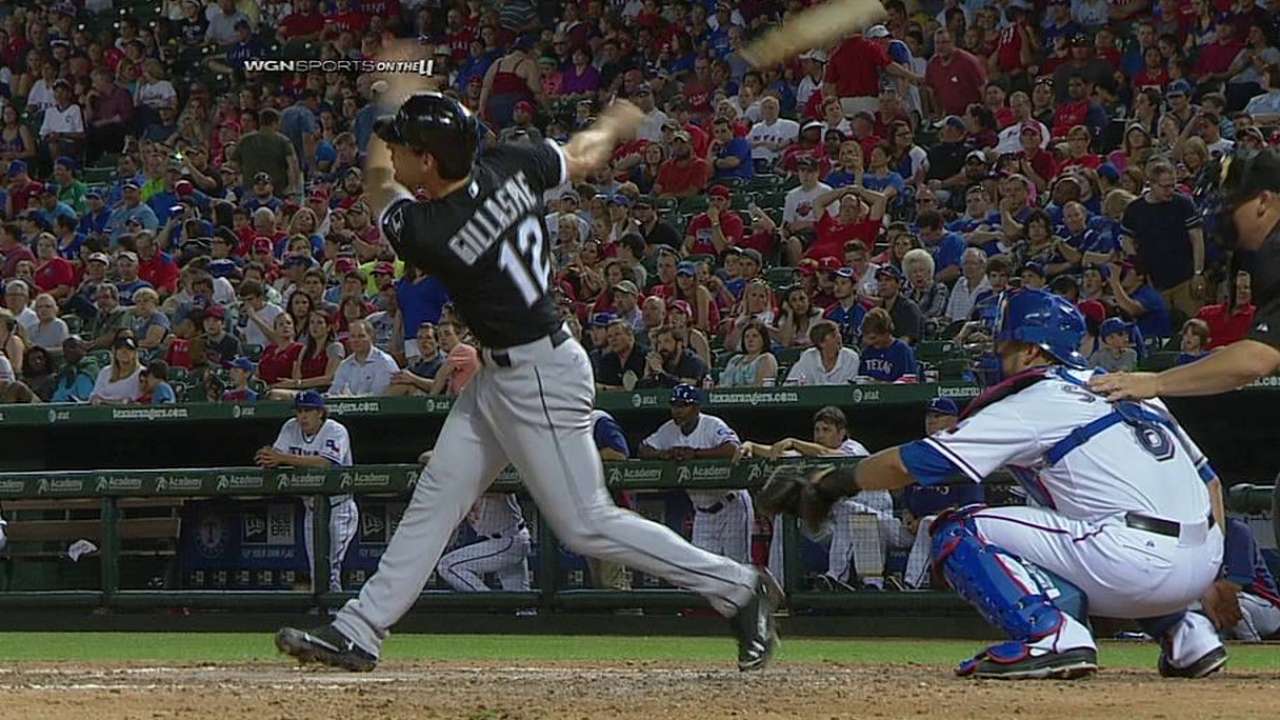 ARLINGTON -- Following a 34-pitch, two-run second inning by Chris Sale on Wednesday night at Rangers Ballpark, the White Sox left-handed ace certainly didn't look like a No. 1 pitcher moving in the direction of a quality start.
Luckily for the White Sox, Sale settled down and worked efficiently and exceptionally through seven innings during the team's 5-2 victory before 34,677. The White Sox used the power of the long ball to take control in the top of the seventh as Sale (3-2) held the Rangers steady, helping the club snap a three-game losing streak.
Sale also improved to 8-0 lifetime against the American League West, but he was most satisfied by staying under control during that rough second inning.
"Something I've been really working on is keeping my composure," Sale said. "You start getting in your own head and not only do you get yourself into trouble, but you start messing with the team's game plan and all that. I didn't want to take myself out of it and I didn't want to take this team out of it."
"That's what you need your big dog to do. That's what he did," said White Sox captain and first baseman Paul Konerko. "The game was kind of going sideways there early. That's why he's a frontline guy. He kept battling and the next thing you know he's through seven and gets the win."
Texas starter Nick Tepesch (2-2) settled down as well after a rocky first two innings, until Conor Gillaspie opened the seventh with a home run to right. It came on a 1-0 offering and was his third of the season, which tops all American League rookies.
Tyler Flowers followed with a one-out single to center and Alejandro De Aza connected on a 3-2 pitch for his fifth home run. De Aza, anchoring the leadoff spot of the White Sox order, has the five long balls and 11 RBIs, but he's also one behind Adam Dunn for the team top spot in strikeouts at 32.
White Sox manager Robin Ventura wasn't worried about the swings and misses from De Aza, as much as taking pleasure in De Aza opening up a three-run cushion against a tiring Tepesch.
"A bad decision by me," said Texas manager Ron Washington of not bringing in a southpaw to face De Aza. "I stayed with Tepesch one batter too long instead of bringing in [Joseph] Ortiz. I'll take the blame for that."
"We don't have that many where you're out in front. Usually it's one run and it's good," Ventura said. "Those guys are swinging the bat and you're liking that."
The White Sox (11-15) took a first-inning lead on De Aza's double and Alex Rios' single and added another run in the second, although they could have done quite a bit more damage. Konerko doubled, Gillaspie singled and Alexei Ramirez walked to load the bases with nobody out, only to have Flowers ground into a run-scoring double play.
It didn't take long for the Rangers (17-10) to bounce back against Sale, as in the bottom of that particular inning.
Jeff Baker homered for a second straight game, followed by a walk to Mitch Moreland and singles from Geovany Soto and Craig Gentry to load the bases with one out. Ian Kinsler followed with a blast that landed halfway up on the left-field wall, but only scored one when Soto held at second to see if the blast would be caught.
When Kinsler connected, Sale's first thought was that he gave up a game-changing grand slam.
"Just, 'Stay in, stay in, stay in, stay in, stay in,'" said a smiling Sale of his reaction to Kinsler's solid swing. "I talked it into staying in the park."
"I read that ball wrong," said Soto of Kinsler's blast. "I thought it would top-spin and misjudged it bad. I should have scored on that play. I should have done a better job."
Elvis Andrus struck out with the bases loaded during a nine-pitch at-bat for the second out and then Sale retired Lance Berkman on a grounder to short. He yielded just one Berkman single and a walk to Nelson Cruz over the next five innings, finishing with seven strikeouts, 109 pitches and seven innings pitched for the fifth time in six 2013 starts.
"Deception ... it feels like the first baseman is pitching instead of him," said Andrus of Sale. "He throws hard and controls his breaking ball. He has always been tough. He's not a comfortable pitcher to face."
This game didn't end without a little controversy or without a Texas rally, and A.J. Pierzynski was in the middle of both. With two outs and nobody on, White Sox closer Addison Reed (ninth save) hit a pinch-hitting Pierzynski, who played for the White Sox from 2005-12, with a 0-1 fastball up and in to the right elbow.
Pierzynski angrily slammed the bat to the ground and had a few choice words as he ran to first. Kinsler followed with a single, before Reed struck out Andrus to close out the victory. The White Sox steadfastly claimed there was no intent on the pitch toward Pierzynski, not when they needed a win against this dangerous Texas lineup.
"With this lineup, you're not trying to send any message or anything like that," Ventura said. "You don't want anybody on base because in about 30 seconds, they got the tying run to the plate. There was no message. We ain't trying to put anybody on."
Scott Merkin is a reporter for MLB.com. Read his blog, Merk's Works, and follow him on Twitter @scottmerkin. This story was not subject to the approval of Major League Baseball or its clubs.