Bailey, offense don't click in rubber-game defeat
Reds done in by Cards' three-run sixth, saddling righty with third loss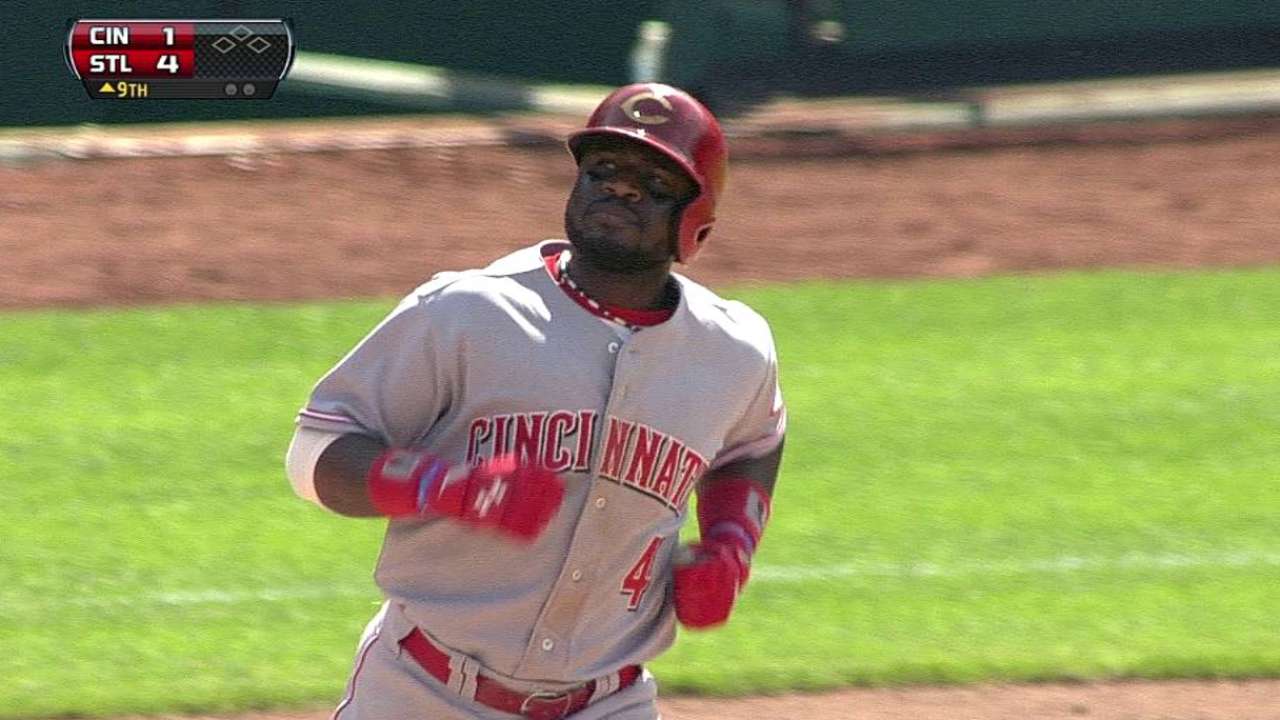 ST. LOUIS -- Somewhere in Chicago during Thursday's off-day after 20 games in 20 days, the Reds will need to find a recharging station for their bats.
Wednesday's 4-2 defeat vs. the Cardinals marked the 13th time in 29 games this season that the Reds were held to two runs or fewer. It has happened in five of the seven games on a road trip where they're 2-5, with three games left against the Cubs at Wrigley Field.
In the past nine games, Cincinnati has scored 17 runs -- including two runs in each of the past three. Both runs on Wednesday came via Brandon Phillips, who hit an RBI double in the top of the sixth inning and a leadoff home run in the ninth against closer Edward Mujica.
"We're striking out too much," Reds manager Dusty Baker said. "The Braves have struck out more than us, but they're leading the league in homers. If we don't homer or get consecutive hits and hit into double plays, that equals not scoring runs."
Up and down the order, hitters are struggling during the road trip. Shin-Soo Choo, who struck out three times on Wednesday, is 3-for-26. Todd Frazier is 3-for-23 after he grounded into two double plays. Zack Cozart is 4-for-22 and the combination playing left field is 3-for-21. Jay Bruce was 4-for-23 going into the game, but he finished with two hits Wednesday.
"Three hits in seven games is not good at all. If we're winning, it's a different story," Frazier said. "You have to step it up a little bit and understand you're good. Right now, we're scuffling a little bit. The day off will be big for me -- just relax, gather some thoughts and keep going from there."
During what's been mostly an exemplary first month of pitching for the Reds, Homer Bailey has only given up more than two runs in a game twice this season. Both came in the rubber games of a series vs. the Cardinals.
Bailey lasted 5 1/3 innings and allowed four runs on nine hits, one walk and three strikeouts. On April 10 in St. Louis, he gave up seven runs in five-plus innings in a 10-0 loss, with all of the runs scoring against him during rallies in the fifth and sixth innings. Like the last time at Busch Stadium, a fine afternoon was foiled in the middle innings.
It was a 1-1 ballgame in the bottom of the sixth when things came apart for Bailey. Allen Craig drew a one-out walk, and Yadier Molina rolled a single into left field. Matt Carpenter blooped an RBI single over Phillips into short center field for the go-ahead run. A Pete Kozma single to left field scored Molina, and Bailey was done after Daniel Descalso's RBI single to right field made it a three-run game.
"We were finally able to get to him in that inning," said Carpenter, whose club had scored only four runs in its previous three games. "I could tell he had kind of worn down, because we battled him so well. Craig had a huge walk there, and then Yadi was able to get him over. I was able to drive that run in with that little bloop single. I think it was just a good job from top to bottom to grind out at-bats."
"The blooper really hurt," Baker said. "They hit some good pitches in the sixth inning. He threw the ball great today. We just didn't hit."
Bailey retired nine of his first 10 batters in the game and appeared headed for another solid day. On a 1-1 pitch in the fourth, Carlos Beltran pulled a homer to right field for the game's first run.
Cardinals pitcher Lance Lynn, who struck out 10 Reds in six innings on April 9, was strong again, giving up one run on five hits over seven innings. There was a chance to take the lead in the second inning after Bruce lofted a one-out triple past a diving left fielder Matt Holliday near the line. Frazier was hit by a 3-2 pitch and Corky Miller walked with two outs, but Bailey grounded out to end the threat.
"We had opportunities again," Frazier said. "I had an opportunity in that second inning. I had two pitches to hit. I ended up getting on base, but at the same time, if I put the ball in play, it's an RBI. It's a different story. We're up, 1-0. You have to look back on everything."
Cincinnati evened the game in the top of the sixth. Following his one-out walk, Joey Votto was on the move when Phillips lined an RBI double through the gap in right-center field. Lynn left Phillips stranded by striking out Bruce and Frazier as he retired his final five batters in a row.
By losing two of three, the Reds are 3-24-2 in series played in St. Louis since 2003. Just like last month, Cincinnati won the opener before dropping the final two games.
"Hopefully, we'll regroup in Chicago and come home victorious," Baker said. "I'd like a sweep before we get home."
Mark Sheldon is a reporter for MLB.com. Read his blog, Mark My Word, and follow him on Twitter @m_sheldon. This story was not subject to the approval of Major League Baseball or its clubs.