Diamond continues mastery against Tigers
Left-hander allows two runs on four hits over six innings in finale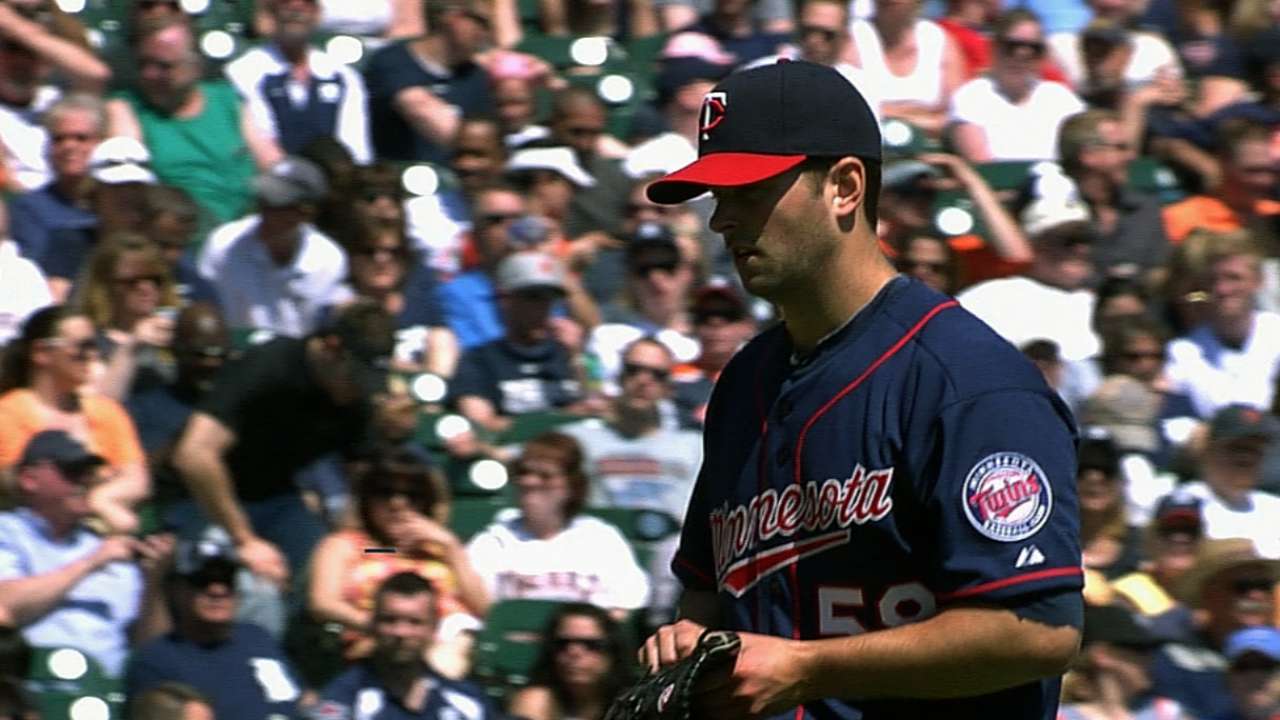 DETROIT -- The Tigers have won the AL Central two years in a row, reached the World Series last year and are in first place in the division again this year.
There may not be many pitchers who have the Tigers' number, but the Twins' Scott Diamond appears to be one.
Diamond allowed two runs through six innings in Wednesday's 6-2 win at Comerica Park. It was his fifth straight start against the Tigers in which he allowed two runs or fewer while going at least six innings, dating back to Sept. 11, 2011.
"Because they've won [so much], they're the team to beat right now," Diamond said. "Whether I get amped up a little more facing them, I enjoy facing them and I enjoy coming to Detroit and pitching here."
Diamond took a no-hit bid into the fifth inning on Wednesday, before a one-out single by Jhonny Peralta.
But he found trouble in the sixth. With Minnesota holding a 3-0 lead, Diamond allowed a one-out double to Austin Jackson, which was followed by an RBI single by Torii Hunter and an RBI double by Miguel Cabrera to cut the lead to 3-2 with the tying run in scoring position.
"Cabrera, our goal is not to give him anything to hit," manager Ron Gardenhire said. "Every time it seems we try not to give him anything to hit, we throw one right down the middle, and he whacks the living fire out of it. I think we have to have a new theory: Try to throw it down the middle. We'll never be able to do that. He's just a great hitter. They put some pressure on us there."
Prince Fielder followed with a groundout as Cabrera moved to third. Instead of pitching around Victor Martinez, Diamond pitched to him, inducing a groundout to end the threat. Gardenhire said he didn't want to put more runners on base, no matter who was up.
"The more guys you put on in this ballpark, the more guys seem to score," he said. "I don't like to take too many chances like that. I put my stock in Scotty going and making some pitches, and that's what he did."
Now four starts into the season after offseason elbow surgery, Diamond called Wednesday a big step. It was his third straight quality start and evened his record at 2-2.
After getting out of the jam, Aaron Hicks led off the seventh with a triple off Tigers reliever Bruce Rondon. Hicks scored on a single by Pedro Florimon with the infield drawn in. A one-out single by Justin Morneau pushed the lead to 5-2. Hicks went 1-for-4, while Morneau was 2-for-5.
"I was trying to take away his fastball, be very aggressive toward his fastball," Hicks said of Rondon. "He's a fastball pitcher. The guy throws 100 mph, so you have to really get the head out. For me, I was just trying to hit the ball solid."
Chris Parmelee led off the eighth with a solo home run to extend the lead to 6-2, and Jared Burton and Glen Perkins held things down the rest of the way.
The win moved the Twins back to .500 for the fourth time in a week. Last season, the Twins had six losing streaks of at least five games. They had one in early April this season, but responded with a five-game winning streak.
After losing two straight to Texas in the previous series, they won the next two, and after losing the first two in Detroit, they took the third game. Players admitted there's more of a positive vibe around the clubhouse that prevents a few losses turning into a lot of losses.
"I think we're learning a lot every game," Diamond said. "I still consider myself a young guy still learning start to start. I think the atmosphere in this clubhouse is a lot different than it was last year. Because of it, we're playing better and able to prevent the streaks of losing or continue streaks of winning. It just feels a lot more positive, even when we lose a couple games.
"In that Texas series, everything remained positive in the locker room and we were still pulling for each other. We don't suddenly start swinging for home runs or trying to strike everybody out. We're relying on what's going to make us win. That's our defense and moving runners. It's a good thing we're focusing on the right things."
Chris Vannini is a contributor to MLB.com. This story was not subject to the approval of Major League Baseball or its clubs.