Red-hot Marte's clutch HR helps Bucs salvage finale
Left fielder's two-run shot ties it, Inge drives in go-ahead run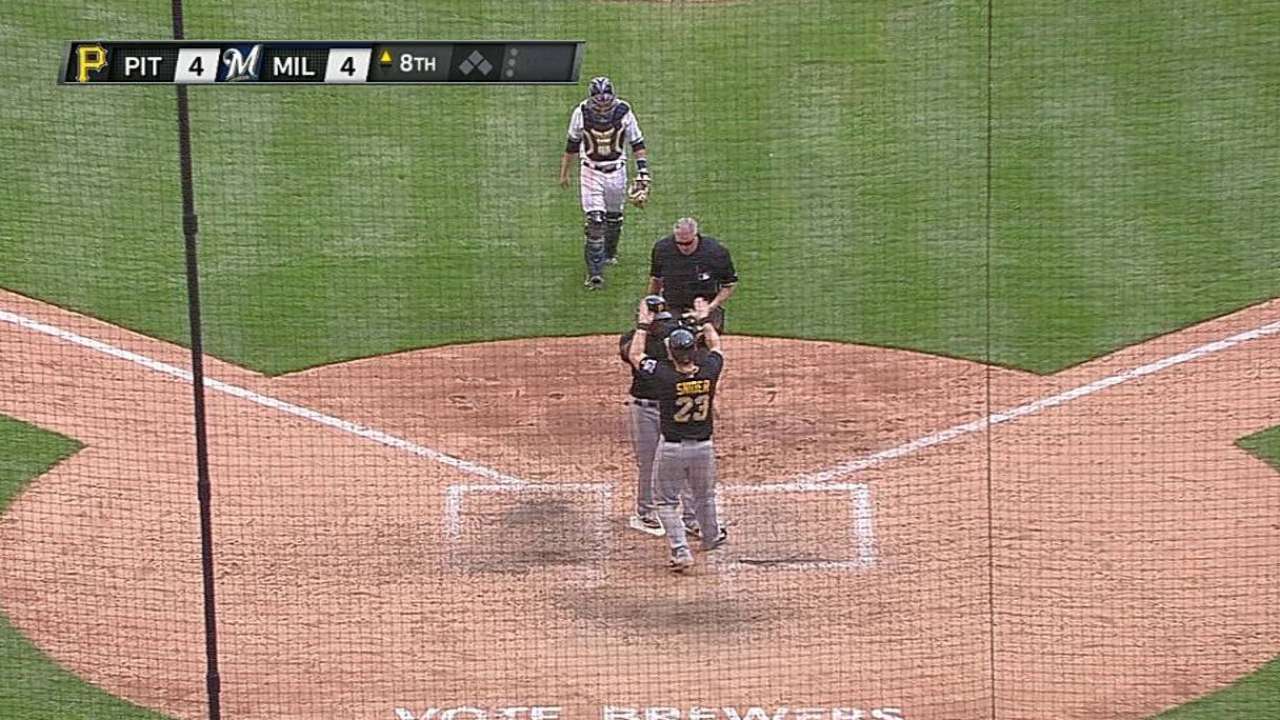 MILWAUKEE -- As the saying goes, having Mark Melancon and Jason Grilli in their bullpen is allowing the Pirates to shorten games to seven innings.
The rest of the National League only wishes that were true -- even the dreaded Brewers. Without an eighth inning, there'd be no Ambush Alley and not many wins.
Maybe you wouldn't even notice that Brandon Inge is around.
Wednesday afternoon, when the Bucs again came alive with four runs in the eighth off another bullpen in their bull's eye for a 6-4 victory, the winning blow again belonged to Inge, who singled for the go-ahead run.
For Inge, the encore to Starling Marte's tying two-run homer earlier in the inning, the RBI was his third since he joined the Pirates on April 23 in Philadelphia, after completing his Minor League rehab from a cracked right shoulder blade. All three have driven in go-ahead runs. All three, of course, have come in the eighth inning to cap comebacks.
"I like this team -- a lot," said Inge, looking around the clubhouse at his still-new teammates. "The thing I can relate to the most -- like some of the good teams I've been on in the past, no matter how many runs we're down, we keep battling and pushing back. That's the sign of a good ballclub, and that's awesome."
There was definitely an element of awe to the manner in which the Pirates interrupted their Miller Park misery.
Can't say the win ended the misery. At still 46 losses in 54 games, it was merely put on pause.
"It's a start," said Pirates manager Clint Hurdle, "but we don't make it as big as everyone else. The guys who weren't here [when the domination began in 2007] don't feel the baggage. They just hear the noise."
Most of Wednesday's early noise was made by the Brewers, whose rookie right-hander, Hiram Burgos, allowed solo homers to Pedro Alvarez and Michael McKenry and still had a 4-2 lead to turn over to his bullpen after seven innings -- against the Bucs, not a high-percentage development.
After Marte tied it at 4 with a two-run homer off John Axford, the Bucs stayed after the former Milwaukee closer turned setup man. Jose Tabata singled, and with two outs engineered a costly steal of second: He had to leave after apparently jamming his left foot on the slide. But pitcher James McDonald pinch-ran and scored when Inge dumped a single into short right.
"I'll take 'em any way I can get 'em," said Inge, a veteran who lives for such opportunities. "I love being up in key spots. Doesn't matter how long you've played, those are the situations you dream about."
Inge, who continued on to third while second baseman Rickie Weeks kicked the ball, then scored the insurance run when Alvarez greeted left-handed reliever Mike Gonzalez with a single.
Right out of the gate, spot starter Jeanmar Gomez complicated the game plan. He was pegged to go on the watch list at about 60 pitches -- and needed half that just to get through the first. And many of those 30 pitches were high-pressure deliveries, as he needed to get out of a bases-loaded, one-out jam after the Brewers had already scored on Ryan Braun's RBI single.
"He was taxed, because they challenged him. They wouldn't chase [pitches out of the strike zone]," Hurdle said.
Gomez needed only 29 pitches to get through the next two innings. But that got him near that 60-pitch red zone. Sure enough, Carlos Gomez and Yuniesky Betancourt led off the fourth with back-to-back homers, on his 65th and 66th pitches.
It was the third time this season the Brewers connected on back-to-back homers -- all three coming in this series.
Gomez made it through that frame, but that was it. Only the two homers were earned runs -- shortstop John McDonald's throwing error had set up the first-inning score -- and he had two walks and three strikeouts.
Gomez's effort was by far the best by a Pittsburgh starter in this series, which saw Wandy Rodriguez and James McDonald surrender seven runs each.
"Every time he has taken the ball, he has done a very professional job," said Hurdle, lauding Gomez.
Justin Wilson was sharp for two innings in relief of Gomez, but was chased by Jean Segura's RBI single that gave Milwaukee a 4-2 lead in his third inning of work.
Bryan Morris bailed Wilson out of the rest of the inning. The eighth-inning rally earned Morris the win, his first in the Majors, which Melancon and Grilli preserved.
"Shows you how crazy this game is," said Morris, who checked in Tuesday (taking the place of Jonathan Sanchez, whom the Pirates had designated for assignment) just in time to absorb his first Major League defeat. "Then I throw two pitches today and get my first win."
The second of those pitches was a cutter, grounded by Braun to Inge at second, for an inning-ending double play.
Grilli improved to 11-for-11 in save situations -- something else that couldn't have happened if they turned out the lights after seven.
But that's just when the Pirates start turning theirs on.
"A lot of teams, down two, three runs, roll over and die. This team has not done that once," Inge said. "It's a good thing. It means you're not panicking."
Tom Singer is a reporter for MLB.com and writes an MLBlog Change for a Nickel. He can also be found on Twitter @Tom_Singer. This story was not subject to the approval of Major League Baseball or its clubs.