Athlete Ally, Berra championing respect in sports
Organizations raising awareness about prejudice, homophobia in community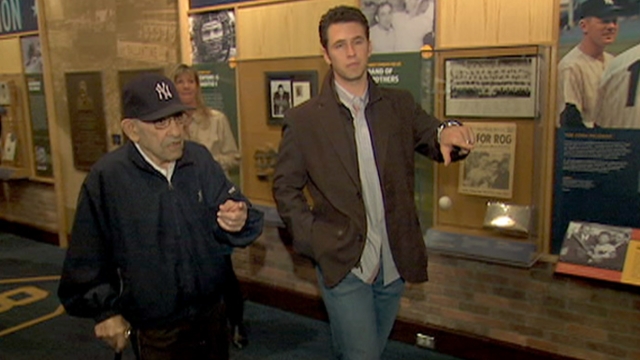 The Yogi Berra Museum & Leaning Center has partnered with Athlete Ally to dispel prejudice and homophobia in the sports community.
Located on the campus of Montclair State University in New Jersey, the YBMLC offers exhibits and programming that reflect the values of Berra -- a three-time American League Most Valuable Player Award winner, 15-time All-Star and 10-time World Series champion.
In mid-June, the organizations will unveil a new exhibit dubbed "Championing Respect," an 800-square-foot initiative aimed at examining the evolution of societal attitudes about inclusion and acceptance in sports. The feature will focus on Jackie Robinson breaking the color barrier in 1947, advancements made by women in sports and the movement to end homophobia in sports.
"Respect the game, respect others -- that's what I always learned in sports," Berra said. "Whatever background or whatever you are, it doesn't matter. Treat everyone the same, that's how it should be."
Athlete Ally, a nonprofit organization that encourages all members of the sports community to respect and accept everyone involved in sports, will design a series of programs for the YBMLC that gives coaches, parents and athletes methods for preventing homophobia.
"The YBMLC is an institutional pillar of American sportsmanship and character and the ideal platform to discuss and explore respect in sports," said Hudson Taylor, founder and executive director of Athlete Ally. "With both a pioneering exhibit and innovative programming, this partnership will offer the sports community meaningful education and resources for learning about and empowering LGBT allyship in sports. We're honored to be collaborating with YBMLC and [are] so grateful for their leadership on this issue."
Zack Meisel is a reporter for MLB.com. Follow him on Twitter @zackmeisel. This story was not subject to the approval of Major League Baseball or its clubs.