De La Rosa unable to find form as Rockies fall
CarGo goes deep early but offense baffled by sharp Dodgers rookie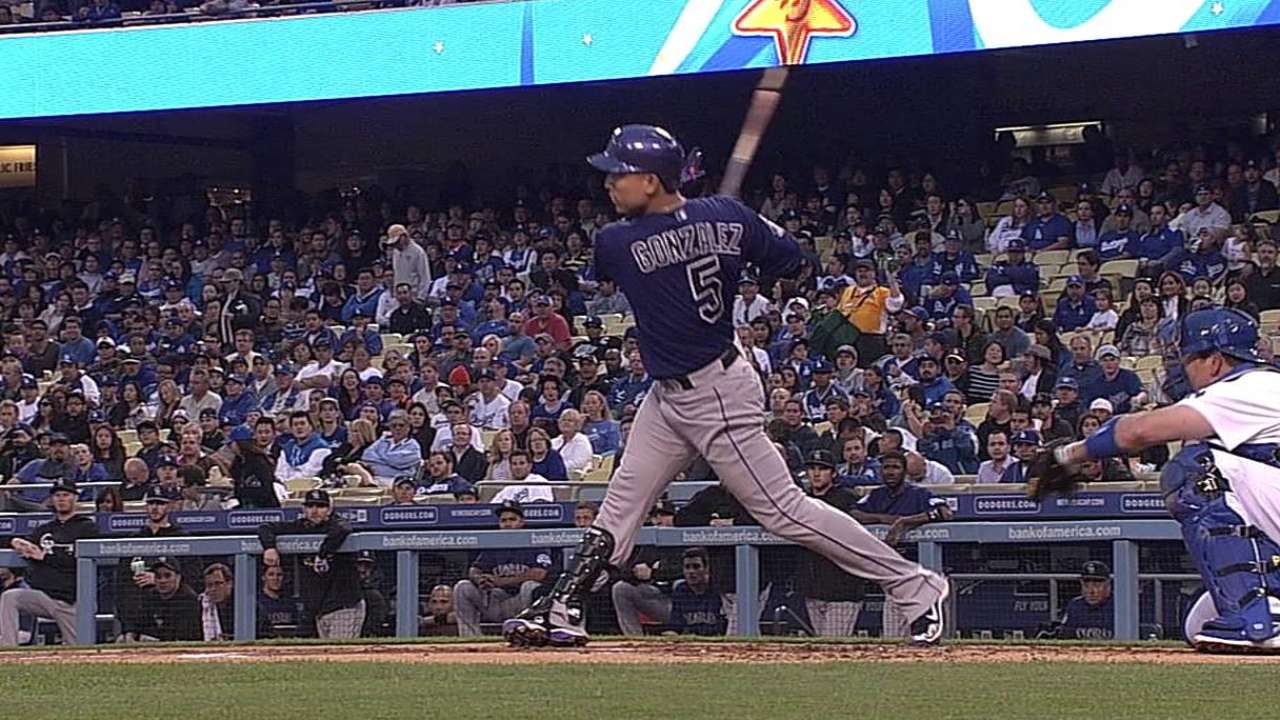 LOS ANGELES -- The Dodgers once again made Rockies left-hander Jorge De La Rosa blue Tuesday night.
The lead that Carlos Gonzalez gave De La Rosa with a first-inning solo homer evaporated quickly, and the Dodgers dunked De La Rosa with six runs and 11 hits, including a Hanley Ramirez home run, en route to a 6-2 victory at Dodger Stadium.
The loss dropped the Rockies to 2-4 on a National League West road trip that concludes with Wednesday's deciding game of three with the Dodgers.
The Rockies are expected to have shortstop Troy Tulowitzki back in the lineup for Wednesday's game. Tulowitzki missed the first two games of the series after suffering a mild left rotator cuff strain while sliding into home plate Sunday at Arizona.
Poor results against the Dodgers are the norm for De La Rosa (2-3). He is 0-8 with a 6.75 ERA in 15 appearances, including 11 starts, against them. After Gonzalez's fifth homer of the season, but first since the first game of a doubleheader against the Mets on April 16, the Dodgers' Jerry Hairston, Nick Punto and Matt Kemp opened the bottom of the first with singles in a two-run inning.
"I have no idea," De La Rosa said after his four-inning stint. "It's like they know what is coming. They stood ready on the changeup. I'm going to see my video tomorrow and see what I did. I have to do something next time."
The night didn't improve for De La Rosa, who gave up the homer to Ramirez -- starting for the first time this season after right thumb surgery and playing on his bobblehead night.
"He's been an All-Star. He's been a batting champ. When you're able to put somebody like that in the lineup, it's always going to help," Kemp said of Ramirez. "And for him to do that in his first game back, that's a huge confidence builder for him to know he's all right and can do it."
The evening wasn't exactly a picnic for Rockies hitters against Dodgers rookie left-hander Hyun-Jin Ryu (3-1), who baffled the Rockies with his changeup for six innings, struck out a 12 and gave up two runs on three hits.
Ryu, 26, led the Korean League in strikeouts each of his seven seasons before joining the Dodgers. The Rockies were treated not only to his changeup, but to a fastball and breaking ball that were expertly placed.
"He was really good tonight, and you could see it early on," Rockies manager Walt Weiss said. "He had his 'A' game, and it was going to be tough to put together a big inning or something big against him. He was in control.
"There was a big difference between his fastball and changeup -- 93 to 80 [mph] -- and he was commanding everything."
Michael Cuddyer singled in a run against Ryu in the sixth, but Ryu struck out Jordan Pacheco -- for the third time -- to end the Rockies' threat with two on base.
"He got me three times, so I've just got to tip my cap to him, but we're going to play them again -- come back tomorrow and get right back on it," Pacheco said. "It does make a difference when you haven't faced a guy. You don't really know his tendencies or what he likes to go to. At the same time, he hasn't faced you. It goes both ways, but he pitched well tonight. You can't do much but just forget about it."
Dodgers reliever Ronald Belisario fanned Dexter Fowler with two aboard to end the seventh.
Rockies relievers Edgmer Escalona (two innings), Matt Belisle and Rex Brothers (one inning each) held the Dodgers to two hits. Escalona struck out three, Belisle two and Brothers one, but the effort won't be remembered because of another bad De La Rosa start against the Dodgers.
"I wish I could throw seven innings every time, but it didn't happen," De La Rosa said. "I feel bad for the bullpen. I'm going to forget this and be ready for the next one."
Thomas Harding is a reporter for MLB.com. Read his blog, Hardball in the Rockies, and follow him on Twitter @harding_at_mlb. This story was not subject to the approval of Major League Baseball or its clubs.