Mariners unable to rally after Maurer's wild start
Rookie struggles in four-run first; Morse mashes eighth homer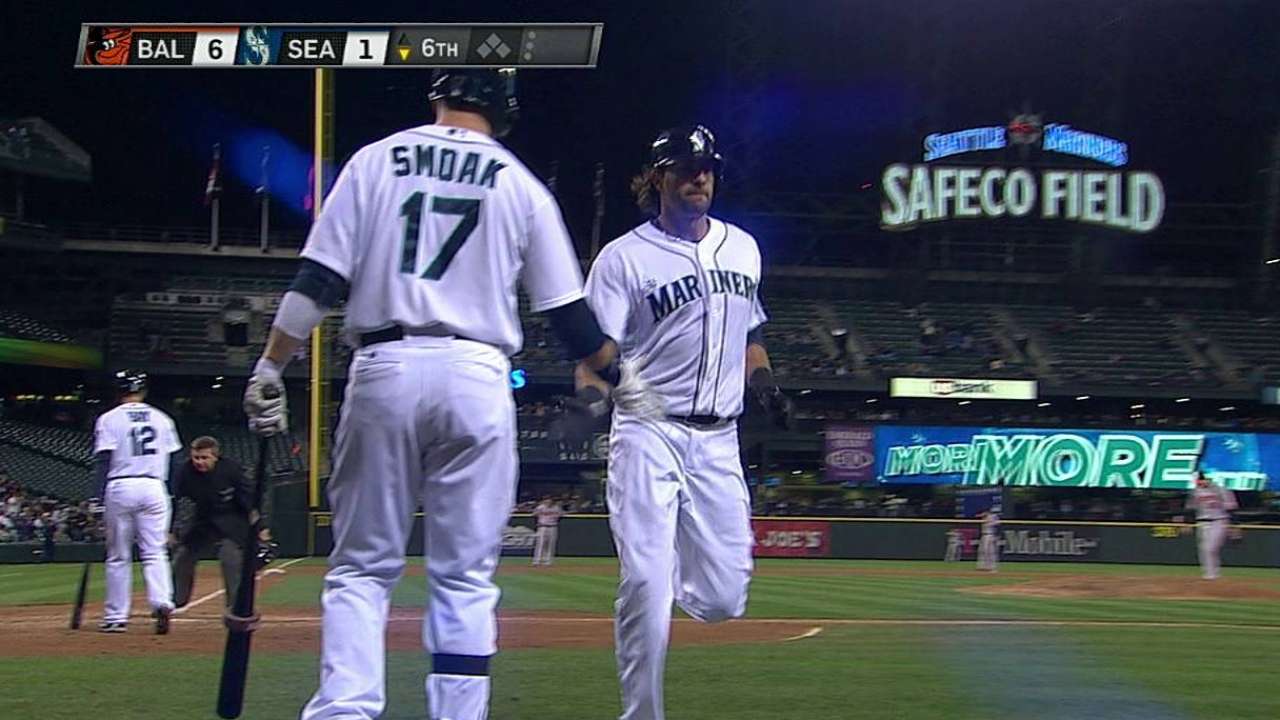 SEATTLE -- The topsy-turvy season of Brandon Maurer tilted back in a downward direction Tuesday night as the Mariners rookie gave up four runs in the first inning of Seattle's 7-2 loss to the Orioles at Safeco Field.
Maurer, 22, had posted a 1.89 ERA in his previous three starts after getting rocked his initial two outings in the Majors upon leaping from Double-A ball to make the Opening Day rotation.
But little of the recent comfort or success was evident early against the Orioles, who jumped on the youngster for four hits and two wild pitches in taking their quick 4-0 lead. Maurer did stop the damage after that, but he lasted just four innings before giving way to Blake Beavan.
The Mariners looked for the silver lining in this one, appreciating that Maurer righted the ship after his rough start this time out.
"He didn't execute really anything there in the first and it kind of steamrolled really quick," said catcher Kelly Shoppach. "But he battled back after that, which is a positive for him. Every day he goes out, he's going to get better, whether he throws well or not. Experience in this game is invaluable. He came back and kept us in the ballgame there and did what he could to battle really hard today."
Maurer fell to 2-4 with a 6.07 ERA while allowing four runs on six hits with two walks and two strikeouts. He threw 79 pitches in his shortest outing since getting just two outs against the Astros in his Safeco debut earlier this season.
"It felt quite a bit like that," Maurer said. "They came out swinging. I have to go out there and throw better pitches."
One thing the youngster has already learned is you need a short memory in the Majors.
"I have to go out there next time and not even worry about this one," he said.
Manager Eric Wedge remains bullish on the 6-foot-5 right-hander.
"He had three good starts prior to this, so you have to take that into consideration," Wedge said. "He had a tough night tonight, but I think he cleared another hurdle being able to right himself after getting off to the tough start. He can go home tonight feeling like he did do a better job than earlier in the year when he didn't get through it."
The loss snapped the Mariners' three-game win streak as they finished April with a 12-17 record, their slowest opening month since an 8-15 start in 2004 that kicked off a 63-99 season.
Seattle's offense stayed in the deep freeze for five innings on a chilly evening in front of 13,629 fans until Michael Morse cranked a leadoff homer in the sixth. Seattle eventually loaded the bases and pushed one more run across on a fielder's choice by Shoppach, but Brendan Ryan hit a broken-bat double-play grounder to end that rally.
The long ball was Morse's eighth of the season and second in the past three games as he moved into a tie for third in the American League in home runs for April.
Orioles starter Jason Hammel, a graduate of South Kitsap High School in Port Orchard, Wash., improved to 4-1 with a 3.79 ERA as he gave up two runs in five-plus innings.
Nate McLouth ripped a leadoff home run for the Orioles and Matt Wieters added a two-run double in the first-inning flurry as Baltimore improved to 16-11.
The Orioles tagged Beavan for three runs in 2 1/3 innings of relief, including a two-RBI single in the sixth by right fielder Chris Dickerson, who went 3-for-5 from the ninth spot in the order.
The Mariners totaled 10 hits, but a 1-for-8 night with runners in scoring position left them short on the scoreboard.
Justin Smoak went 2-for-3 with a walk and Dustin Ackley was 2-for-4, extending his hitting streak to 10 games during which he's batted .417.
But the Mariners just couldn't cash in despite having runners on base in each of the first eight innings.
"We didn't get hits at the right times and had some opportunities we didn't take advantage of," Wedge said. "They did and that was the difference in the ballgame. But you're seeing averages rise and guys having better at-bats. I like the way we're competing. You come out here and win this series tomorrow and you've won two in a row and you keep going from there."
Greg Johns is a reporter for MLB.com. Follow him on Twitter @GregJohnsMLB as well as his Mariners Musings blog. This story was not subject to the approval of Major League Baseball or its clubs.