McLouth's blast sparks offensively charged win
Hammel battles in five-plus innings but bullpen stays sharp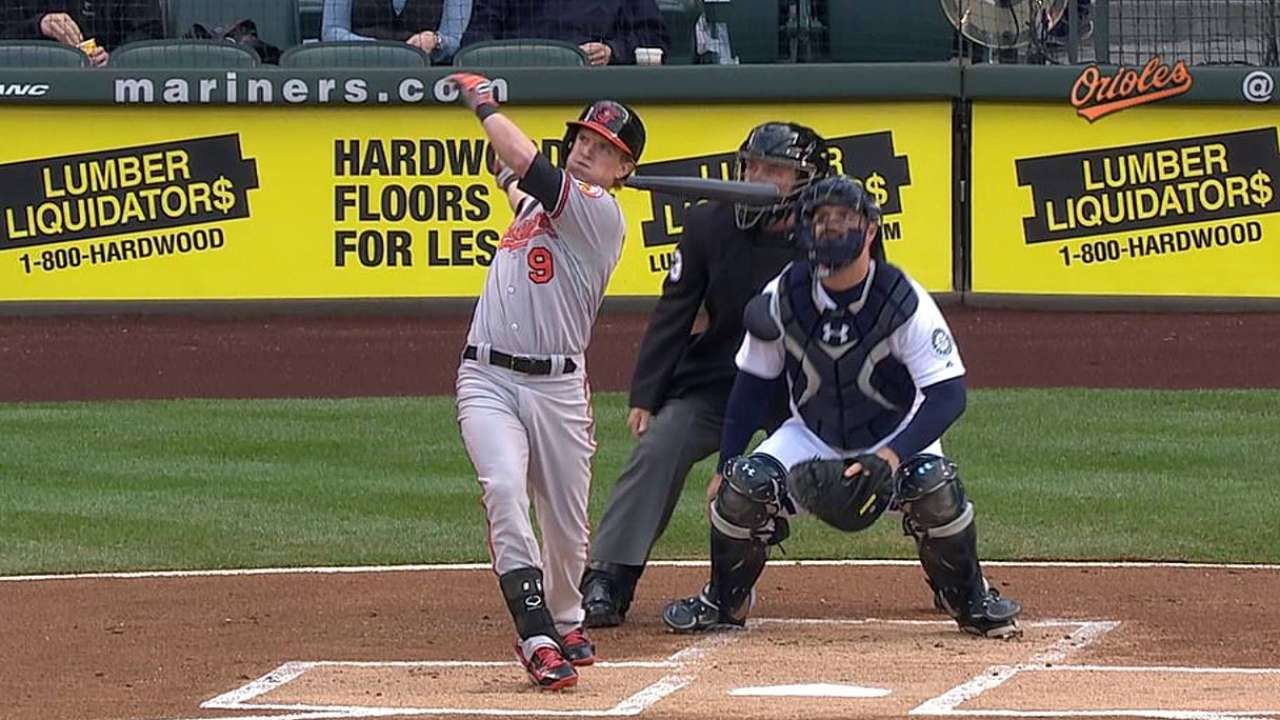 SEATTLE -- A 13-hit night for the offense and another shutdown performance for a bullpen, which entered Tuesday's game with the second-best ERA in the American League, catapulted the Orioles to a 7-2 series-evening win over the Mariners at Safeco Field.
The victory, which has the Orioles at 16-11 to cap the first month of the season, puts the team at 4-2 on a tough, three-city West Coast trip. And there was plenty to like watching a lineup that saw all starting nine reach base and the relief corps combine to throw four scoreless frames. But if the fate of Baltimore's season rests with the starting pitching, as manager Buck Showalter has said time and time again, Tuesday's win showed why there is still plenty of work to be done.
Right-hander Jason Hammel, who was the club's Opening Day starter, left without recording an out in the sixth inning as the O's once again called on the bullpen to record double-digit outs.
"We've got to give these guys in the bullpen a day off one of these days," said Hammel, who has thrown 35 2/3 innings over six games. "Six innings isn't enough and that's what I have been camped at and then today five innings, so I am obviously very frustrated because that's not the way to build a winning team. Because after a while those innings will start to chew up the bullpen no matter how good they are. And they have been outstanding. So, I've got to get deeper in the games. That's just the bottom line."
With the decision prior to the game to demote Monday's starter Zach Britton in favor of another bullpen arm in Zach Clark, the Orioles are trying to keep the relief corps healthy and productive, no easy feat when you consider that they have pitched 38 1/3 innings over the past 11 days. The Orioles, who don't have an off-day until Monday, have played 12 games over that span and the 'pen has pitched to a 2.11 ERA despite the team's starters averaging less than six innings. The team has gone 8-4 over that stretch, with the lineup also chipping in to help mask an inconsistent rotation that has already begun to start a roster carousel similar to last year.
"It wasn't like we pitched seven or eight innings every night last year," Showalter said. "We were just able to pass the load along. We got a lot of guys operating at the level they were last year which a lot of people said they couldn't do.
"So, I'm going to look at the positive things going on that weren't questions in our mind, but you like to see them pick up where they left off. I can't say anymore to you all that this is April. Just April. Is it officially May yet?"
One trend the Orioles wouldn't mind continuing in the new month is the offense, which jumped on Mariners starter Brandon Maurer for four runs in the first inning and working the right-hander for 32 pitches in the process. Red-hot Nate McLouth opened the game with a solo homer and Manny Machado doubled and scored on a pair of wild pitches for a quick two runs.
"It was a terrible pitch," Maurer said of the ball McLouth sent into the Safeco Field seats, raising his average to .485 over his last 10 games. "I tried to throw a two-seam [fastball] inside and it just stayed right up down the middle."
Matt Wieters then drove in the other two with a one-out double down the right-field line that plated Nick Markakis and Chris Davis.
The Mariners, who had bullpen action early, resumed that in the fourth when Wieters worked a leadoff walk and Chris Dickerson's single put runners on the corners. McLouth struck out to end the frame, but it would be the last batter for Maurer, who was removed after four innings in favor of reliever Blake Beavan.
Hammel outlasted Maurer, but labored through five-plus innings and never had a clean frame. Still, he was able to keep the Mariners off the scoreboard until Michael Morse's solo homer to start the bottom of the sixth. Jason Bay and Justin Smoak followed with a pair of singles to spell the end of Hammel's outing, a 102-pitch performance in which he threw 59 strikes.
"It's definitely on the starters' shoulders right now," Hammel said of a staff that has had just one starter -- Wei-Yin Chen on Friday -- throw seven or more innings in the team's first 27 games. "I still think we are competing really well. Obviously or we wouldn't be five games over .500 right now but those innings are going to add up if we don't start getting deeper into games."
The Orioles employed four pitchers behind Hammel -- in Tommy Hunter, Troy Patton, Darren O'Day and Brian Matusz -- while the offense added to the lead off Beavan. Dickerson, who had one hit in eight at-bats coming into the game, drove in another pair of runs with a one-out, sixth-inning single into center field and J.J. Hardy picked up an RBI in the seventh.
"This whole bullpen has been unbelievable," Dickerson said. "It's truly incredible. The bullpen has been a huge lift for us. When things have gotten a little bit hairy, they can come in and shut the door. And they've been doing an incredible job."
Brittany Ghiroli is a reporter for MLB.com. Read her blog, Britt's Bird Watch, and follow her on Twitter @britt_ghiroli. This story was not subject to the approval of Major League Baseball or its clubs.