Wobbly early, Kuroda settles to stymie Astros
Hafner's RBI singles sufficient support for righty's fourth win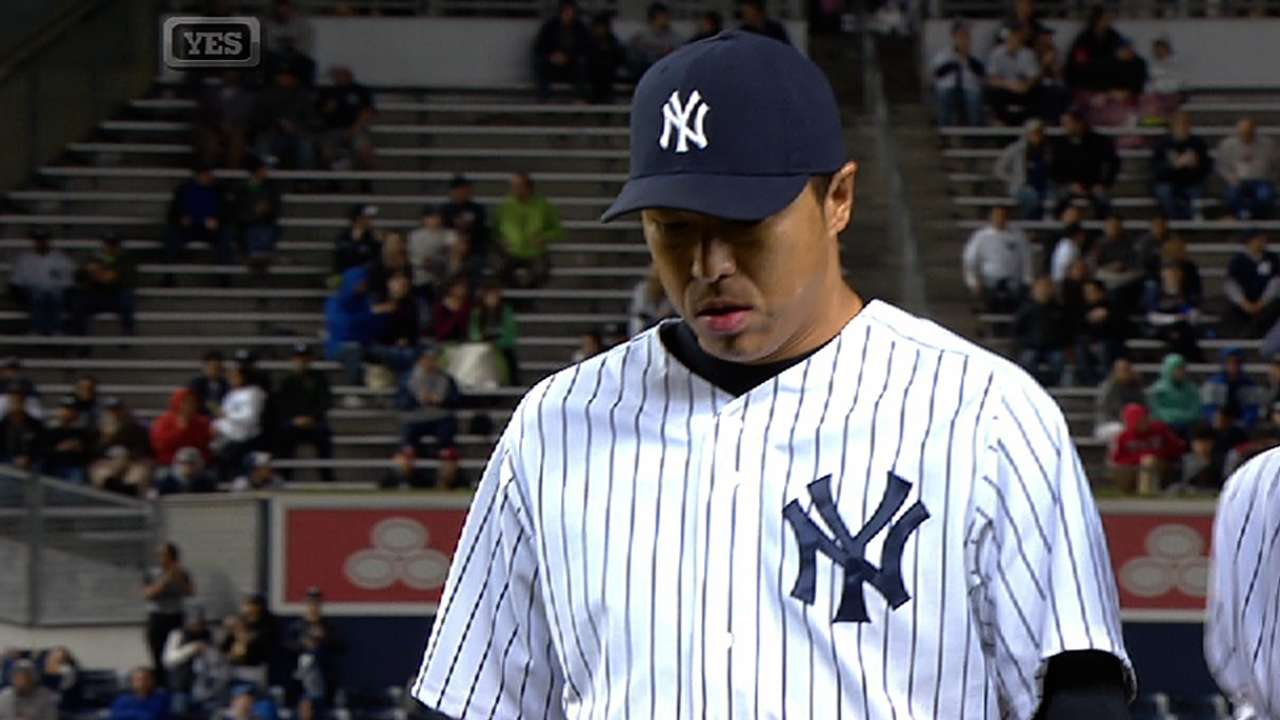 NEW YORK -- There have been many moments during this season's first month that the Yankees' lineup appeared to be held together by used bubble gum and Scotch tape, and yet you look up as the month of April closes, and they sit six games above .500.
Hiroki Kuroda had an outing ripped right out of that playbook on Tuesday. He seemed to be in danger for each of the first three innings, but by the end of his night, he'd spun seven scoreless frames and the Yankees were on their way to a 7-4 victory over the Astros.
"It hasn't always been pretty, but our guys have come up with clutch hits when we've needed them," Yankees manager Joe Girardi said. "I think our pitchers have done a pretty good job. It took a couple guys a little while to get going, but they've seemed to find it."
Despite carrying nine players on the disabled list, having added Kevin Youkilis to that injured assortment on Tuesday, the Yankees wrapped up the month of April holding a 16-10 record and residing in second place in the American League East.
There was talk in the clubhouse this spring about using outside pessimism as fuel, and certainly there was plenty of it flowing right outside those concrete walls. But 26 games later, Travis Hafner said that this team has fostered a positive atmosphere of its own.
"They brought in really good dudes -- a lot of veteran guys, good-character guys," Hafner said. "We've kind of known each other over the years. The clubhouse has been great. Everybody gets along well, and it's been fun."
So while Kuroda flailed early and searched for the command of his stuff, the Yankees didn't panic. Somehow, Kuroda managed to strand seven Astros aboard through the first three innings -- which required 67 pitches, including a sinker-and-slider combination that Kuroda said proved to be "useless," before pitching coach Larry Rothschild suggested that Kuroda try working only from the stretch.
"That is actually something that I don't really like to do, but I followed his suggestion and everything worked," Kuroda said through an interpreter. "My control wasn't there, so I tried to attack the zone as much as I can."
A six-pitch fourth inning righted Kuroda's game, as he retired 14 of the last 15 batters he faced, finishing with a season-high eight strikeouts. Catcher Chris Stewart wasn't sure if moving Kuroda to the stretch was the cure-all, but there was no reason not to try.
"I mean, it couldn't hurt," Stewart said. "Obviously, he was putting guys on left and right in his first three innings. We might as well try to make a change and see if we can mix it up and he can figure it out from there. Fortunately, he was able to."
Hafner drove in two of the Yankees' four runs against Astros starter Phil Humber, part of a three-hit, three-RBI night for the designated hitter.
Hafner didn't exactly crush everything, grounding a third-inning RBI single up the middle and serving an eighth-inning RBI flare into left field, but he wasn't about to apologize for finding holes in the Astros' defensive shift.
"The last one was a bad swing I just cued off the end of the bat," Hafner said. "I'll take it. I guess you feel like it evens out a little bit, maybe. When there are guys in scoring position and you can get hits, that's big."
Hafner also put the Yanks on the board with an RBI single in the first inning against Humber, who permitted nine hits in an outing that featured four wild pitches.
"I feel like I threw the ball where I wanted to throw it and how I wanted to throw it," Humber said. "Eventually, the ball's going to bounce my way. I hope it happens soon. I'm getting a little bit frustrated, but it's part of the game. You keep working hard and keep battling."
New York added two runs in the fifth as Brennan Boesch legged out a fielder's-choice grounder, scoring Ichiro Suzuki. Jayson Nix then ripped an infield single to shortstop that allowed Robinson Cano to score.
Chris Carter hit a two-run homer off David Robertson in the eighth to break up the shutout, and Lyle Overbay responded with a solo shot in the home half of the inning, his fourth.
Stewart's single then drove in Eduardo Nunez, who finished with three hits, including two doubles. Nunez said that hitting coach Kevin Long made an important tweak to his stance, making him stand less upright and thus permitting him to better hit to all fields.
"Offensively, we really believe this kid is going to hit," Girardi said. "We think he can hit, so to get him going with the speed that he has, it creates problems for the defense, the pitchers. It would help us a lot."
In the ninth, with many in the remaining crowd chanting, "We want Mo!" during an ineffective Shawn Kelley appearance, Mariano Rivera entered and struck out Jason Castro for his 10th save of the season.
"You want to finish the month off well, and you want to keep paying good baseball," Girardi said. "I thought it was important. You're trying to win series. We talk about that as our focus all the time; just win series and things will take care of themselves. Now we have a chance to do it again tomorrow."
Bryan Hoch is a reporter for MLB.com. Follow him on Twitter @bryanhoch and read his MLBlog, Bombers Beat. This story was not subject to the approval of Major League Baseball or its clubs.