Early missed chances cost Astros in Bronx
Offense awakens late, but Humber's four wild pitches key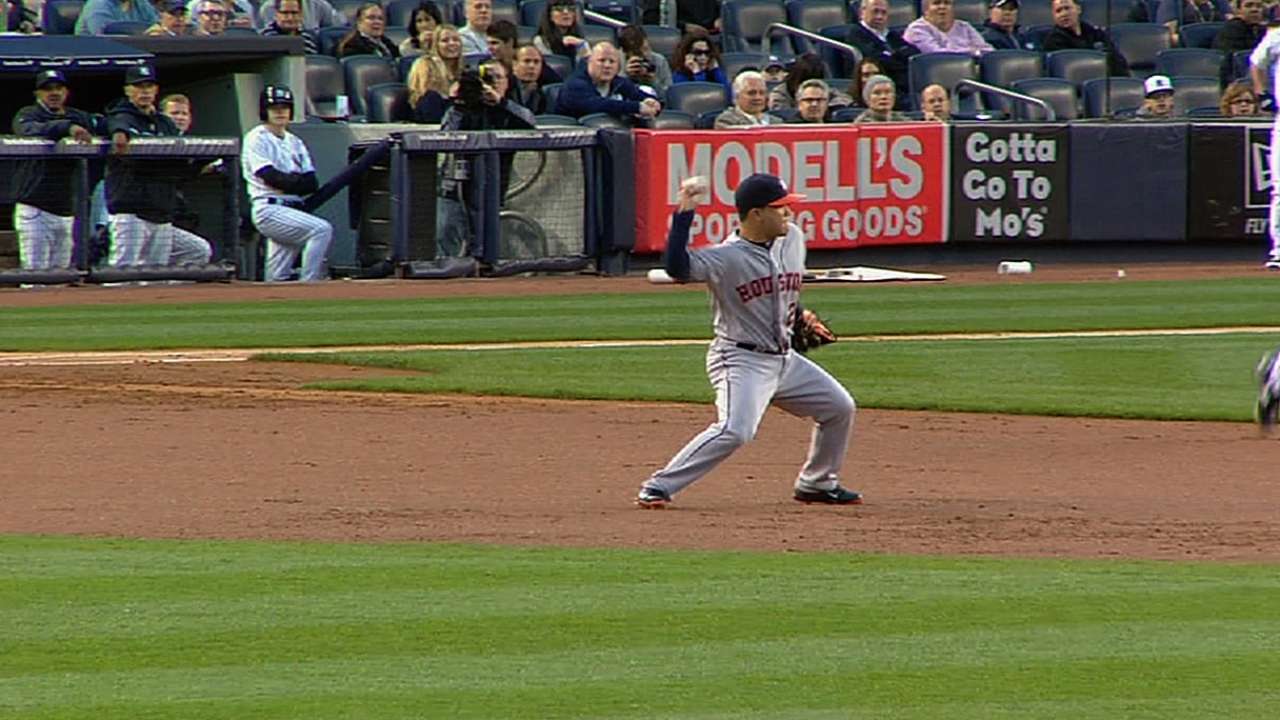 NEW YORK -- Tuesday night represented a definite step in the right direction for Astros starter Philip Humber, who rebounded from a pair of rocky outings and pitched with more aggression and confidence while moving closer to getting his season back on track.
Humber was still left searching for his first victory of the year after the opportunistic Yankees took advantage of every opening the Astros gave them on offense and got seven scoreless innings from Hiroki Kuroda to win, 7-4, at Yankee Stadium.
Humber allowed four earned runs and scattered nine hits -- eight singles -- in six innings, but still became the second pitcher since 1900 to lose six games in April, joining Dave Stewart in 1984.
"He did a great job," Astros manager Bo Porter said. "We could have gotten a few runs early with the opportunities we had and made a couple of those crucial break-point plays and the outcome could have been a little bit different, but Humber's performance gave us a good opportunity to win the game, and that's what you want from your starter."
Four of the hits allowed by Humber (0-6) didn't leave the infield, and when the Yankees did reach base, they were aggressive. Humber helped them along by becoming first Astros pitcher since Nolan Ryan in 1982 to throw four wild pitches in a game.
"I felt like the last couple of starts, there have been some balls in the middle of the plate that got hit hard," Humber said. "I think tonight -- I don't know how many hits they had -- I counted two that were hard hit. Sometimes the ball doesn't bounce your way. It goes in spurts, and hopefully it's going to turn soon. It's one of those days I threw ball good and didn't get the results I wanted."
The Astros, who had 17 hits in Monday's 9-1 series-opening win, had some early chances before Kuroda (4-1) found his groove. Houston went 0-for-6 with runners in scoring position in the first three innings and then watched Kuroda retire 14 of the final 15 batters he faced.
"He struggled the first inning, [and] you look at the second inning and he's thrown about seven pitches and has a 1-2 count on the hitter," Yankees manager Joe Girardi said. "The next thing you know, he's at 50 pitches at the end of the inning. One inning, he had a real quick inning; I think it was the fourth. It was a struggle, there's no doubt about it. But they found a way to get through it."
Porter has seen his team squander early chances a few times this year before allowing an opposing starter to get into a rhythm.
"When you get starters on the ropes early, you want to do everything you can to get that guy out of the game," Porter said. "I thought we did a real good job building up his pitch count ... but to his credit, he did a good job of settling in and made it through seven innings."
The Astros trailed, 4-0, entering the eighth inning before making it interesting. Chris Carter walloped a two-out, two-run homer off David Robertson in the eighth to cut the lead to 4-2, and after the Yankees scored three in the bottom of the inning against Brad Peacock, Houston got a two-run double by Jose Altuve in the ninth.
All that did was force Mariano Rivera from the bullpen, and he needed only five pitches to record his 618th career save by striking out Jason Castro swinging.
"We did a great job to battle back in the end and make them bring their closer into the game," Porter said.
To start the bottom of the first, Humber walked Brett Gardner, who stole second, went to third on an infield hit and scored on Travis Hafner's soft single to left. In the third, Ichiro Suzuki swung through an 0-2 pitch in the dirt, but it got past Castro, allowing Ichiro to reach. He stole second and later scored.
"The worst [wild pitch] was the two-strike pitch to Ichiro that puts him on base," Humber said. "We just got crossed up. Nothing that Jason could do. It was a good pitch, a swing-and-miss [pitch], but unfortunately, he scored. That's not good."
The Yankees rallied in the fifth, when Ichirio and Robinson Cano singled with one out and advanced to scoring position on another wild pitch. The Astros walked Hafner to load the bases for Brennan Boesch, who beat out what would have been an inning-ending double play by a hair to make it 3-0. Jayson Nix followed with an infield hit to make it 4-0.
"The only thing I would take back was the leadoff walk in the first inning," Humber said. "Other than that, I can't ask a whole lot more of myself. I feel like I threw the ball where I wanted to throw it and how I wanted to throw it. Eventually, the ball's going to bounce my way. I hope it happens soon. I'm getting a little bit frustrated, but it's part of the game. You keep working hard and keep battling."
Brian McTaggart is a reporter for MLB.com and writes an MLBlog, Tag's Lines. Follow @brianmctaggart on Twitter. This story was not subject to the approval of Major League Baseball or its clubs.