Trio of homers makes Verlander's job easy in Detroit
Miggy, Avila, Prince all go deep to back ace, delivering series win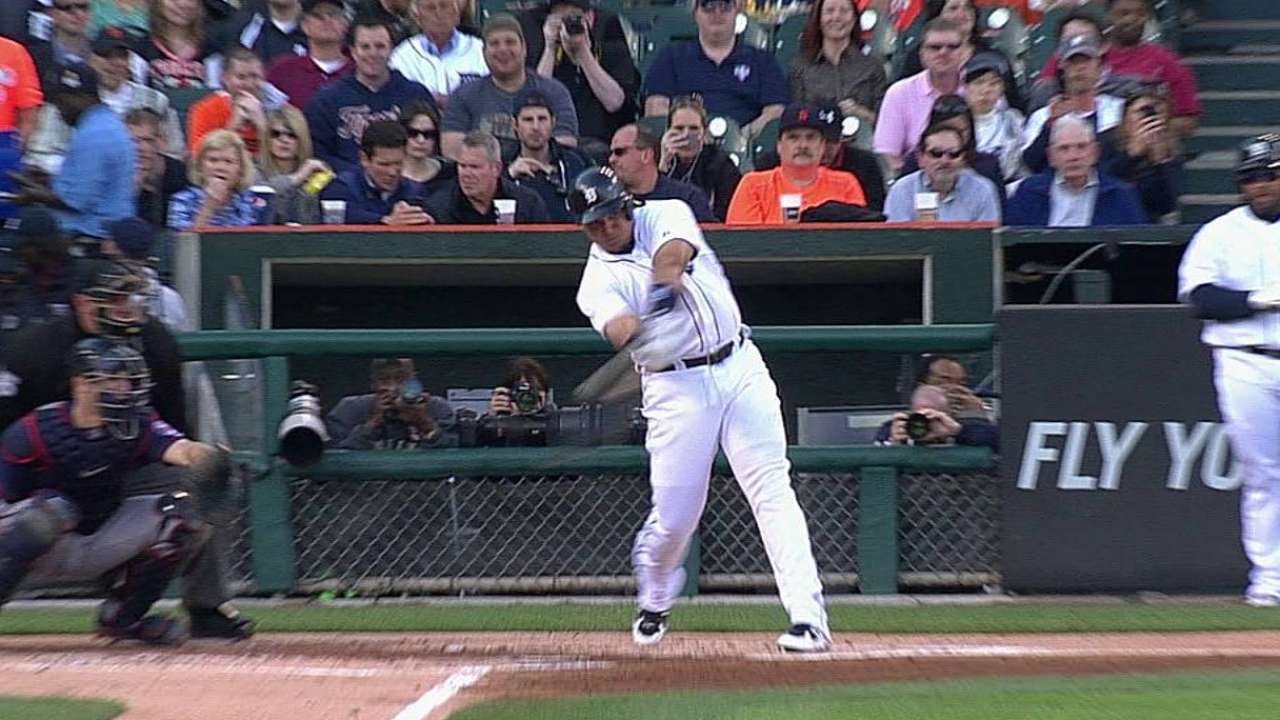 DETROIT -- Justin Verlander has ended a lot of Aprils saying he feels like pitches are starting to come together for him. Statistically, he has a case that this is his best opening month ever.
Miguel Cabrera has ended a lot of Aprils rolling into form. He has never had an opening month like this. Neither has Prince Fielder, for that matter.
Add Detroit's starting pitching to the middle of its order, and there's a big reason why Tuesday's 6-1 win against the Twins capped the Tigers' best opening month since 2006.
For all the concern about the bullpen, for which Tuesday's ninth inning was a reminder, the Tigers have started rolling earlier than they have in years. If they can cap their homestand with a win Wednesday afternoon, they will not only complete their second consecutive series sweep, they will match their longest winning streak at any point last season.
They haven't won six games in a row this early in a season in 20 years. This year, after weathering miserable conditions by playing .500 ball for the first 20 games, they're heating up along with the Midwestern temperatures.
"I think the name of the game in baseball is trying to extend your winning streaks when you're playing well as much as you can and shorten the losing streaks," Verlander said. "In 162 games, you're not going to be hot the whole year. You just need to try to do the fundamental things right in the game of baseball and see what happens.
"Our talent is going to take over. I feel like we're starting to show that now. I don't think it's going to last all year. We're not going to be the hottest team in baseball all year. It just doesn't work that way. But I think talent-wise, we're going to be one of the best in baseball all year long."
Verlander has often spent April showing flashes of talent, but not getting the results to show for it. Now, in a year when he was behind schedule in his workouts and below normal in his velocity, he has his first April winning record since his rookie season of 2006, and the best April ERA of his career.
"Obviously, it's a big improvement this year," he said. "It's funny. Everybody's talking about my velocity being down, but yet I threw the best I have in April."
The pitchers around him weren't bad, either. The Tigers racked up double-digit strikeouts in all four games of their winning streak entering Tuesday. Verlander, despite following an eight-pitch opening inning with a 33-pitch second, struck out five of the first 13 batters he faced and found his form from there.
With low velocity and a high pitch count under freezing conditions on Opening Day against the Twins, Minnesota chased him after five innings. By contrast, he cranked his fastball up to 96 mph and kept it there for much of Tuesday night, striking out eight Twins over seven innings of one-run ball.
The lone run off Verlander came from an old teammate. Verlander was a strike away from escaping the second inning unblemished when he hung a breaking ball to former Tigers prospect Wilkin Ramirez, who sent it to left-center for a double that scored Justin Morneau.
Three singles and a walk were all the Twins could muster the rest of the way off Verlander, who improved to 3-2.
Four weeks after the Twins held down Detroit's offense in frigid weather at Target Field to take two out of three in the season-opening series, the Tigers scored 10 runs through two games at Comerica Park, all but one of them coming via the homer. Their latest outburst came in an Opening Day rematch against Vance Worley.
It didn't take long for this one to take a different theme. After Verlander's eight-pitch opening inning, the Tigers needed just seven pitches to take their first lead. Two pitches after Torii Hunter doubled down the left-field line, Cabrera plated him by taking a changeup and sending it out to right for his fourth home run and 28th RBI of the year.
Cabrera has never ended April with this many RBIs. For that matter, no Tiger since at least 1921 has, either.
All of Cabrera's home runs have been opposite-field shots to right. Alex Avila followed with his third solo homer of the year in the second inning, before Fielder clubbed a line drive into the right-field seats for the second consecutive night, putting Detroit in complete command in the fifth.
That pushed Fielder into career-best territory with seven home runs and 27 RBIs for April, surpassing his opening-month totals from 2011 with Milwaukee. As well as he hit in his opening month in Detroit last year, he didn't have this kind of power, or this many guys on base ahead of him.
"We've got some power hitters who are capable of hitting them at any time," manager Jim Leyland said, "and we've got some other guys who get on base. That's why they're on there, for those power guys. That's just what the doctor ordered: Get some of the guys on, and have the big guys clean it up. That's textbook when it works."
Worley (0-4), whose quality start on Opening Day kept the Twins close in defeat, gave up six runs on 10 hits over 4 2/3 innings.
"All those hits that were home runs, they were pitches that were supposed to be popups or stay on the ground, and they put it out," Worley said. "Tip my hat to them."
Once Drew Smyly and Joaquin Benoit added strikeouts in the eighth and ninth, the Tigers had their fifth consecutive game with at least 10 strikeouts, tying an American League record accomplished seven other times since 1916.
Jason Beck is a reporter for MLB.com. Read Beck's Blog and follow him on Twitter @beckjason. This story was not subject to the approval of Major League Baseball or its clubs.