Lucroy getting quick education to play first base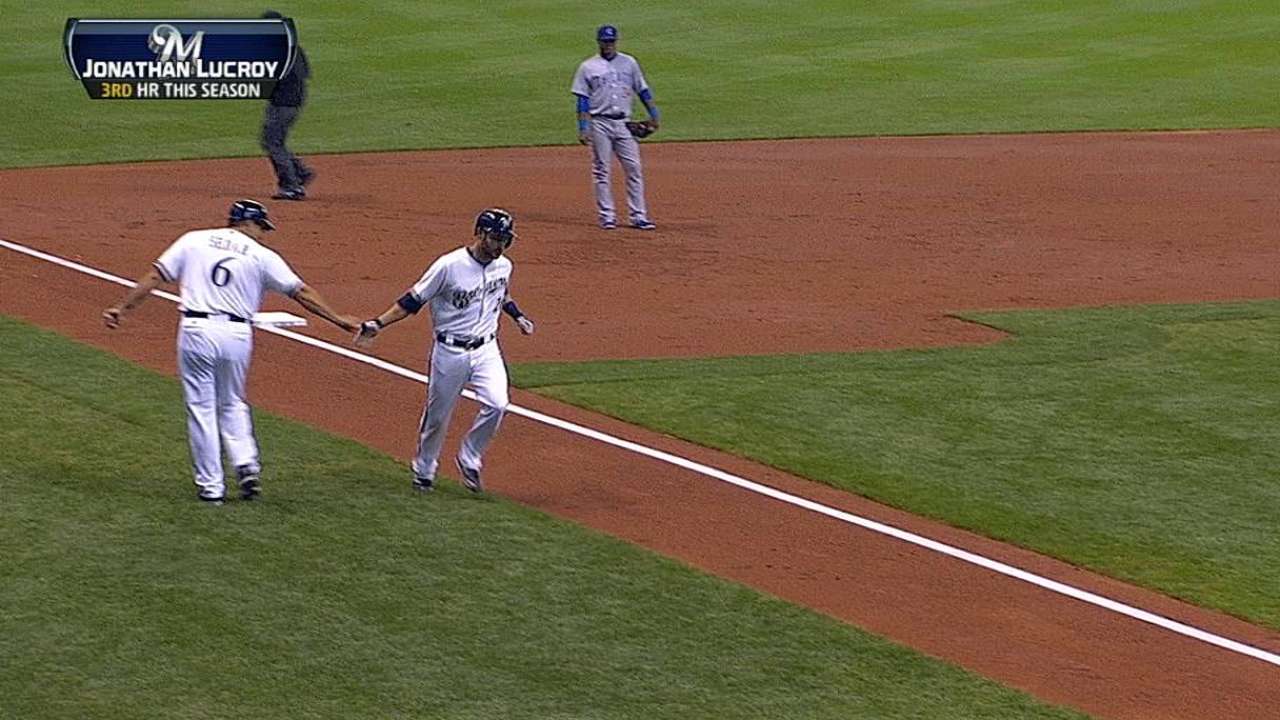 MILWAUKEE -- Brewers catcher Jonathan Lucroy described a crash course in playing first base -- a position he manned for an inning of Monday's rout of the Pirates -- for the first time since a stint in a college summer league in 2006.
"I think I made, like, two errors or something," Lucroy said.
He was error-free on Monday night, something of a relief considering Lucroy never even considered playing first base until manager Ron Roenicke approached him about it on Saturday, the afternoon shortstop Jean Segura injured a finger during pregame fielding drills and prompted a last-minute lineup shuffle.
Lucroy borrowed a first baseman's glove from fellow catcher Martin Maldonado -- Yuniesky Betancourt has been using the same one during his own crash course -- and began taking grounders before games. The idea was to wait until a blowout game to ease Lucroy in, and that opportunity came Tuesday when the Brewers bashed five home runs.
"That way, if I screw something up, it's not a game-changer," Lucroy said. "I'm going to make some mistakes over there. A lot of that stuff is instinctual."
After so many games behind the plate, Lucroy said, the vantage point in the field was "weird." He said he would need time to learn positioning on bunts and cutoffs, become comfortable fielding grounders and lead pitchers when they cover the bag. It will take a lot more practice, he conceded.
"It's not just going over there and catching balls," Lucroy said.
Maldonado agreed.
"I think that's the toughest position," Maldonado said. "Those guys make the infielders look good. That's why a good first baseman sticks around a long time."
Adam McCalvy is a reporter for MLB.com. Read his blog, Brew Beat, and follow him on Twitter at @AdamMcCalvy. This story was not subject to the approval of Major League Baseball or its clubs.