Yoenis leads A's to third straight win
Cespedes, Smith combine for seven RBIs vs. Angels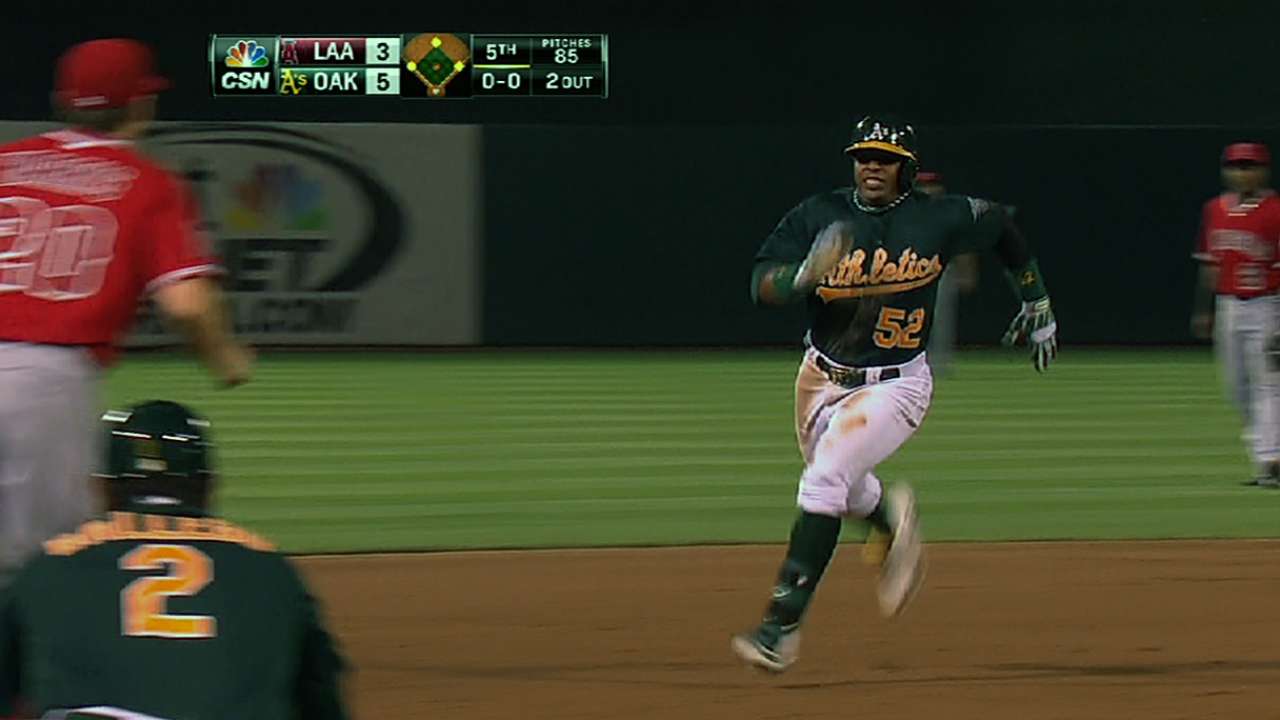 OAKLAND -- Yoenis Cespedes had a simple explanation as to why he was productive hours after playing in a 19-inning marathon.
"When I got here, I drank a Red Bull and was ready for the game," he said after driving in four runs and helping the Oakland Athletics beat the Los Angeles Angels, 10-6, on Tuesday night.
Seth Smith, who would have pitched had there been another inning on Monday night, added three RBIs as the A's won their third straight after losing eight of their previous nine.
"I thought we were good," A's manager Bob Melvin said. "We were limited with our personnel, but the guys who played did so with energy."
Jarrod Parker (1-4) pitched one batter into the seventh inning, giving up four runs on six hits. He walked three and struck out four.
"I felt good," Parker said. "I was able to forget about what's done and focus in on each pitch. There's a reason for my success and I didn't want to get away from who I am. I didn't want to fight myself."
Parker, who said he has been working on some mechnical issues, avoided becoming the first Athletics pitcher to lose five games in April with his effort.
He also helped save the bullpen, though Melvin had to go to Sean Doolittle, who threw 18 pitches to record four outs.
"Until we get to this off-day on Thursday, we're going to have some guys unavailable," Melvin said. "We'll be fine."
Smith, Cespedes, Derrick Norris and Eric Sogard each had two hits for the A's, who have scored 29 runs over their last three games after scoring 20 in the eight losses they sustained in a nine-game stretch prior to their win streak.
"I'm going to come right at him with my stuff," Angels starter Garrett Richards said of Cespedes. "I'm not going to change what I do because he's in the box. I came right at him tonight, and he came out on top. I'm going to have to make adjustments for next time."
Cespedes, who drove in the tying run in the ninth in Monday night's 19-inning win, doubled in a run and scored on a wild pitch in the fourth, tripled home two runs during a three-run rally in the fifth and brought home Sogard with a sac fly in the eighth.
"His bat is huge," Parker said. "His defense, his arm; he's a complete player and extremely important to our success. With him in the lineup, the guys around him are more comfortable."
One of those guys was Norris, who reached base three times, stole a base and scored twice.
"We had guys banged up," Norris said. "So a couple of guys at the bottom of the order had to step up, create some havoc on the basepaths and set things up for the top of the order."
Smith got all of his RBIs with one swing, drilling a two-out, full-count, bases-loaded double in the sixth. John Jaso also doubled home a run for the A's.
Parker had allowed only an unearned run through four innings. He gave up consecutive singles to J.B. Shuck and Erick Aybar ahead of Mike Trout's two-run double in the fifth, turned in a scoreless six and was pulled after walking Aybar to open the seventh. Aybar scored on a Trout triple off Tuesday callup Evan Scribner, closing the book on Parker.
Scribner was charged with two runs on three hits in two-thirds of an inning.
Rick Eymer is a contributor to MLB.com. This story was not subject to the approval of Major League Baseball or its clubs.