Angels close April with fourth straight loss
Trout's four RBIs, Trumbo's fifth homer aren't enough in Oakland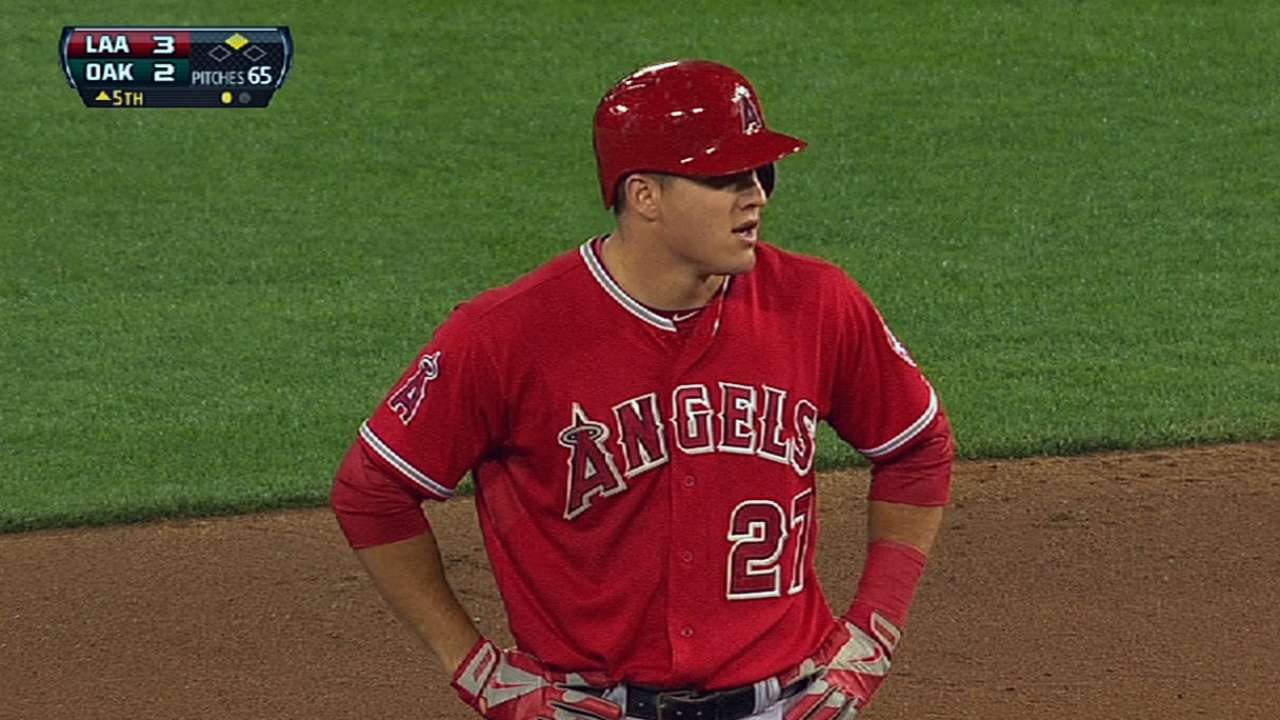 OAKLAND -- The Angels can at least take solace in one thing: April is finally over.
They went into that month determined to avoid the crippling start that may have doomed them last season, only to finish it facing a very similar uphill climb. The April finale, a 10-6 loss to the A's on Tuesday night, was the type that defined the first four weeks of their season -- with the starting pitcher struggling and a thin bullpen unable to keep the game manageable.
April is over now. It finished with losses in six of seven games, giving the Angels a 9-17 record that's tied for the worst in franchise history and one game worse than last year's slow start. May, if only symbolically, can signal some sort of a fresh start.
But it will begin with a litany of players still on the disabled list -- and the 28th-best record in all of baseball.
"We're going to make it through this," Garrett Richards vowed, after being charged with seven runs in 5 2/3 innings. "Everybody in here is positive, and everybody in here believes in each other, the coaching staff believes in us. We're going through some hard times right now, but I don't see it being this way the whole year."
The Angels are simply trying to tread water while fighting through an inordinate amount of injuries. They've used the disabled list seven times since Opening Day, one more than they needed it through the first three months of last season. And they used 18 pitchers in April, the most they've used in one month since August 2000.
With only three members of the Opening Day bullpen available as relievers Tuesday -- Jerome Williams, Scott Downs and Ernesto Frieri -- Angels manager Mike Scioscia went to Nick Maronde and Barry Enright with hopes of keeping their deficit close in the sixth.
The result was a four-run inning, pushing the A's lead to six and essentially putting the game out of reach.
"I'll tell you one thing right now, nobody's going to feel sorry for you," Scioscia said. "We've got to go out there and play, we have to get it done even with some of the depth issues that we're facing right now, and that's our focus."
The Angels dropped three of four in Seattle, in a series that saw the offense go 0-for-17 with runners in scoring position, then lost a gut-wrenching, 19-inning game in the series opener on Monday, when their bullpen failed to hold a five-run lead with six outs left.
On Tuesday, Richards gave up five runs in the first five innings. When he put two on with two outs in the sixth, his pitch count was at 111 and Scioscia went to his depleted 'pen.
Enter Maronde, who walked the lefty hitter he was brought in to face, John Jaso, on four straight pitches, then threw a wild pitch with the bases loaded. Enter Enright, who gave up Brandon Moss' walk-off homer on Monday night, then served up a two-run double to Seth Smith.
"We have a lot of things on the pitching side that we're trying to work through and get a little bit of continuity, both where our starters are and in our bullpen," said Scioscia, who optioned Maronde back to Double-A after the game. "It's taking up everything that we can do right now because we know how important it is for us, and the quicker we get it going, the quicker we're going to move in the right direction. Right now, it's a frustrating situation."
Yoenis Cespedes, who tied Monday's game with two outs in the ninth on a near-homer, put on a show, hitting an RBI double in the fourth, adding a two-run triple in the fifth and driving in a fourth run on a sacrifice fly in the eighth.
"I drank a Red Bull and was ready for the game," Cespedes said through an interpreter.
Richards was charged with seven runs on eight hits and two walks, giving him a combined 12 earned runs in his last two starts -- a span of 12 2/3 innings -- and putting his ERA at 5.04 for the season.
He lost his feel a bit in the middle innings, but believes he's pitching better than his line scores are showing.
"I felt good tonight," Richards said. "I just didn't give us a chance to win. That's unfortunate. That's kind of my main goal every time I go out; I just didn't get it done tonight."
Mike Trout drove in each of the Angels' first four runs off a struggling Jarrod Parker, reaching on an error in the third, hitting a two-run double in the fifth and adding an RBI triple in the seventh. Later that frame, Albert Pujols brought Trout in with a groundout and Mark Trumbo added a solo homer, his fifth on the year and his second in as many days, to make it a three-run game.
But once again, they didn't have enough.
"It's incredibly frustrating -- I'm talking about personally," Scioscia said. "But as far as in that room, I don't see the frustration levels getting to the point where they're not manageable. I think guys are playing free, I think when we're getting a chance to run, we're running, I think our at-bats are getting better. We just have not been able to find the continuity on the pitching side 26 games into the season."
Alden Gonzalez is a reporter for MLB.com. Read his blog, Gonzo and "The Show", and follow him on Twitter @Alden_Gonzalez. This story was not subject to the approval of Major League Baseball or its clubs.