Panda stuns D-backs with ninth-inning blast
Bumgarner contributes seven shutout frames to dramatic victory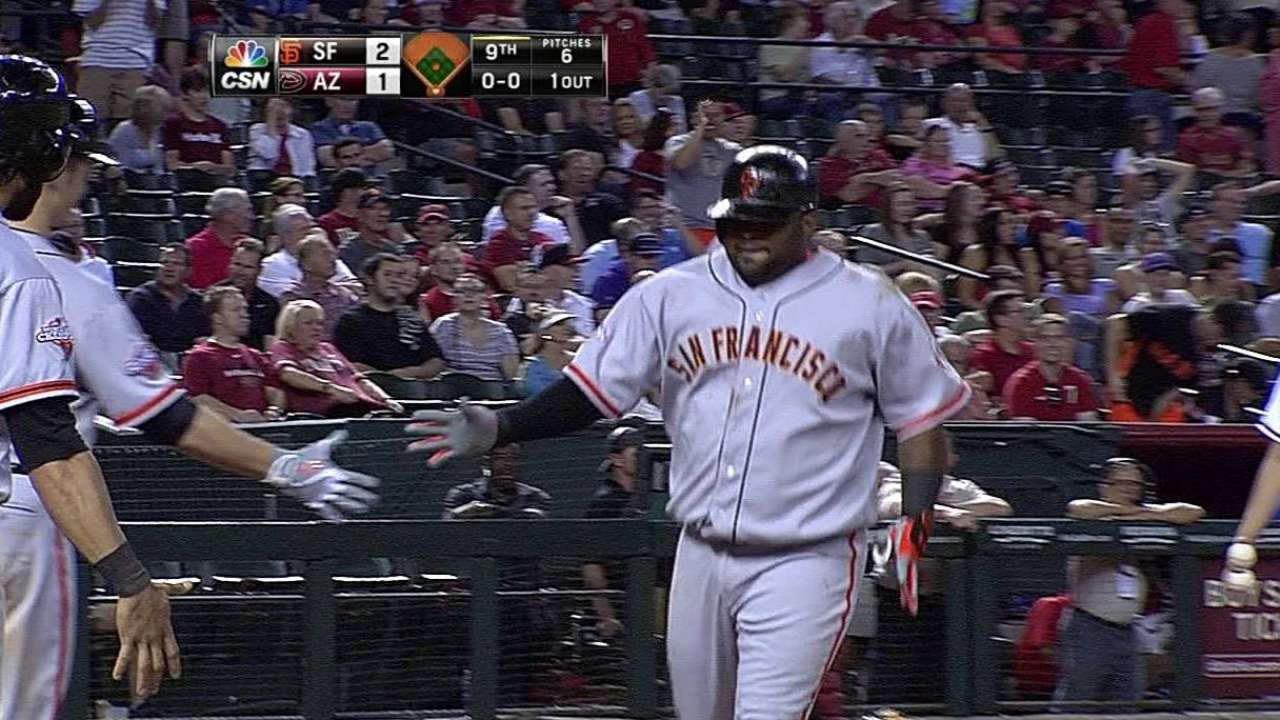 PHOENIX -- Positive thinking resulted in power for Pablo Sandoval, whose titanic two-run homer erased a ninth-inning deficit Tuesday night and propelled the Giants to a dramatic 2-1 triumph over the Arizona Diamondbacks.
File this one under non-fictional fairytales. Sandoval essentially predicted that he would do something to wipe out Arizona's 1-0 lead when he batted with Angel Pagan on second base and one out.
As right fielder Hunter Pence related, he delivered an urgent yet encouraging message before Sandoval headed for the batter's box to face D-backs closer J.J. Putz.
"Pablo, feel that good 'click,' that good connection. Click him," Pence recalled saying. That prompted Sandoval to begin repeating the title of the song "Clique" by rapper Kanye West.
Said Pence, "He kind of nodded his head like, 'I'm going to do it.' I just tried to plant the seed of a good connection. He made it happen."
Asked if he called his shot, Sandoval grinned and replied, "Pretty much."
Sandoval pretty much crushed Putz's 0-1 sinking fastball off an auxiliary scoreboard in right field for his fourth home run of the season. He has 11 hits in his last 18 at-bats, a .647 binge.
As Sandoval returned to the dugout, he triumphantly bellowed, "I told you so!" as he slapped palms with Pence, who stood in the on-deck circle.
This was a typical Giants-D-backs conclusion. In five meetings, they've played two extra-inning games and three one-run decisions. San Francisco's three victories have been come-from-behind verdicts.
"That's what baseball's about, dude," Pence said. "These games against Arizona have been unbelievably close, incredible baseball battles. It's like the smallest things go the longest ways."
Kind of like Sandoval's homer. After fouling off Putz's first sinkerball, Sandoval demonstrated his rapidly developing plate discipline by urging himself to calm down and wait for a good pitch to hit -- one of baseball's most time-honored mantras.
"The first pitch, I tried too much," Sandoval said.
The second pitch was good for Sandoval, but not for Putz.
"It just seems like every time I leave one of those up, it's getting crushed right now," said Putz, who has blown four of nine save opportunities.
The Giants ended April with a 15-12 record, comparing favorably with their first-month starts in their pair of World Series seasons (13-9 in 2010, 12-10 in 2012).
Considering the starters' mediocre 4.15 ERA and the spate of defensive mistakes that accompanied the club's recent five-game losing streak, manager Bruce Bochy felt satisfied with the Giants' break from the gate.
"It shows you a little bit about the mettle and character of the club, to be where we are despite not having played as good of ball or pitched like we normally do," Bochy said. "The defense hasn't been as solid as it might be. Because of how hard we fight, we're fortunate to have a winning record."
Personifying that determination, Madison Bumgarner yielded three hits in seven innings. He had the misfortune of pitching on the same night that Arizona's Trevor Cahill limited the Giants to three hits in eight innings before Pagan's single christened the ninth and prompted Putz's entrance. Josh Wilson's eighth-inning homer off Santiago Casilla accounted for the only scoring to that point. It was Wilson's first Major League homer since June 5, 2011, and 10th in 1,043 Major League plate appearances since 2005.
"He could have five wins," Bochy said of Bumgarner. "We're not getting a lot of runs for him, but he's doing what we need, and that's putting up zeroes for us."
Sandy Rosario finished the eighth inning for Casilla by recording one out. That gave the decision to the rookie right-hander, who'll likely return to Triple-A when either Jeremy Affeldt leaves the disabled list or Jose Mijares returns from bereavement leave. It marked the second game in a row in which a Giants pitcher secured his first career victory; 31-year-old rookie Jean Machi earned that distinction on Monday. Sergio Romo pitched a perfect ninth for his 10th save in 11 chances.
Chris Haft is a reporter for MLB.com. This story was not subject to the approval of Major League Baseball or its clubs.