'Cutch is clutch for Bucs with four hits, homer in loss
Sanchez, Martin and Marte all go deep in back-and-forth battle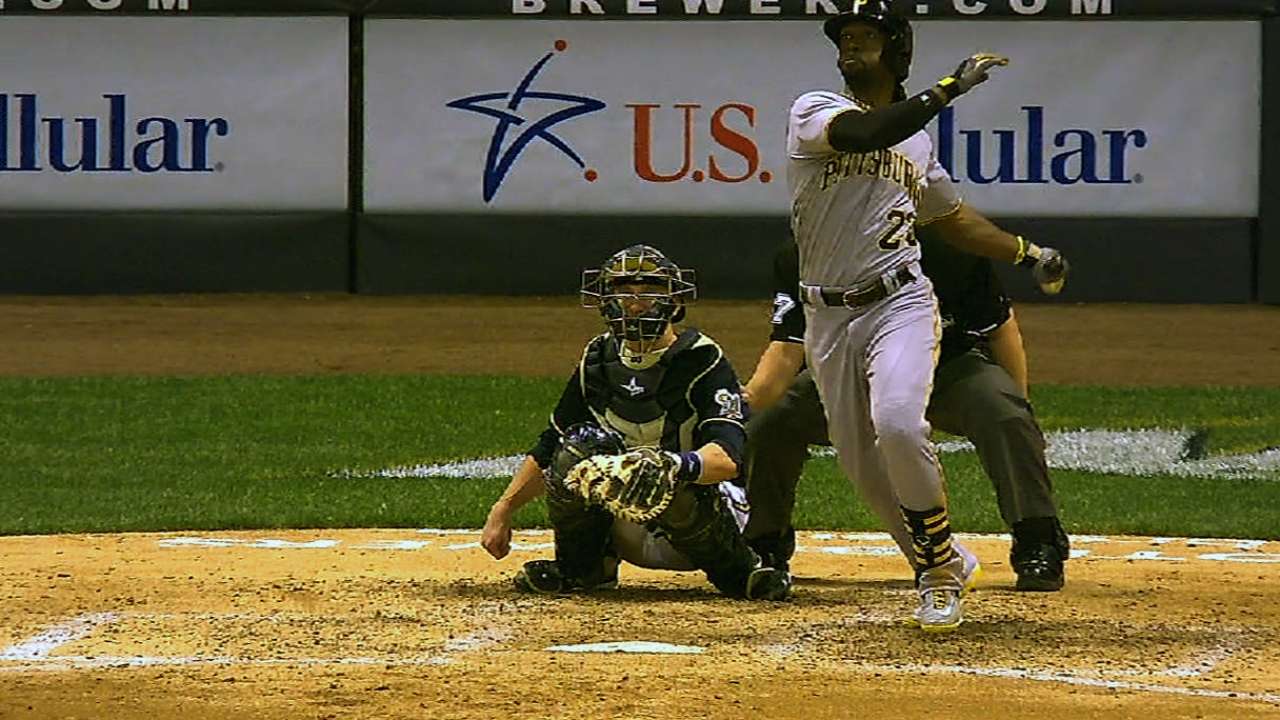 MILWAUKEE -- Twenty-five Supermen walking on a bed of Kryptonite. Twenty-five Ironmen passing through a magnetic field.
The Pirates are still all that in Miller Park, where they have played two games as the top club in the National League Central, and lost both by a cumulative 22-12.
Tuesday's 12-8 defeat took the Pirates out of that division lead, but it couldn't take them out of the fight. This was an old-fashioned barn-burner, deadlocked at 8-8 until Yuniesky Betancourt began the bottom of the seventh with a homer off the new guy in the bullpen, Bryan Morris.
"You keep playing. We came back -- we had the lead, we had an opportunity to win the game," said Andrew McCutchen, who did much of the heavy-lifting on a night he went 4-for-5 with a home run. "It showed we aren't going to give up. We don't worry about the past, the stats, whatever ... just show up and keep playing hard."
On a personal level, McCutchen quickly reversed the stats and now is streaking in the other direction. He'd been 1-for-25 before a single in the eighth inning of Monday's game, and he had four straight hits in this game until he lined out hard to center on his final at-bat in the ninth. Even a month of at-bats into the season, Tuesday night's spurt added 30 points to his average, raising it to .247.
Team-wise, the trend in Milwaukee was unchanged. Even going toe-to-toe with the Brewers to play their style did not avoid the Pirates' 46th loss in the last 53 games at Miller Park. The Bucs lost despite hitting four home runs -- their first defeat while homering four times since June 14, 2008, in an 8-7 Interleague loss to Baltimore.
"When you don't make pitches, you don't get outs," manager Clint Hurdle said. "We made way too many mistakes on the mound, start to finish. We've got to do a better job of making them uncomfortable. For two nights, we haven't done it."
On their good days, the Pirates' James McDonald and the Brewers' Marco Estrada can be among the toughest right-handers in the National League. This wasn't that day for either, as both starters set the tone for the free-for-all.
Both staggered through five innings, McDonald allowing seven runs on eight hits and five walks and Estrada giving up five runs on seven hits.
A two-run homer by Gaby Sanchez in the third inning briefly tied the game at 3-3 and trained the spotlight on the first baseman.
As far as Pirates hitters awakening from early-season snoozes go, Sanchez had been lost in the shadow of Russell Martin, the National League's reigning Player of the Week. Martin recovered from an 0-for-17 start, but Sanchez wasn't too far ahead of that pace, with one hit in his first 18 at-bats.
Sanchez has since hit .405 (17-for-42), and is tied with McCutchen for the team lead with 16 RBIs.
Three batters into the bottom of the inning, McDonald had spurned the second life given to him by Sanchez's fourth homer, as the Brewers regained the lead on back-to-back one-out doubles by Rickie Weeks and Carlos Gomez.
The Brewers kept their feet on the pedal in the fourth, opening a 7-3 lead, the big blow of the three-run rally being Weeks' two-run single.
Then it was the Bucs' turn.
Martin and McCutchen launched back-to-back home runs to narrow the deficit to 7-5 in the fifth, Estrada's final inning. Then the Bucs took their usual bites out of someone's bullpen: Brandon Inge and Clint Barmes singled off Brandon Kintzler, and with two outs, Starling Marte crushed a three-run homer off Burke Badenhop for an 8-7 lead.
Marte's drive to center was originally ruled in play and went for a game-tying two-run double, but it only took the umpiring crew a few seconds of review to see that the ball had actually cleared the wall before bouncing back on the field.
The unlikely prospect of McDonald -- who had departed for a pinch-hitter during that go-ahead rally -- actually being credited with a win was quickly spoiled, as Jean Segura led off the bottom of the sixth with a tying homer off Vin Mazzaro.
In the eighth, Weeks finished off the Bucs and his own big night with a three-run homer off lefty Tony Watson.
In addition to five runs, Weeks helped drive home the point Sanchez had made to him earlier in the game.
"I was talking to him a little bit," Weeks said, "and he was saying, 'I don't know what it is, but every time [we] come here, something happens.' They were hot coming in. I congratulated him earlier in the series. So I don't know what it is; we're just playing good baseball."
Tom Gorzelanny suffered as one of the pitchers on Pittsburgh's losing squads through 2009, and he added to the suffering as the winning pitcher in relief on Tuesday. Having been on both sides of the domination hasn't helped him understand it any better.
"It's just a freak thing that they can't win here, I guess," Gorzelanny said. "I was a part of the 'no-wins.' I don't know how it is."
Both clubs had misfired on first-inning chances. The Pirates did plate one run on McCutchen's RBI single -- which scored Marte following his habitual game-opening hit -- but left the bases loaded as Pedro Alvarez popped out and Inge struck out. In the bottom of the inning, the Brewers stranded the tying run on second.
Milwaukee did not miss its next opportunity. McDonald lost his control -- and his 1-0 lead -- in the second. Two walks to open the inning were cashed in on a double down the left-field line by Martin Maldonado, who also scored when Garrett Jones fumbled Estrada's single to right for an error.
Tom Singer is a reporter for MLB.com and writes an MLBlog Change for a Nickel. He can also be found on Twitter @Tom_Singer. This story was not subject to the approval of Major League Baseball or its clubs.