Late homers carry Brewers; Weeks has revival at plate
Segura homers, reaches base four times; entire lineup notches a hit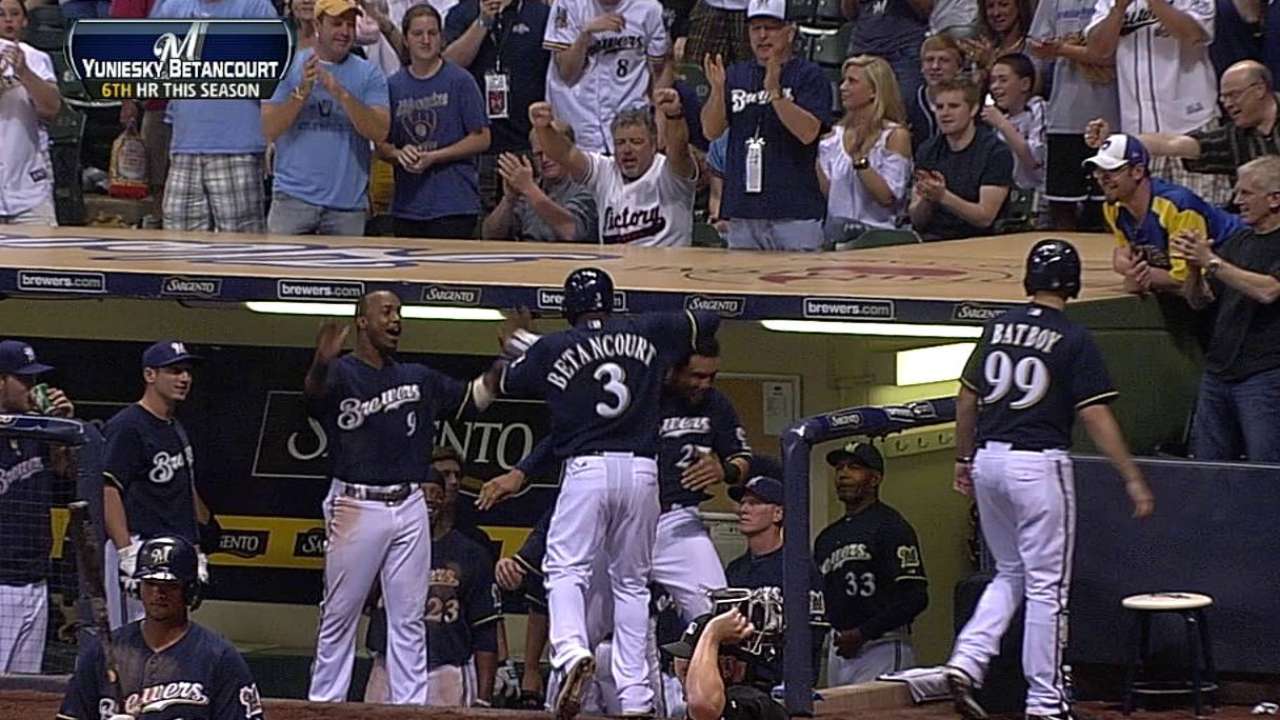 MILWAUKEE -- The way the baseballs were flying for Rickie Weeks and the Brewers on the first true spring night at Miller Park, they could afford to be on the wrong side of some close calls.
Pittsburgh scored five of its runs on two-out homers that followed oh-so-close plays at first base, but slumping second baseman Weeks broke through with five RBIs and the Brewers bashed their way to a 12-8 win on Tuesday that continued a downright ridiculous run of success against the improving Pirates.
Make it 46-7 against the Pirates at Miller Park since the start of 2007 and 71-24 overall, including nine straight wins.
"I was talking to [Pirates first baseman] Gaby Sanchez over there for a little bit, and he was saying, 'I don't know what it is, but every time [we] come here, something happens,'" Weeks said. "They were hot coming in. I congratulated him earlier in the series. So I don't know what it is; we're just playing good baseball."
Jean Segura hit a tying home run in the sixth inning, Yuniesky Betancourt gave the Brewers the lead with a homer leading off the seventh and Weeks delivered a three-run dose of insurance in the eighth.
Weeks' breakthrough, which the Brewers had been waiting for, began Tuesday morning when he asked hitting coach Johnny Narron to meet him early at Miller Park. They were in the batting cage by 12:30 p.m. CT, six and a half hours before the first pitch.
"I just wanted to kill myself in the cage, basically," Weeks said. "I was frustrated. You don't want to be in a position like that, obviously."
His numbers were rough at the start of the night. He had a .167 batting average with one home run and four RBIs in 24 games. He had no multihit games since the Brewers' third game of the season, and seven hits in his last 72 at-bats.
But Weeks walked and scored against Pirates starter James McDonald in the Brewers' three-run second inning. He doubled and scored a go-ahead run in the third, singled home two more runs with two outs in the fourth and then extended the Brewers' late lead to 12-8 by hitting a three-run opposite-field home run off Tony Watson in the eighth.
"This would be big," manager Ron Roenicke said.
Weeks said one big game does not constitute a turnaround, but he also said, "I think the sky's the limit now."
"I feel pretty good about myself going forward," Weeks added.
He was not alone in that feeling on Tuesday, when the game-time temperature was 81 degrees and the Miller Park roof was open for the first time this season. Segura and Carlos Gomez each reached safely four times. Segura, Ryan Braun and Jonathan Lucroy each scored a pair of runs. Martin Maldonado drove in a pair.
The Brewers won their eighth straight home game after losing five of their first six games here, and finished April with a 14-11 record after beginning the season 2-8.
The Pirates were left to mull yet another loss at Miller Park.
"You keep playing," said center fielder Andrew McCutchen. "We came back, had the lead, had an opportunity to win the game. It shows we're not going to give up. We don't worry about the past, stats, whatever. Just show up every day and keep playing hard."
The Pirates indeed made the Brewers fight for this particular victory. In the third inning, with the Pirates trailing, 3-1, Garrett Jones narrowly beat a double play ball and extended the inning for Sanchez's game-tying two-run home run. In the sixth, Jose Tabata similarly hustled to extend the frame for a Starling Marte three-run shot and an 8-7 Pittsburgh lead.
Roenicke is not a proponent of instant replay in baseball, but he could have used an expanded system for those two close plays.
"The first one, it was hard for me to tell," Roenicke said. "I guess [Jones] was out on replay, but they had to slow it down, and any time you have to slow it down, that call is too close.
"But the second one, [Tabata] was out. It's hard when it leads to runs. I just don't know [with] the instant replay, how to do it the right way, and what calls that you do look at. You don't want the game slowed down that much. You don't want to replay everything."
Instead of Tabata being out and the Brewers out of the inning, Roenicke called for reliever Burke Badenhop, whose first pitch was driven by Marte to straightaway center field for what was initially called a two-run double.
Umpires are not allowed to look at calls on the basepaths, but they can review would-be home runs, so three members of the crew briefly retired to the tunnel below Miller Park for a look. They returned with a new call: home run.
"Most of the time, the umpires get it right," Roenicke said. "Tonight, it hurt us."
Marte's homer capped the Pirates' comeback from a 7-2 deficit, but their lead was short-lived, because Segura led off the seventh against Pirates reliever Vin Mazarro with an opposite-field home run that tied the game again. An inning later, Betancourt led off with a go-ahead homer against Bryan Morris that made it 9-8.
The Pirates hit four home runs of their own, three of them off Brewers starter Marco Estrada. He took a no-decision after allowing five runs on seven hits in five innings.
The Brewers will play for a series sweep on Wednesday afternoon.
"It's just a freak thing that [the Pirates] can't win here, I guess," said winning pitcher Tom Gorzelanny, who played in Pittsburgh from 2005-09. "I was a part of the 'no-wins.' I have nothing for you. I don't know how it is."
Adam McCalvy is a reporter for MLB.com. Read his blog, Brew Beat, and follow him on Twitter at @AdamMcCalvy. This story was not subject to the approval of Major League Baseball or its clubs.