Jackson's struggles continue in Cubs' loss
Right-hander remains winless after allowing eight runs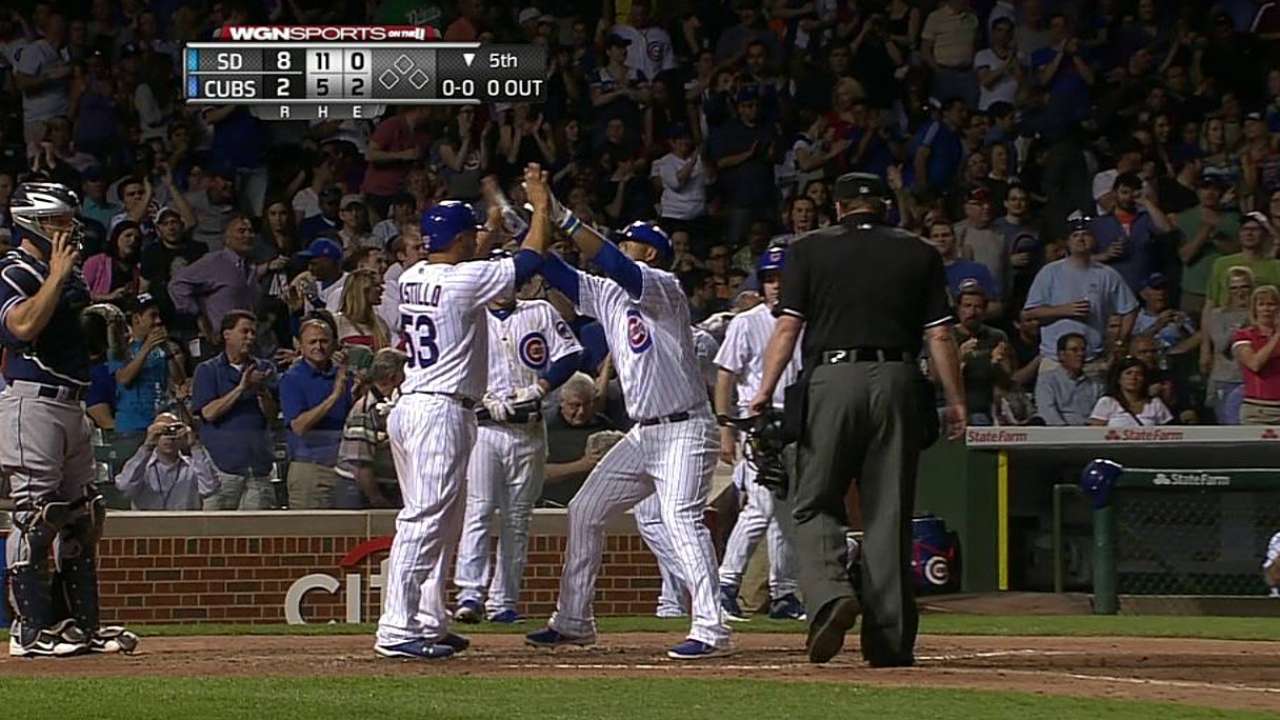 CHICAGO -- In 2007, Edwin Jackson went 0-8 in his first 13 starts, and didn't get his first win until June 24. Jackson and the Cubs can only hope the right-hander doesn't take that long this year.
Nick Hundley smacked a three-run home run, Yonder Alonso belted a two-run shot, Carlos Quentin drove in three runs and Jedd Gyorko added a two-run double to lift the Padres to a 13-7 victory Tuesday night over Jackson and the Cubs at Wrigley Field.
The crowd of 31,303 at Wrigley Field wasn't happy with Jackson's abbreviated outing and let him know.
"It's not the first time I've heard it," Jackson said. "It's the same crowd that if you go out and start pitching better, they're cheering. The boos -- I'd probably boo myself as well. I don't blame them."
Starting pitching has been the constant in the first month for the Cubs. They entered Tuesday's game with a 3.21 ERA and 15 quality starts, fifth most in the National League. However, Jackson has struggled with one bad inning in each of his starts. This time, he couldn't locate his fastball.
"Edwin had a tough day," Cubs manager Dale Sveum said. "He didn't make a lot of quality pitches when he had to. We have to keep plugging away with him and get this straightened out.
"It's just a month into the season," Sveum said. "Mechanical or whatever it is, we're letting games slide by with one inning or one pitch here or there. He's got it in him -- the stuff and everything is there. We just have to get it out of him."
Jackson can't wait to turn the calendar.
"Overall, it's been a pretty disappointing month from my standpoint for myself, for the team, for the organization and for the fans," Jackson said. "It's a test of character. It's one of those times when you can either crumble and fold or fight and bounce back. I definitely haven't been one to be known to fold. It's just a matter of getting back on track and throwing the ball like I know how to throw the ball."
The 2007 season was a different time in his career, Jackson said.
"This may be one of the worst starts I've had in my career," Jackson said of his first season with the Cubs. "It's a test of character. Clearly, it hasn't been what I wanted to do. It's a long season. I'll definitely continue to work and get back to where I need to be to finish the season strong."
Luis Valbuena and Starlin Castro each hit two-run home runs, David DeJesus added a solo shot -- after replay -- and Cody Ransom homered for the Cubs, who finished April with 35 home runs, the third most in the first month of the season in the history of the franchise.
"The bats are coming alive," Sveum said. "We just have to get our right-handed guys swinging a little bit better."
The loss was the largest margin for the year as well. The Cubs' previous 25 games had been decided by four runs or fewer, a franchise record. The Major League mark is 33 consecutive games decided by four runs or fewer, held by the 1914 Tigers.
Jackson lasted 4 2/3 innings, his shortest outing in six starts. He served up 11 hits, the most off him since Aug. 3, 2011, when he gave up 14 to the Brewers over seven innings. The right-hander, who signed a four-year, $52 million contract with the Cubs this offseason, now has a 6.27 ERA.
"It's just a matter of getting back to me," Jackson said. "I have to get back to throwing the ball like I throw the ball and let everything else go out the window, whether it's one thing or another. It's just one of those things you have to get out there and do it. I haven't lost any confidence, I don't doubt myself. I'm just not getting it done. I just have to go out and get it done."
He said the contract, his first long-term deal, isn't the problem.
"I don't feel like it's pressure," Jackson said. "I feel like I'm just not pitching like I know I can pitch, whether it's execution of pitches, or making people hit the ball where there are fielders. It's been one thing or another. It hasn't been one particular thing."
Padres starter Edinson Volquez helped himself with an RBI single in the five-run fifth and improved to 5-0 in seven career starts against the Cubs.
Jackson retired the first four batters he faced. But with one out in the Padres' second, Alonso and Mark Kotsay both singled, and both scored on Gyorko's double into the gap in right-center. Quentin added a sacrifice fly in the third.
The Padres sent 10 batters to the plate in the fifth and hit for the team cycle. Cabrera led off with a triple and scored one out later on Chase Headley's double. Quentin hit a RBI double to make it 5-0. Alonso followed with his third home run, which landed in the basket rimming the left-field bleachers. Jackson walked Kotsay, and he scored three batters later on Volquez's single.
"I think we were aggressive early," Padres manager Bud Black said. "Jackson's got good stuff and I think our guys were ready to hit right from pitch one. You get behind a guy like that and he can start using his weapons."
The Chicago offense got going with two homers in the fifth. Valbuena launched his into the right-field bleachers to drive in Welington Castillo, who had doubled. Darwin Barney then doubled, and two outs later, Castro connected for his third home run to close to 8-4.
Anthony Rizzo added a run on his third double of the night in the ninth. Rizzo finished April with 20 RBIs, second most by a Cubs left-handed hitter behind Hall of Famer Billy Williams, who drove in 25 in April 1970.
Carrie Muskat is a reporter for MLB.com. She writes a blog, Muskat Ramblings, and you can follow her on Twitter @CarrieMuskat. This story was not subject to the approval of Major League Baseball or its clubs.