Doc, bullpen allow seven homers in loss to Tribe
Right-hander remaines upbeat, says he's 'not discouraged at all'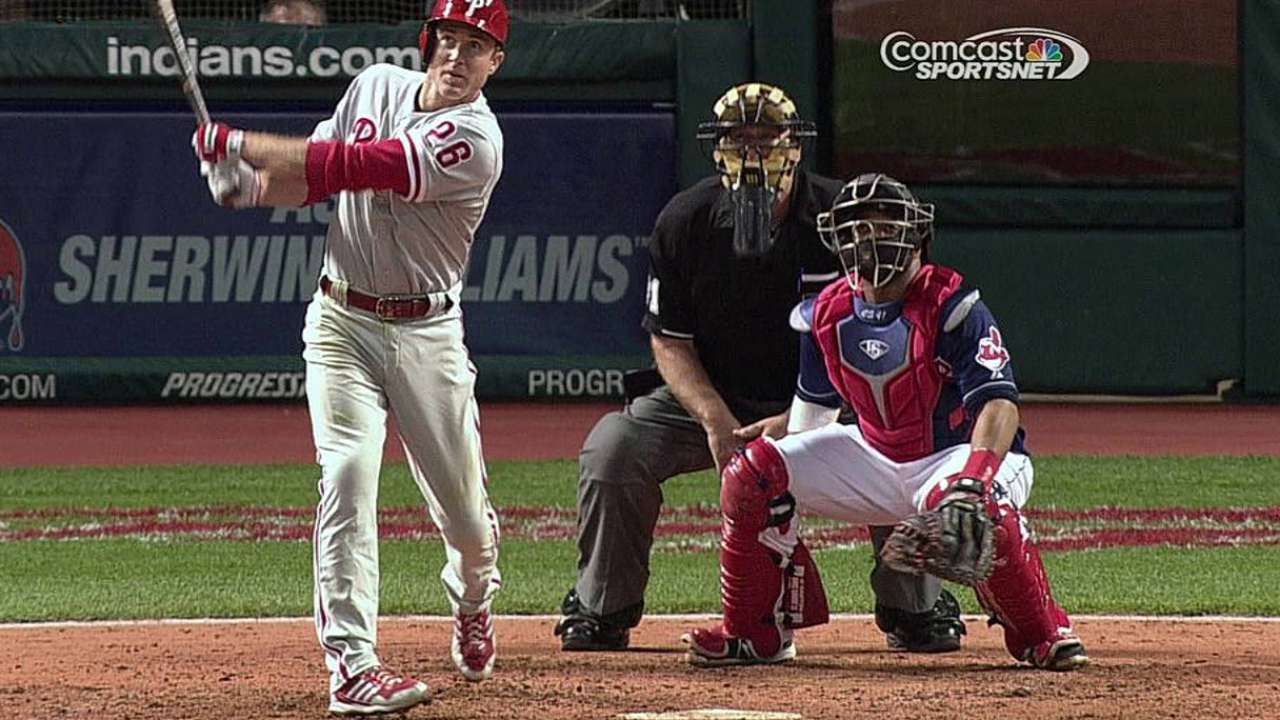 CLEVELAND -- Roy Halladay furrowed his brow as he closely studied the video on the laptop in front of him Tuesday night at Progressive Field.
He occasionally shifted in his chair, sitting upright at one point, slouching the next, propping his head in his left hand one minute, scratching the back of his head the next. But for more than 20 minutes, he never glanced away at the screen as he recapped the grisly details from a brutal 14-2 loss to the Indians.
Halladay finally stood up, more than 30 minutes after the final pitch, to discuss a forgettable effort.
"I had to be spot-on today, I really did, and I just wasn't," he said. "You catch any other team any other time and you're OK, but today I had to be spot-on and I wasn't. I'm not discouraged at all. I feel like we've really come a long ways, and I feel good about where I am. The location could be better at times, and I think that's been coming, but like I said, you know, I had to be really good today, and I think that was kind of obvious throughout the whole game."
Halladay allowed nine hits, eight runs, two walks, three home runs and struck out three in just 3 2/3 innings to drop to 2-3 with a 6.75 ERA. It was the sixth time in his career he had allowed eight or more earned runs in a start, but the first time he had allowed eight or more earned runs in fewer than four innings since May 5, 2000, when he allowed eight in 3 2/3 innings against Cleveland while pitching for Toronto.
His night halted what had been some encouraging progress. He carried a 14.73 ERA following his first two starts of the season, but had a 1.71 ERA in his three starts prior to this one.
Things seemed to be moving in the right direction. Then Tuesday happened.
It wasn't just Halladay, although certainly more is expected from him than other pitchers. Carlos Santana, Mark Reynolds and Lonnie Chisenhall hit two-run homers against Halladay. But Ryan Raburn and Michael Brantley hit two-run homers in the fifth against right-hander Chad Durbin, and Raburn and Drew Stubbs hit solo homers against left-hander Raul Valdes in the seventh.
It was just the fourth time the Phillies had allowed seven homers in a game since 1916, and the first since April 19, 2005, when they allowed seven against the Mets at Citizens Bank Park.
The Phillies allowed a franchise-record nine homers against the Reds on Sept. 4, 1999.
"I'll tell you something, I don't know how you stop them," Phillies manager Charlie Manuel said. "Everything they hit was hard. That's about all you can say."
The Indians are hitting .395 (45-for-114) with 11 homers, 32 RBIs and 33 runs scored in their last three games. They entered the night with a .764 OPS, which was the third-best mark in baseball.
"I think we're starting to get on that roll a little bit," Indians designated hitter Jason Giambi said. "We've pushed through the tough times and we're starting to play really well offensively. That game tonight, against Roy, that's unbelievable to have that type of game tonight against him."
Halladay threw more fastballs Tuesday than he had in his previous starts. Thirty of his 76 pitches (39.5 percent) were cutters. Just 24 percent of his pitches were cutters in his first five starts.
"The plan with a lot of them was to pitch inside to them," Halladay said. "They've been getting a lot of balls away from them. They've been doing a lot of damage, so we were really trying to pitch inside to them as much as possible, and it's a fine line with them right now. It's got to be black. If you catch inner third, you know, normally that can be good enough, but when teams are swinging the way they are, you've really got to pinpoint, otherwise there can be trouble.
"So we did throw a lot more fastballs today than normal, and that was the approach. We were going to pitch inside as much as possible and go hard as much as possible. I think we threw very few curveballs and very few changeups. We were really trying to pound them and get off the barrel as much as we could, but like I said, you really had to be spot-on today."
After all of that, Halladay remained upbeat.
"I think the progression's there and I feel good," he insisted.
The only bright spot for the Phillies? Delmon Young, playing in his first game with the Phillies, went 2-for-3 with one home run, one RBI and one hit-by-pitch. Other than that, Manuel just wanted to forget it.
"The best thing about that was we got through it," Manuel said. "I guess."
Todd Zolecki is a reporter for MLB.com. This story was not subject to the approval of Major League Baseball or its clubs.