Wild ninth gives Miami back-to-back walk-offs
Marlins catch a break at third before Pierre scores game-winner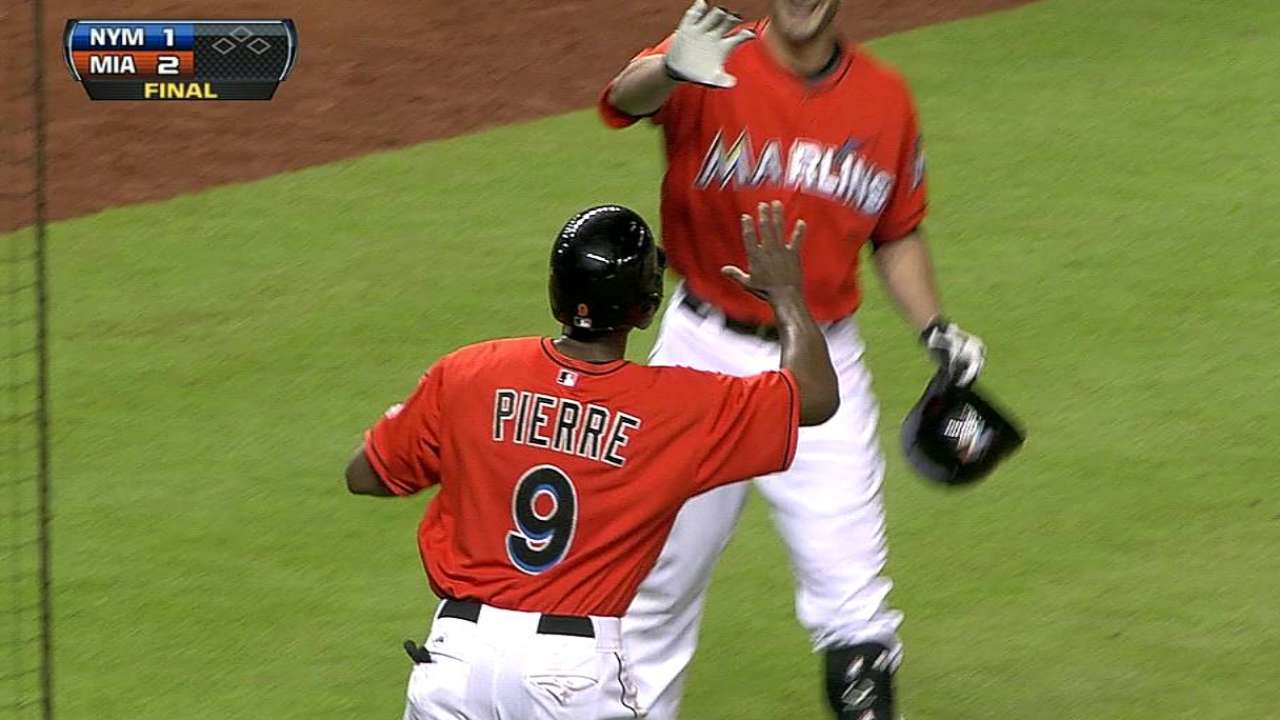 MIAMI -- Fresh off one of the longest games in franchise history, the Marlins were in desperate need of a strong pitching performance. They received it from Kevin Slowey.
But it wasn't until the ninth inning that the offense woke up.
Juan Pierre scored the decisive run on a wild pitch that lifted the Marlins to a 2-1 walk-off victory over the Mets on Tuesday night at Marlins Park.
After playing for five hours and 31 minutes in 15 innings on Monday night, the Marlins pulled off their second straight walk-off win in two hours and 25 minutes Tuesday.
"Any time you win, it changes the energy and the atmosphere, for sure," Miami manager Mike Redmond said. "I've talked about the character for this team and winning games like last night. And then bouncing back in the ninth inning and doing it again, that's what builds character. That's what we're looking for. We're looking for guys who can compete for nine innings or 15 innings, whatever it takes. That's definitely these guys. They battle. They give me everything they can. That's all I can ask."
The Marlins enjoyed their first three-game winning streak since July 4-6, 2012, and they won their first series of the season.
"We're finding ways to win," Pierre said. "We've already found all those ways to lose."
New York's Jeremy Hefner, who hadn't allowed a Marlins player to reach second base through eight innings, got into trouble in Miami's two-run ninth.
The inning started with Chris Coghlan slapping a pinch-hit single to left. On a passed ball, he advanced to second. Pierre dropped a sacrifice bunt, and catcher Anthony Recker gambled by trying to throw Coghlan out at third.
It was the turning point of the inning.
Sliding head first, Coghlan touched the base ahead of the throw, and third baseman David Wright held a tag. Third-base umpire Tim McClelland called safe. The Mets protested, and Miami may have caught a break, because TV replays showed Coghlan's foot may have left the bag.
"It looked close. If he was out, then it was a break for us," Redmond said. "We've been talking about needing a break. If that was it, then it was a big break for us. It looked close to me. I couldn't tell if he was safe or out. He looked safe, but he kind of slid past the bag. But obviously a big play. It was momentum for us -- first and third with nobody out as opposed with a guy on first with one out. It was obviously big for us."
In the heat of the moment, Wright argued, and he was joined by Mets manager Terry Collins.
"I'm not even getting into that," Wright said. "Sometimes the calls go your way, sometimes they don't. What we need to do a better job of is offensively going out there and scoring more runs. You can't expect to win games, 1-0."
Brandon Lyon relieved Hefner, inheriting runners on the corners. On a full count, Donovan Solano lined a game-tying single to right. Placido Polanco was intentionally walked to load the bases. Greg Dobbs was at the plate when Lyon threw a wild pitch, allowing Pierre to score the walk-off run standing up.
In all his years, Pierre has never scored a walk-off run on a wild pitch.
"I don't recall it," Pierre said. "Wild ending. Solano had a great at-bat, and Cogz had a great at-bat to get us to that point. Slowey has been a workhorse for us and keeping us in the game. That was a big win for us. We had no life, offensively."
The Marlins had a similar walk-off win on July 23, 2010, at Sun Life Stadium. Against the Braves and then-closer Billy Wagner, the Marlins rallied with two runs in the ninth for a 7-6 win.
But that night, Emilio Bonifacio scored the tying run on a passed ball charged to Brian McCann. Donnie Murphy delivered the walk-off single.
Slowey didn't get the win, but he kept Miami in the game, allowing one run in eight innings while striking out eight. He had allowed two baserunners through four scoreless innings before he was tagged for a run in the fifth.
Daniel Murphy doubled to open the inning, and it proved costly. Murphy advanced to third on Ike Davis' fly out to center, and New York snapped the deadlock on Recker's sacrifice fly to left.
Slowey's eight strikeouts were his most since he fanned eight on Sept. 18, 2010, against Oakland, which happened to be his last victory. And he last threw as many as eight innings on July 31, 2010.
"This guy, he's smart," Redmond said. "He's prepared. He watches video. He has a game plan going out there, and he executes it. I think all of our young pitchers learn from him, and the way he prepares.
"At the same time, too, we need to get him a win. This is ridiculous. He's done his part. It's going to happen. It would be nice to get him a win. He deserves it."
Runs have been hard to come by all season for the Marlins, and their offense is now without Giancarlo Stanton, who was placed on the disabled list on Tuesday with a Grade 2 strain of his right hamstring.
Replacing Stanton in right field is prospect Marcell Ozuna, who singled in the fifth inning for his first big league hit.
"I think games like last night, games like today, that helps bring a team together pretty quickly," Slowey said. "You have some challenges. You have some tough games. You grow together and then you have a few victories that are hard-fought and well earned. That's a big thing."
Joe Frisaro is a reporter for MLB.com. He writes a blog, called The Fish Pond. Follow him on Twitter @JoeFrisaro. This story was not subject to the approval of Major League Baseball or its clubs.