Drama in ninth spoils Hefner's gem in defeat
Righty goes eight-plus, sets career high in K's as Mets fall on walk-off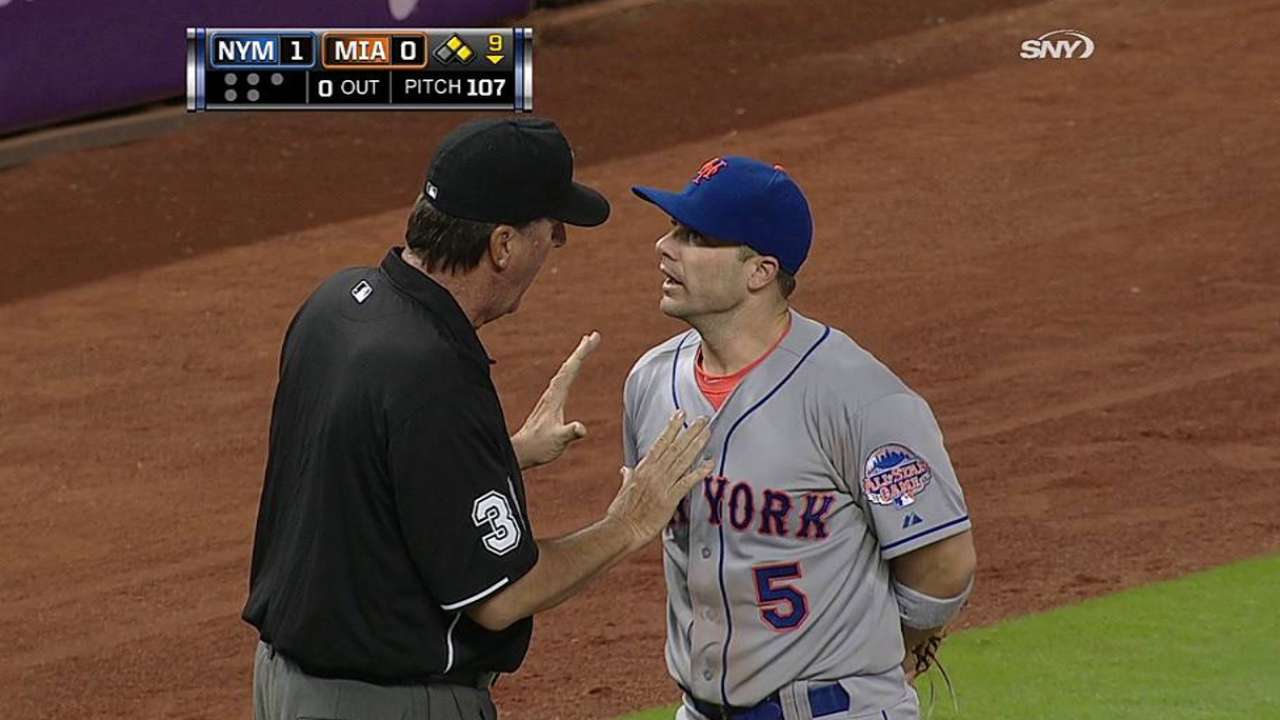 MIAMI -- Juan Pierre's sacrifice attempt was not a particularly good one, and that is what deceived Anthony Recker. The Mets catcher's brain told him to field the bunt and nab the sure out at first. But Recker's instincts were screaming at him to go to third instead.
He listened to those instincts and fired high to third base, where David Wright applied the tag as Chris Coghlan overslid the bag. But umpire Tim McClelland ruled Coghlan safe, and three batters later, the Mets were walking off the field under the weight of a 2-1 loss to the Marlins, their sixth straight defeat.
McClelland's blown call infuriated Wright, spoiled Jeremy Hefner's brilliant outing and at least indirectly led to all the afflictions in a dour postgame clubhouse.
"But I just shouldn't have even put him in that situation," Recker said.
For the better part of the evening, Hefner had given the Mets and their overworked bullpen more than they dreamed, firing perhaps the finest eight innings of his career. But after Coghlan led off the ninth with a pinch-hit single, things unraveled rapidly for the Mets.
The next batter, Pierre, attempted to bunt a Hefner fastball but did not make contact, and Recker lost sight of the pitch. It glanced off his glove for a passed ball, moving Coghlan to second.
In a one-run game, Pierre attempted another bunt, laying this one directly in front of home plate. Recker fielded it and fired high to third, where Wright kept his glove pressed to Coghlan's body as he slid across the bag. Replays clearly showed that Coghlan overslid the base, prompting even Marlins manager Mike Redmond to admit that "if he was out, it was a break for us."
Wright, who jumped up in uncharacteristic anger -- "I've never seen him act that way," Hefner said -- unsuccessfully argued his case to McClelland, who refused to ask for help from other umpires.
"I'm not even getting into that," the third baseman said. "Sometimes the calls go your way, sometimes they don't. What we need to do a better job of is offensively going out there and scoring more runs. You can't expect to win games, 1-0."
So the Mets instead lost one, 2-1. With regular closer Bobby Parnell sitting in the bullpen, steaming over manager Terry Collins' decision to rest him on the heels of a heavy recent workload, setup man Brandon Lyon gave up a game-tying single to Donovan Solano. Lyon intentionally walked Placido Polanco to load the bases, still with no outs, then skipped a wild pitch past Recker to end things.
"I'm [ticked] off," Collins said. "I'm extremely [ticked] off."
The Mets entered the day reeling from Monday's 15th-inning loss to the Marlins, in which they used every one of their relievers and nearly asked Recker to pitch. So desperate for a strong outing from Hefner, they watched contentedly as their fifth starter delivered one of the finest performances of his career.
Sharp from the start, Hefner retired the side in order in the first inning, then used double plays to erase leadoff baserunners in the second and fourth. He began generating more swings and misses as the game progressed, recording six of his career-high eight strikeouts from the fifth through eighth innings. More importantly, he did so with impressive efficiency, ending the seventh inning at 85 pitches and the eighth at 99.
When that inning ended, Collins asked Hefner if he wanted to pitch the ninth. Naturally, Hefner relished the chance. But he regretted what came next.
"That's my job to go out and give length, go deep in the games, and for the most part, I did that," Hefner said. "I wish I could have finished it, though."
With a bit more offensive support, he might have. But the Mets, who entered the day with 28 hits over their last 51 innings, mustered only four baserunners all night. Their only run against Marlins starter Kevin Slowey came when Daniel Murphy led off the fifth with a double and Recker drove him home on a sacrifice fly. Nearly matching Hefner pitch for pitch, Slowey struck out eight and walked none over eight innings.
That led to a sixth straight loss for the Mets, including two in a row to the last-place Marlins.
"It seems like the better teams, they go through a rut like this and it only lasts a series or two," Wright said. "We can't allow it to consume us and take over for a week, two weeks. We've got to snap out of it."
Anthony DiComo is a reporter for MLB.com. Follow him on Twitter @AnthonyDicomo. This story was not subject to the approval of Major League Baseball or its clubs.