Encarnacion's two-homer game powers Blue Jays
Toronto overcomes Boston's three-run rally to snap losing skid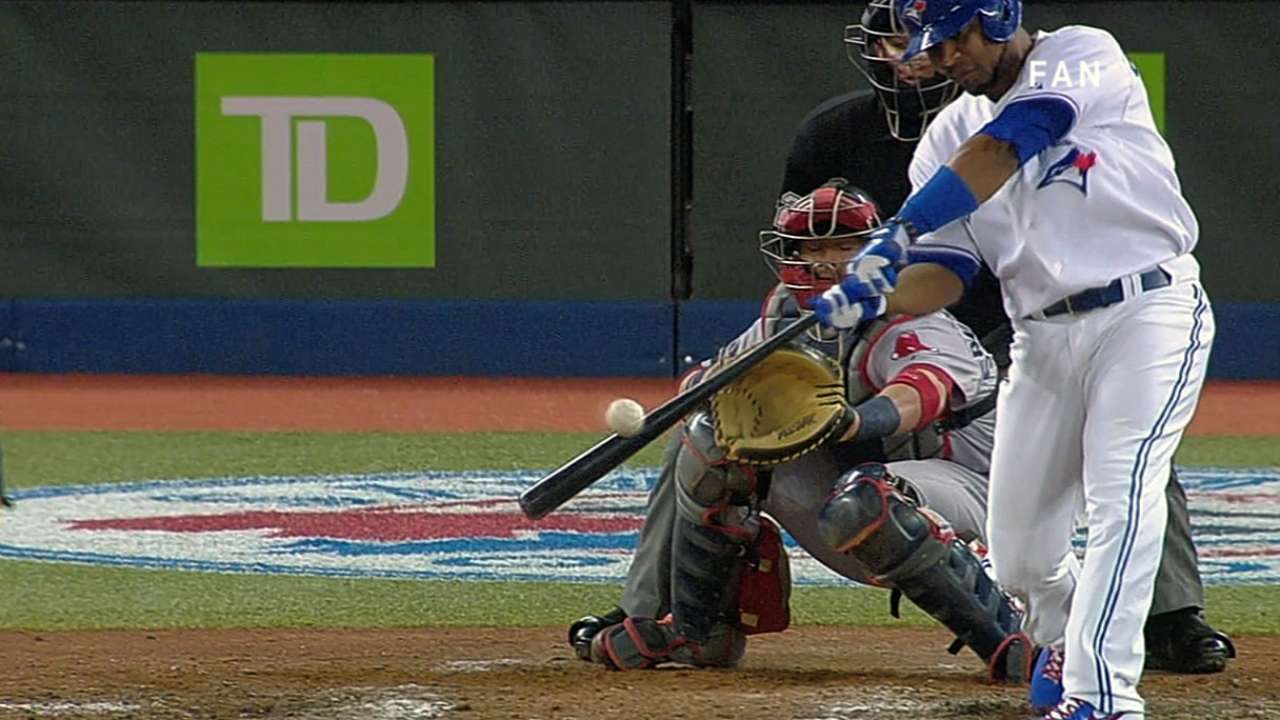 TORONTO -- In the seventh inning, it seemed like another case of "here we go again" for the Blue Jays. For the fifth game in a row, the ballclub took an early lead only to surrender it late, and it looked like the team's season-high losing streak was about to be extended.
However, things took a quick and dramatic turn for the Blue Jays in the bottom half of the inning, when the streaking Edwin Encarnacion came to the plate with a man on.
Encarnacion hit his second two-run homer of the evening, drilling a 2-1 pitch from Red Sox reliever Junichi Tazawa over the wall in straightaway center field to help power the Blue Jays to a 9-7 victory at Rogers Centre on Tuesday.
"He's been on some kind of roll lately," said manger John Gibbons about his slugging first baseman. "Early on, he was hitting a lot of balls on the money and didn't have a lot to show for it, and now he's found that groove."
Encarnacion, who has now hit seven home runs in the same amount of games, leads the team with nine home runs and 20 RBIs.
"Edwin's a very good hitter. Obviously he has been very productive here the last couple years," Red Sox manager John Farrell said.
Tazawa, who surrendered the game-deciding hit to Encarnacion, has allowed only three home runs in his past 56 2/3 innings.
"One mislocated pitch. ... It just didn't stay to the spot down and away and Edwin put a good swing on it," Farrell said.
Although Encarnacion walked away a hero, the Blue Jays almost spoiled yet another game.
In the top half of the seventh, things unraveled quickly for Toronto despite leading 6-4. With Steve Delabar on the mound, David Ortiz hit a three-run double to right-center, allowing Boston to take its first lead of the game, 7-6.
Toronto, however, never should've been in that predicament in the first place. The Blue Jays' defense botched an inning-ending double play when Munenori Kawasaki, who was brought in as a defensive replacement, threw an errant ball towards second base that Maicer Izturis couldn't handle. Delabar then walked the next batter to load the bases, setting the table for Ortiz's double.
"We're still waiting to play those complete games all the way through. It's there. We see glimpses of it, but we need to do it for nine innings," said closer Casey Janssen, who came in and threw a shutdown ninth to seal his team's victory.
Kawasaki's error ruined a chance for starter Brandon Morrow to pick up his first victory on the season, despite having to pitch in and out of trouble for most of the night. Over five frames, he allowed three runs, six hits, three walks and notched seven strikeouts, including five in a row at one point.
Things could've been worse for the Blue Jays right-hander, as a Sox rally was cut short in the fourth on a nice play by Brett Lawrie. After striking for two solo home runs, Boston had a runner on with one out and Will Middlebrooks at the plate. Middlebrooks, who launched three homers vs. Toronto on April 7, hit a scorcher down the third-base line that Lawrie picked up off the short hop and tossed to second to start the inning-ending double play.
Morrow also snuffed out a Sox threat in the fifth. With Mike Napoli, who has 27 RBIs, at the plate and two on and two outs, Morrow caught Jacoby Ellsbury trying to steal third to end the inning.
Boston starter Jon Lester received a no-decision and wasn't sharp for most of the game. Toronto tagged him for six runs (five earned), six hits and two walks.
"I thought we approached Lester really good. We made him work, and we got some pitches," Gibbons said. "We got a good hitting team. It's been a little silent, but there's some pretty good hitters in that lineup. … Some of the better ones in the game and we're starting to show it."
Although Encarnacion's second home run won the game, it was his first that had people looking up. The 30-year-old hit a towering two-run home run into the fifth deck in left field against Lester. With that shot, Encarnacion became only the 14th player to hit the fifth level at Rogers Centre, and it was the 17th time in the stadium's history.
"It felt very good," Encarnacion said. "I never thought it was going to go that far, but I hit the ball good."
The victory allowed the Blue Jays to avoid tying the franchise record for most losses in March/April, that was set in 2003 (10-18).
"We didn't talk about it, but this is a big series," Janssen said. "We don't want to dig a hole too deep. Right now, we're looking up at everybody and it's not what we planned for at the beginning of Spring Training, but any division win is big -- especially against these guys."
Evan Peaslee is an associate reporter for MLB.com. This story was not subject to the approval of Major League Baseball or its clubs.