Arroyo gets little offensive help in loss to Cards
Cincinnati limited to Choo's RBI double by St. Louis' Garcia, Mujica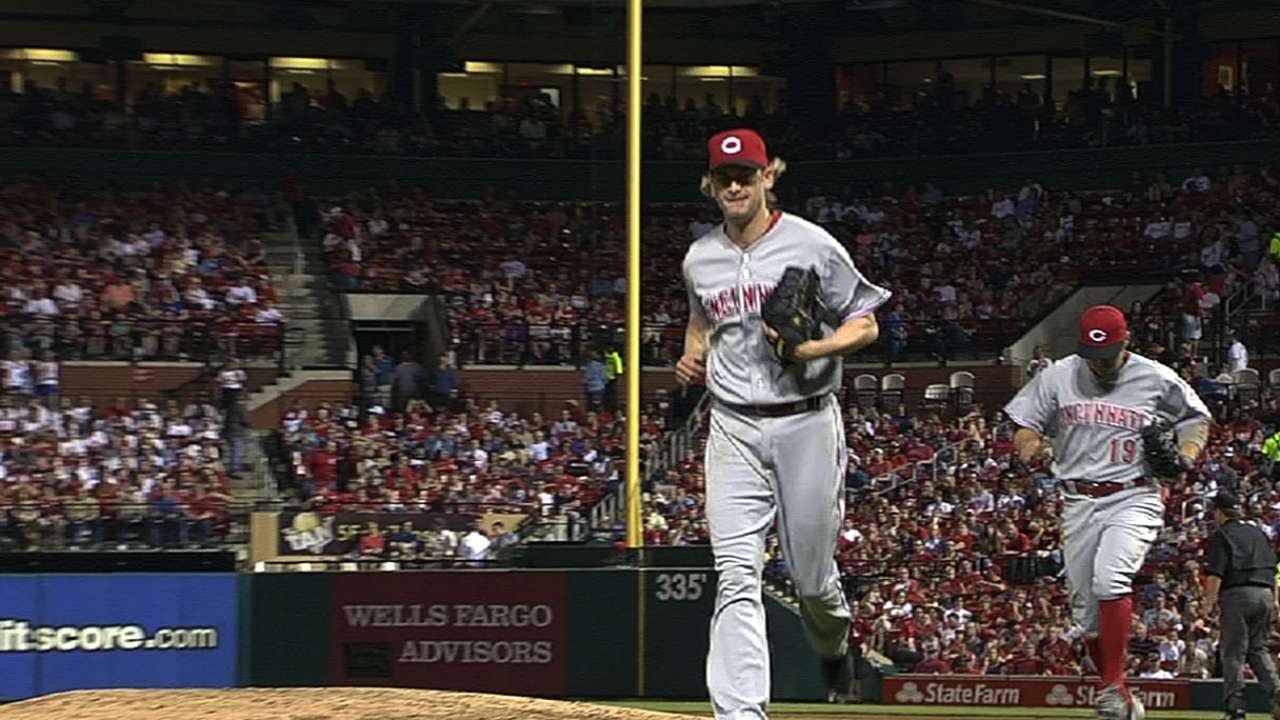 ST. LOUIS -- It was a DIY-type of night for Bronson Arroyo at Busch Stadium on Tuesday.
The offense did little to support Arroyo's well-pitched outing in a 2-1 loss to the Cardinals that hinged on Matt Holliday's two-run homer in the sixth inning. Even if Cincinnati had provided a tad more octane vs. lefty Jaime Garcia, neither its closer nor its backup closer was available. Garcia made that a moot point with his eight solid innings.
Arroyo threw only 78 pitches over seven innings, and never with a runner in scoring position. It still wasn't enough.
"Right now, as a staff, we're doing our job," said Arroyo, who gave up two runs and six hits with one walk and no strikeouts. "We wished we were getting a few more wins out of these quality starts, but that's just the way the games are going. Guys on the other side are doing their job as well. It's always a battle."
The Reds have scored just 15 runs over their last eight games.
Garcia matched Arroyo with zeros until the top of the fifth inning. A two-out RBI double to the wall in left field by Shin-Soo Choo scored Derrick Robinson and gave Cincinnati a one-run lead.
The only two Cardinals runners to reach second base would pass right through. In the sixth, after Carlos Beltran hit a one-out single, Holliday pulled a 3-2 curveball for a low liner into the seats in left-center for the homer that put St. Louis ahead and ended a 17-inning scoreless streak for the Reds' rotation.
"He can hit. Holliday wouldn't be making all that money if he can't hit," manager Dusty Baker said. "He can hit for a long time. If it's any consolation, we got beat by one of the best on that team. That's what he gets paid for."
After throwing three sinkers to Holliday to run the count to 3-0, Arroyo threw three straight breaking balls.
"I thought I'd walk him with the sinker, because he hasn't been fishing for it much," Arroyo said. "I picked the choice of going right at him rather than having first and second with one out and [Allen] Craig up and kind of getting into the meat of their order with the crowd coming into play around the sixth or seventh inning, like they always do. You take your chances and play the best odds you can. A big, strong guy like Matt Holliday sometimes can beat you, which he did.
"He's just so strong. There are maybe a handful of guys in this game that can hit the ball out of the ballpark with that low of trajectory."
Cincinnati put the leadoff runner on base from the second through the fifth innings, but only got the Choo RBI to show for it.
Garcia felt that the Reds' aggressiveness played into his ability to get some quick outs.
"I saw early that they were taking some swings," said Garcia. "It's a really good lineup. They put some really good at-bats together every single time. The main thing for me was just trying to execute that pitch down, make them hit it on the ground."
Once Garcia departed, newly installed closer Edward Mujica shut the door by striking out the side of three All-Stars in the ninth -- Joey Votto, Brandon Phillips and Jay Bruce.
"That was a good game. You hate to lose it," said Baker, whose club finished April with a 15-13 record. "But if you keep playing like that and get pitching like that, you're going to win a lot of games."
Arroyo rebounded well from his lone subpar outing, on Friday at Washington, where he gave up six runs. He's had quality starts in four of six starts but is 2-3 with a 3.95 ERA.
Despite losing on Tuesday, he couldn't hang his head.
"I can't complain about it -- 78 pitches in seven innings," he said. "I commanded the lineup the way I wanted to. I pitched a great ballgame. but Mr. Garcia pitched a little bit better."
Mark Sheldon is a reporter for MLB.com. Read his blog, Mark My Word, and follow him on Twitter @m_sheldon. This story was not subject to the approval of Major League Baseball or its clubs.